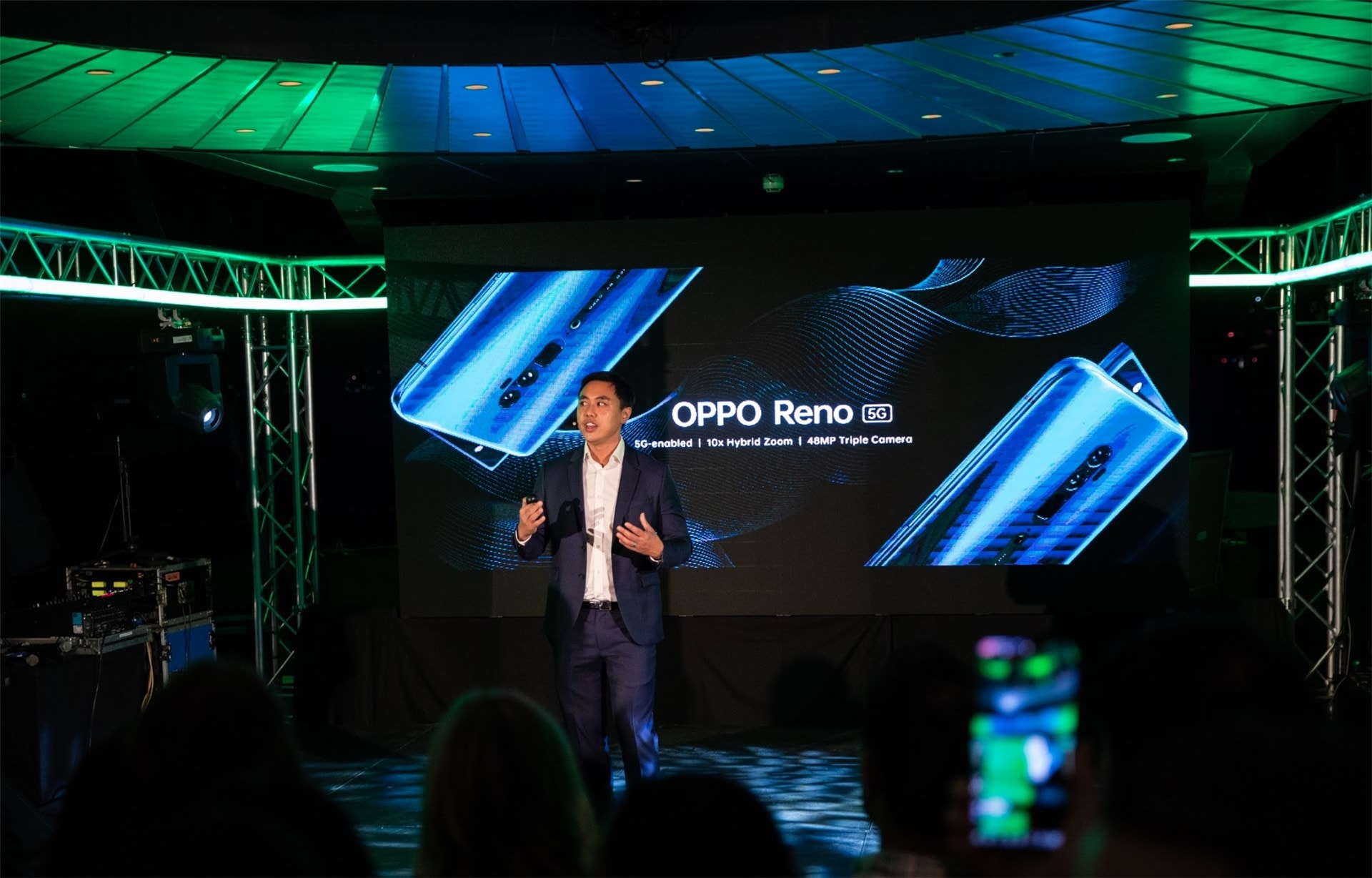 OPPO Australia announced the next anticipated OPPO smartphone last night in Sydney, Australia: the OPPO Reno series. The OPPO Reno 5G is OPPO's first 5G smartphone and during a live speed test at the launch event, it's clocked at a whopping 1,942Mbps!
The 5G model is AU$300 more than the 4G model (i.e OPPO Reno 4G) but they both basically have identical specs and features like the world-first unique pop-up pivot camera, periscope lens (capable of doing 10x Hybrid Zoom), and more.
OPPO Reno series features a 6.6-inch OLED display with a screen ration of 93.1% and the 6th generation of Corning Gorilla glass. Borrowing the concept from OPPO's previous flagship phone, the OPPO Find X, the front-facing camera rises on demand with pivot-rising structure, requiring only 0.8 seconds to fully rise or lower.
Equipped with Qualcomm Snapdragon 855, 8GB+256GB storage, and a 4,065mAh battery, OPPO Reno Series is a power to be reckoned with. But of course, the camera also gets the most highlights (apart from 5G). After using the HUAWEI P30 Pro's 10x Hybrid Zoom, I fall in love with how good this feature is on a phone.
It allows you to take photos in a different way and forces you to rethink the way you frame your photos. It also allows taking photos in a more comfortable distance, such as when you are taking photos of a live performance.
For audio, the series is powered by Dolby Atmos which brings audio immersion to a smartphone. I had the first experience with the ZTE AXON 7 and I loved it.
For a complete set of features, design, and specs, head off to OPPO Australia's Reno Series page.
The OPPO Reno (4G) has an RRP of AU$1,199 and on sale from 11th June, 2019 through Telstra, JB HiFi, The GoodGuys, Officeworks, Mobileciti, Woolworths Mobile, Wireless1 and Telechoice. You'll also get a set of Bose SoundSport Free Wireless Earphones valued at AU$299.95 while stocks last.
The OPPO Reno 5G has an RRP of AU$1,499 and you can start pre-ordering today from Telstra and JB HiFi. You'll also get a set of Bose QuietComfort 35 headphones if you pre-order (check out our review) valued at AU$499.95 while stocks last! OPPO Reno 5G will go on sale on 11th of June, and will include a set of Bose SoundSport Free Wireless Earphones instead.