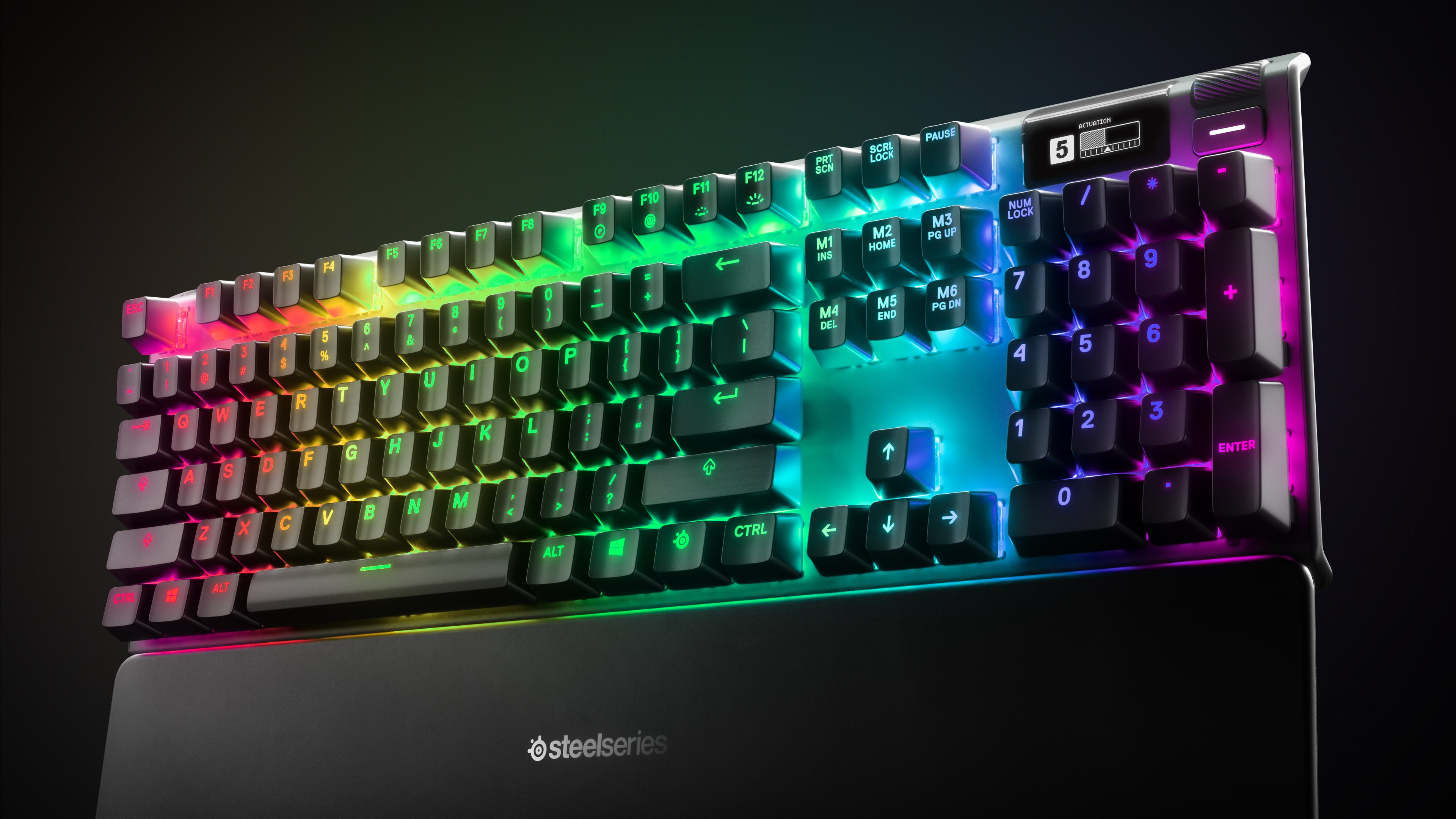 It's been a while since SteelSeries announced a new mechanical gaming keyboard line, but SteelSeries fans should be excited for these new, recently announced mechanical gaming keyboards. These keyboards will be taking the "Fastest mechanical gaming keyboard" crown in the world when they are released a bit later this year.
The new Apex Pro keyboards are the most fully customised mechanical gaming keyboards that allow gamers to adjust the actuation point – which is the distance it takes for a key press to be registered by the system. The switches can be set to change their sensitivities when you start a game, or if you just want to use your desktop for non-gaming activities.
SteelSeries calls the new, configurable switches OmniPoint Switches and the actuation point can be set as low as 0.4mm! The OmniPoint Switch definitely has the fastest response compared to the other mechanical switches in the market. For comparison sake, Razer's Yellow switches on the Razer BlackWidow Chroma V2 have an actuation point of 1.2mm, similar to Cherry MX Speed, normally used by Corsair's mechanical gaming keyboards such as on the Corsair K70 RGB RAPIDFIRE. OmniPoint Switches also have a faster response.
What does all these mean? Well, technically if you and your enemy press that Ultimate ability at the same time, your key press will be registered first, even by fractions of a second (though there are other factors in play like internet connection speed, etc). But if you are the type who like to accidentally press that 'Q' button in Overwatch, you'll be happy to know that you can now adjust this through the SteelSeries' software by adjusting the actuation point to that sweet spot.
The Apex Pro line also features an integrated OLED Smart Display which can display app notifications (like Discord, Spotify) and games like CS:GO and Dota2 (if you have the time to look down while playing, anyway). There is also a clickable metal roller and media key to adjust volume and other settings. The Apex Pro line is also crafted with durable, aircraft-grade aluminium.
The Apex Pro is available in both a full-size (US$199.99) and compact ten keyless (TKL) variant (US$179.99). The full-size Apex Pro will be available in the US on June 11 , and in Europe + Asia later this this year.
If you just want to grab the new Apex line (they look awesome) with regular Cherry MX switches (i.e, if you are not interested in the OmniPoint Switch or on a tighter budget), SteelSeries also announces the new Apex 7 & Apex 7 TKL. They are practically the same to the Apex Pro & Apex Pro TKL except that they are only available in either Red, Brown, or Blue Cherry MX Switches (i.e no OmniPoint Switches). The Apex 7 (full-size) & Apex 7 TKL (compact ten keyless) will be available in the US for US$159.99 and US$129.99 respectively.
As gamers who type a lot (for writing articles such as this one or reviewing), and also gaming competitively, the Apex Pro looks like a solid choice! We are hoping to be able to get a review unit of the Apex Pro and report how good they are to you.
Check out the official SteelSeries Apex page.