Razer BlackWidow Chroma V2 Review – The BlackWidow is Razer's most popular gaming keyboard line-ups for many years. I've used and reviewed most of them throughout the years here at Craving Tech like the original BlackWidow Chroma, BlackWidow Ultimate 2016, BlackWidow Ultimate Stealth 2014, and more.
They were all fantastic to look and use but we'll always want more, right? The latest BlackWidow Chroma V2 from Razer does not disappoint by coming with slight improvements but most importantly, adding a new Razer mechanical switch option – the Yellow switch.
Razer BlackWidow Chroma V2 Review – Razer's New Yellow Switches
If you are not yet aware, Razer already has a Green (for the tactile feel like a Cherry MX Blue) and Orange (quieter like a Cherry MX Brown) switch on their mechanical keyboard line. I'm not going to explain the differences between Razer switches and the Cherry MX's (a discussion for another day), but the new Yellow switch is definitely an interesting addition and option to the family.
In a nutshell, the new Razer Yellow switch is similar to the Cherry MX Silver/Speed switch, which was exclusive to Corsair for a certain period of time (the Corsair K70 RGB RAPIDFIRE has them). As quick comparisons:
Razer Green: Tactile & Clicky, 50G actuation force, 4mm travel distance, 1.9mm actuation point, 0.4mm actuation vs reset point.
Razer Orange: Tactile & Silent, 45G actuation force, 4mm travel distance, 1.9mm actuation point, 0.05mm actuation vs reset point.
Razer Yellow: Linear & Silent, 45G actuation force, 3.5mm travel distance, 1.2mm actuation point, 0.0mm actuation vs reset point.
Silver/Speed Cherry MX: 45G actuation force, 3.4mm travel distance, 1.2mm actuation point.
As you can see, Razer Yellow and Silver Cherry MX switches are pretty similar in specs, though Razer claims that their Yellow switches have an 80 million keystrokes life span compared to the 50 million keystrokes on the Silver Cherry MX (based on the info from Tom's Hardware). Thirty million keystrokes difference is no joke definitely when you are competing or planning to use the keyboard for many number of years.
Razer BlackWidow Chroma V2 Review – Design & Features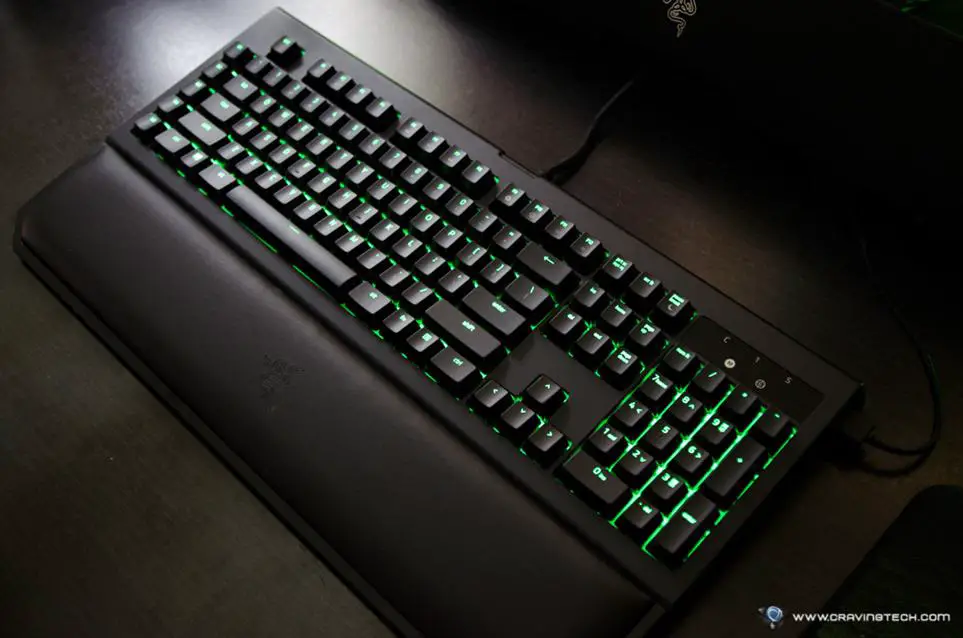 The Chroma V2 is a slight update from the original Chroma – such as the font-style used on the key caps, the lock indicators on the top right of the keyboard, and a few more such as re-alignment of the function keys and a smudge free cover finishing refinement. It's not worth upgrading from the original Chroma, except if you really want the wrist rest – which we'll talk about soon.
If you never own a BlackWidow keyboard before, you'll love the Razer BlackWidow Chroma V2 at first sight. It looks sleek, yet has a simplistic design of a keyboard – great to use for both gaming and work. It has audio-out/mic-in jacks and USB pass through on the right side, perfect to plug your gaming mouse and headset in. I have my Razer DeathAdder Elite gaming mouse plugged inside the port at the moment.
However, there is another new, fancy thing that I love so much in Chroma V2: that easily-removable magnetic palm rest. It's plushy and has the best comfortable feel among any wrist rests that I've ever tried (including wrist-rest mouse pads). It is somewhat soft, yet not too hard on the wrist. The leather also seems to be of a good quality, but we'll have to wait for months before we can really prove it.
The main highlight is the design. The wrist rest can actually be attached and detached easily using magnetic force. Unlike other detachable wrist rests that usually involve you turning the keyboard around to access the mechanism, you can simply snap the wrist rest out.
I really love BlackWidow Chroma V2 wrist rest design because I normally have dinner on my computer desk. Usually, I'd have to move my keyboard away when I eat (especially if the keyboard has a wrist rest) but with the BlackWidow Chroma V2, I can just detach it easily and put it aside.
So what's the experience like on the Razer's new Yellow Switches?
I love the new Yellow switches and probably not going back to the Orange switch – but in all fairness, this really depends on your preferences. For me, it just feels effortless to type and the hollow-feel makes it lighter and faster to press without the clicky-clacky noise of the Green switch.
Game-wise, the switches register faster and that is a competitive edge (even if it is just slightly). In online competitive games like Overwatch, a half-second difference of popping your Ultimate can mean life and death of the whole team. Razer's Yellow switches has an actuation point (a key travel distance where the key press is recognised/registered) of 1.2mm vs Razer's other switches 1.9mm. So, in theory (minus other factors like latency, netcode, and I'm not sure how big of a difference does 0.7mm actuation point make), your key/skill should register faster than your opponent if your keyboard keys have a lower actuation point.
I did accidentally press my Ultimate skill twice (the 'Q' key) in Overwatch on my first day of using the BlackWidow Chroma V2 (it's that quick to register, oops), but the Yellow switches low actuation point have definitely saved my team many times from a team wipe (i.e popping Zen's Transcendence at that critical second).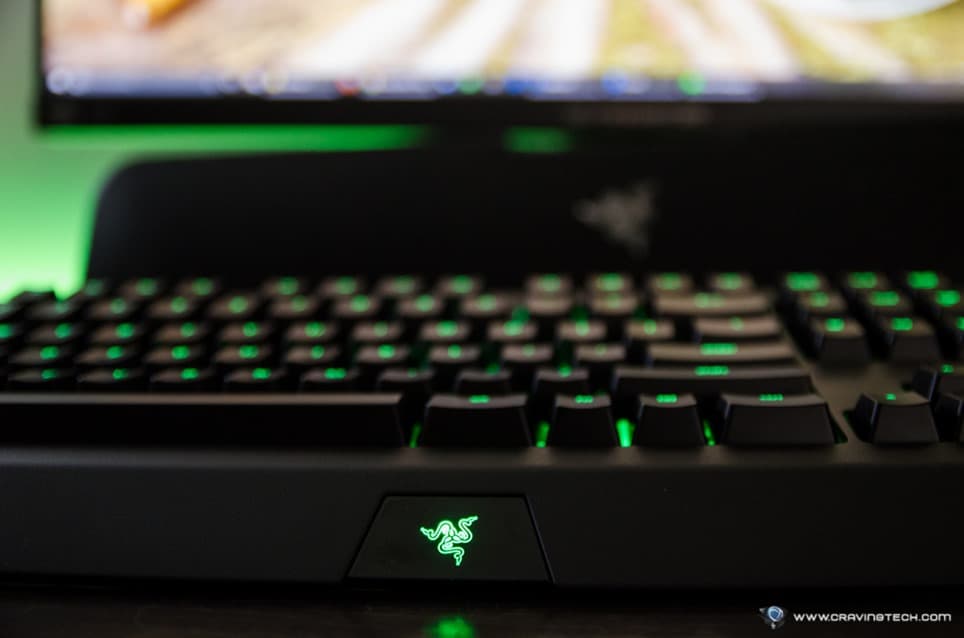 And then, there's the Chroma lighting that we all love. One of the Chroma lighting advantages is the support it gets from game developers. Lights change dynamically when you play a Chroma-supported game like Overwatch, CS:GO, Dota2, Diablo 3, and many others. Sure, you probably won't be looking down at your keys when you play, but it still is a cool feature nevertheless – though not essentials to have.
Macro keys are also available if you need them on the left side of the keyboard. I do wish that one day Razer can include a media volume roller on their keyboard range like Corsair's and Logitech's. Having to press 2 keys (Function + Volume Down/Up) is getting old.
Razer BlackWidow Chroma V2 Review Conclusion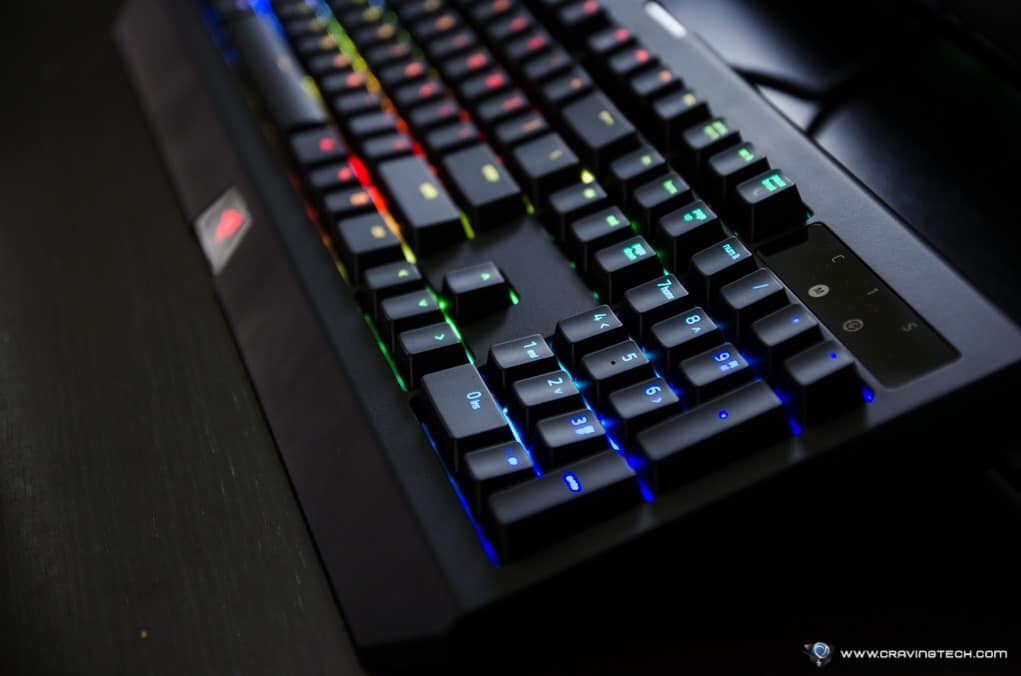 Razer BlackWidow Chroma V2 is definitely the best mechanical gaming keyboard that Razer can offer at the moment. The awesome, magnetic wrist rest is a worthy addition that gives extreme comfort when you use the keyboard (for gaming and work), plus, it is also flexible (easy to attach and detach within a second) so you'll always have the space when you need to.
The new Yellow switches are great if you are playing competitively and don't really like the tactile feel or noise from Razer's Green switches. The typing still feels great in my opinion and if you like the Orange switches, you'll definitely love the Yellow switches and probably like them more.
You can buy the Razer BlackWidow Chroma V2 for A$339.95 at major retailers in Australia and Razer Online store. You can also get it at Amazon if you are not in Australia.
Disclosure: Razer BlackWidow Chroma V2 review sample was supplied for the review, but all opinions are mine and not paid