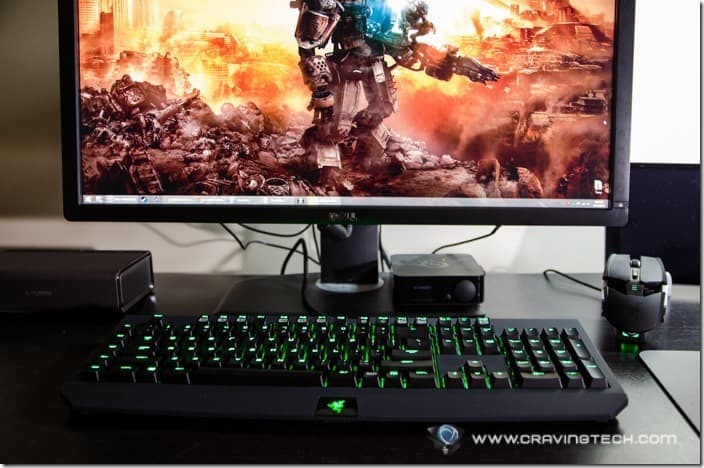 Razer BlackWidow Ultimate Stealth 2014 Review – Razer's most popular mechanical gaming keyboard, the BlackWidow Ultimate  (including the Ultimate Stealth variant), gets a core upgrade. Apart from maintaining the same look and feel with the previous generation, they are now equipped with the all new mechanical switches from Razer.
Why would Razer need to make their own mechanical switches and do they really matter?
Packaging
To test the switches before you make a purchasing decision, the packaging gives you the option to have a play with the keys in the shop. Obviously, Razer is very confident you'll like their new switches and that you will make the switch to their new gaming keyboard.
Design & Features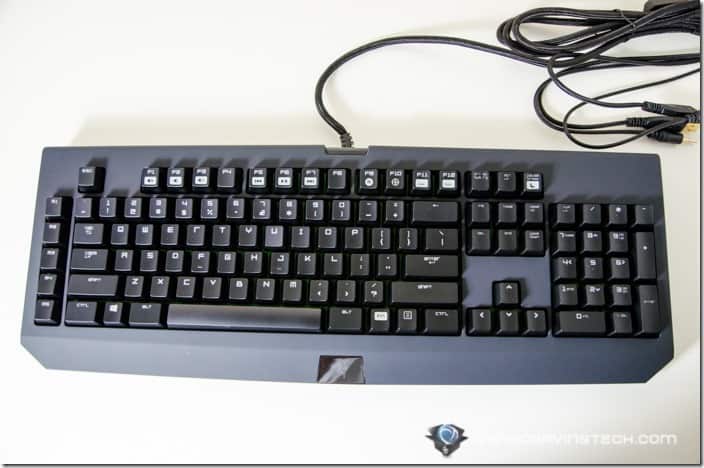 The keyboard itself is quite heavy, so it's probably not a keyboard of choice to be carried around constantly inside a backpack. Thanks to the weight, however, the keyboard sits sturdily on the table and will not budge accidentally when I game.
As with other Razer peripherals, the BlackWidow Ultimate Stealth looks great, especially with the lights on. These individually backlit keys (in green) add visibility when you game at night (or in a low lit place like a tournament event) and enhance the looks of your desktop area. Pair it up with the Razer Ouroboros gaming mouse and Kraken 7.1 headphones with the same green theme and you are all set.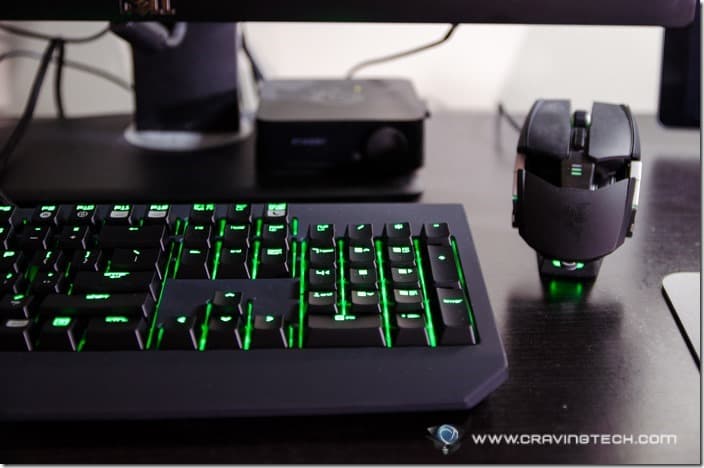 You can also change the intensity of the lights using the Function + Light keys to suit your taste. The media playback and volume control keys are accessible on the keyboard using the same Function key. The keyboard has the Windows key placed on its usual spot like a regular keyboard, which I prefer (so I can run some Windows shortcuts), but you can disable it by going into Game mode (Function + the G-key with the crosshair) if it's interfering with your gaming session.
The macro keys are on the left for some quick macro shortcuts, recorded directly on the keyboard or with the help of Razer Synapse free software.
The cable is rugged for protection and seems to be able to withstand torture and/or any table's "edge rubbing" through seasons of time. The keyboard has a few built-in pass-through ports such as microphone, headphone, and a USB 2.0 (so you can hook your headphones and/or mouse up on the keyboard).
Razer mechanical switches
The original BlackWidow Ultimate Stealth was powered by Brown CherryMX switches, the quietest of all CherryMX switches (read the difference between CherryMX switches and why mechanical keyboard matters). The BlackWidow Ultimate Stealth 2014 is powered by Razer's new Orange Switches, with lower actuation point and an increased life span.
According to Razer:
The Razer Mechanical switch is designed to actuate at an optimal distance of 1.9mm into the keystroke, and reset itself to fire again at less than half the distance of standard mechanical switches. This allows for blazing fast actuations without having the need to bottom down into the keystroke each time.
After playing around with the keyboard for about 2 weeks, my fingers can actually feel the difference (especially since I'm using the original Ultimate Stealth at the office). Razer's Orange switches feel more responsive and tactile, even if the difference looks minimal on paper. It's hard to describe but you can feel it.
Will this make a difference in gaming? In a competitive gameplay, every advantage matters. For example, if you can shoot 0.25s quicker than your enemy (clicking that left mouse button and waiting for it to register), you are the winner of the match – assuming both of you have the same skill. For a keyboard, a quicker response on the keys will still matter in different ways, such as:
Being able to build buildings and units faster in RTS games (having a skill ready 0.5s faster than your opponent makes a HUGE difference in game, for example).
Executing skills quicker than your opponents in MMORPG's PvP is the difference between life and death
Reloading a gun faster in an FPS duel means you can shoot again faster than your enemy (assuming you and your opponent are out of ammo at the same time and press the reload key together)
It's probably hard to prove using eyes and senses alone but if you believe that every moment matters, then the new Razer keys will serve you well.
Typing experience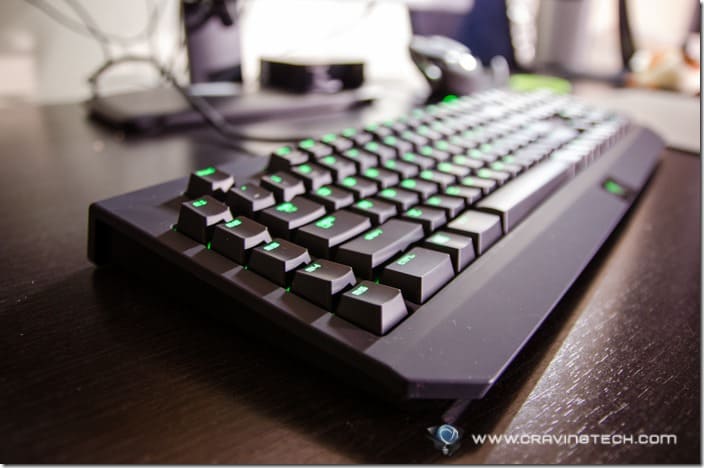 The BlackWidow Ultimate Stealth keys will not be dead silent as you may expect from looking at the "Stealth" and "Silent Keys" tags, but it means the more silent version of the BlackWidow Ultimate (either CherryMX Blue or Razer's new Green switches). A mechanical keyboard will always be louder than the old rubber dome keyboard, but it's worth getting one if you spend a lot of time typing and playing games on it.
Since the keys are responsive and have shorter actuation points, typing feels more comfortable and keys get registered quicker. Overall, these switches are great and they are also designed to last for a very long time (about 60 million keystrokes, according to Razer).
Razer BlackWidow Ultimate Stealth 2014 Review – Conclusion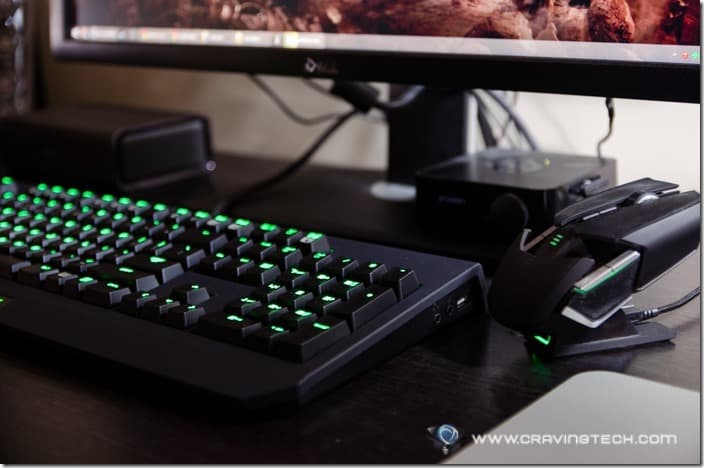 Razer BlackWidow Ultimate Stealth 2014 is the king of mechanical gaming keyboards, in my opinion (I may retract this statement when I get my hands on the new BlackWidow Chroma Stealth). Its keys are responsive, comfortable, fast to register, bouncy in a good way, and made to last longer. It also looks great on the desktop and will match any other gaming peripherals you have (as long as it has a green theme).
Do the new keys really matter? It's probably debatable, but you make the call. If you are playing competitively, your reflexes and skills are still limited by the tools. It's like when you play tennis or badminton with a good racket. You still need the skill, but if you do, you'd want the best racket possible to play with and that's what Razer BlackWidow Ultimate Stealth 2014 with Razer's own mechanical keys offers.
Disclosure: Review sample was sponsored for the review but all opinions are 100% mine
Razer BlackWidow Ultimate Stealth 2014 Pros
+ Looks awesome from all angles
+ Better switches and they last longer
+ Macros, multimedia controls, etc are easily accessible
+ Access to microphone, audio, and USB on the keyboard
+ Comfortable even without a wrist rest
+ Sturdy, rugged cable
Razer BlackWidow Ultimate Stealth 2014 Cons
– May not match with your non-green gaming peripheral on the desk
– Prefer a volume rocker or dedicated volume keys for quick access to volume controls
– Indicators are not bright enough to see (such as when Caps Lock is turned on or off)
[AMAZONPRODUCTS asin="B00IG3GSQ8″]