Razer Kraken 7.1 Gaming Headset Review – A Kraken is an "enormous mythical sea monster said to appear off the coast of Norway and Greenland", a giant octopus. That doesn't mean Razer Kraken 7.1 is designed like a giant octopus or comes in enormous size, thankfully.
What we have, is a design that would entice you to use for music listening and movie watching as much as playing games. The Razer green glow adds an exotic touch once plugged to your USB slot and the headset also sounds amazing.
The review unit I have is the Razer Kraken 7.1 but you can also grab the Razer Kraken (basic model) or the Razer Kraken Pro (also with retractable mic). For serious gamers who want the best of the best, however, Razer Kraken 7.1 with virtual surround sound is the way to go. Especially if you are playing FPS (First Person Shooter) games.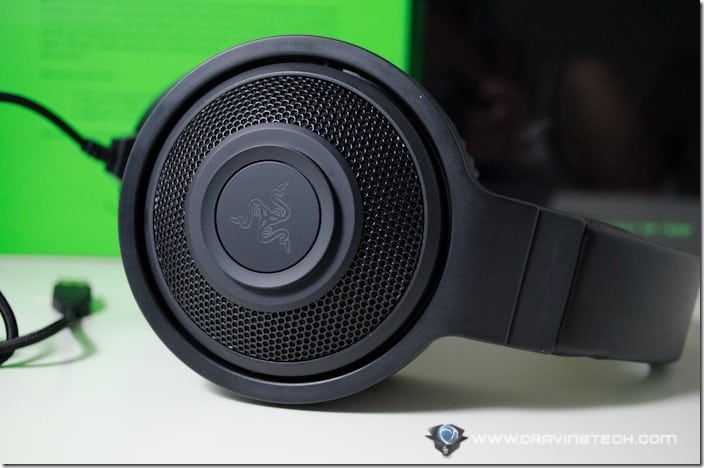 Razer Kraken 7.1 Unboxing Video
Packaging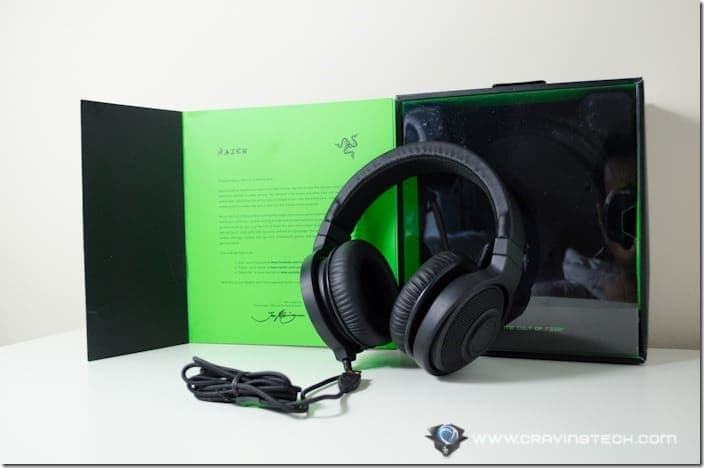 Design
The headset is mainly made with plastic material and coated in black, except for the parts where Razer displays their logo and brand. The Razer logo on the headsets will glow once you plug the headset in a USB slot.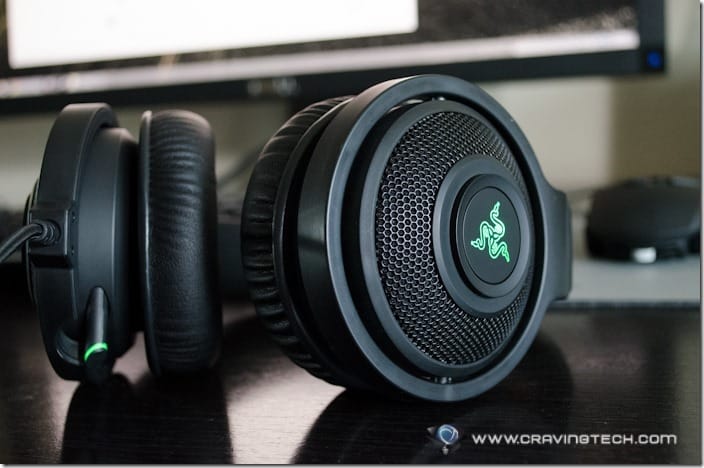 Razer Kraken 7.1 is a USB gaming headset so it's not meant to be plugged into your sound card's stereo and microphone jacks. All sound will be redirected from your computer speakers to the headset once you plug the USB cable in. This headset is purely to be used with your computer and unfortunately, can't be used anywhere else due to the lack of 3.5mm jack. An inline control is also missing, so you need to adjust the sound through Windows' volume control (or your keyboard). Another annoyance is that often the volume goes into maximum after a recalibration or when plugged, so make sure you double check on the Windows' volume level before you play a sound.
The ear cups are made of leather and comfortable to wear. The headset presses onto the head a little bit but I've never experienced any discomfort from this. Not sure how it feels on those with bigger heads, though. Overall, the noise isolation is really good, thanks to the full ear cup design. It's a perfect headset to bring into noisy environment and it's portable too.
The microphone boom is retractable (and yes, there is the cool green glow too!) which makes the headset design clean and minimalist. When you feel like listening to music or watching movies, you can push the microphone out of the way. The microphone is flexible, omnidirectional, and also digital – which gives a much better sound quality compared to analog microphones. There is a demo on the Kraken 7.1's product page if you want to hear the difference between a digital and an analog microphone. When I tested it to record voices and speak, the clarity is ridiculously good. There is also a tiny button for muting the microphone, which will turn the lighting indicator off.
7.1 Virtual Surround Sound Experience
Customisation can further be done with the help of Razer Synapse software that can be downloaded for free from Razer's website. You can calibrate and tweak the 7.1 virtual surround sound to your liking (ex: bass level, surround sound channels & their precision level). Though a real 7.1 gaming headset like the Razer Tiamat I reviewed gives more accurate audio positioning, the Kraken sounds heaps better due to its larger size drivers (40mm). If I have to pick between the Tiamat and Kraken 7.1, I'd pick the later.
Playing Battlefield 4 with Razer Kraken 7.1 gives me a new tactical advantage as I'm now more aware of my surroundings. For example, I can now take notice of the car alarms nearby to pinpoint where an enemy is (even when he/she is not visible on the radar). This includes incoming chopper even when it's still a mile away.
Footsteps in a more competitive game like CounterStrike:Global Offensive also give the enemies away with quite an accurate precision audio channel.
I thought I was going to be disappointed, considering it's just a virtual surround sound, but apparently that's not the case!
For music listening, the Kraken 7.1 does not disappoint either. The sound clarity is really good, but I've heard better sound from headsets that are specifically made for music listening. For movie watching, the powerful, non-muddy bass also enhances explosions and other sound effects from the movies.
Razer Kraken 7.1 Review – Conclusion
By having a bigger speaker driver compared to a true 7.1 gaming headset like the Tiamat, Razer Kraken 7.1 shines in the audio department for playing games, music listening, and movie watching. The audio clarity is superb, bass is powerful without being overwhelming, and the 7.1 virtual surround sound works like magic. The Synapse software gives you all the powerful tweaks and settings, including bass level, microphone normalisation, and the virtual audio positioning calibration.
The Kraken 7.1 may not look as sleek as the new Adaro Series, but what you have is a good all-around design that should satisfy Razer fans who are looking for a good all-around USB gaming headset.
[AMAZONPRODUCTS asin="B00EPAVKP0″]
Disclosure: Razer Kraken 7.1 Review sample was sponsored for the review