Razer Ouroboros review – Just when I thought that the Razer Mamba (read Craving Tech's Razer Mamba Review) is the best wireless gaming mouse in the market, the Razer Ouroboros made its debut. Announced back in July 2012, the Razer Ouroboros photos tickled my geeky nerves with excitement.
Not only it looks so cool (back then, only by looking at the official product photos), its customisation means that it will be the mouse that everyone loves. I did worry whether the mouse would be comfortable to hold, because the design did not look straight-forward. Thankfully, I was wrong. Razer Ouroboros is one of the most comfortable Razer mouse I've ever held so far.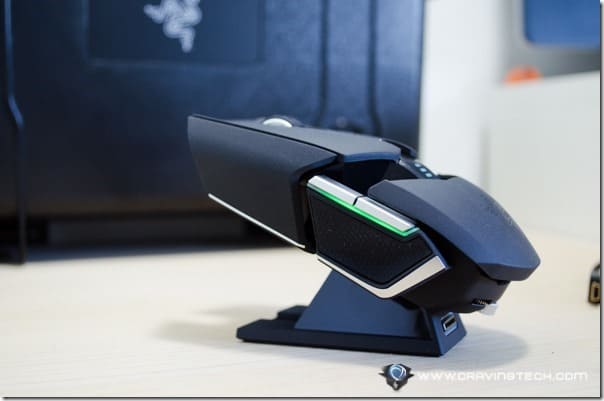 Razer Ouroboros Review – Unboxing Video
Razer Ouroboros Review – Packaging
Before you get too excited, I have to let you know that this "James Bond"-style hard case is only for reviewers. When you purchase a Razer Ouroboros, you will not get this awesome case. Okay, I should stop making you jealous.
The Razer Ouroboros packaging contains:
Razer Ouroboros mouse
A rechargeable AA battery
USB cable
Docking station to recharge + wireless mode
Interchangeable side panels
Razer Ouroboros Review – Design & Features
If you are a Razer fan, then you should have known that they have never made a plain-looking gaming mouse. Top-notch design and the extra bling-bling make hardcore gamers cry with joy. The Razer Ouroboros does not disappoint either, featuring a futuristic-looking gaming mouse that screams awesomeness in every direction.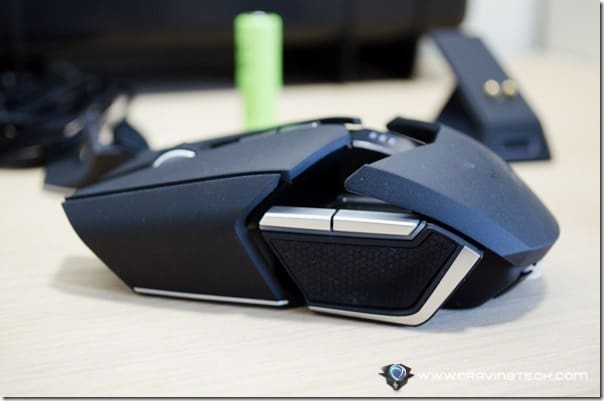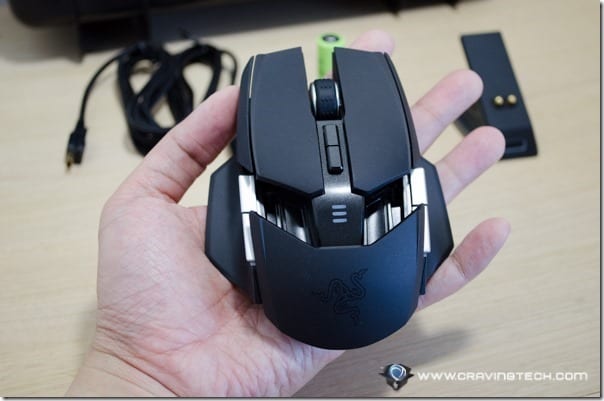 With all the curves and non-linear surfaces, there is no way you'll ever get bored looking at the Ouroboros sitting on your desktop. The whole material of the mouse is of high quality, not some cheap plastic that attracts dirt.
What makes the Razer Ouroboros interesting, however, is the amount of personalisation you can customise on the mouse. It has an adjustable back arch, mouse length, and interchangeable side panels that fit like magnets.
This way, you can customise the mouse any way you like, depending on the size of your palm and also your grip style. I prefer the palm rest to be as close to the surface (flat) as possible.
Adjustments of the mouse can be done directly without any help of a tool (unlike the Tt eSPORTS Level 10 M Gaming Mouse, which requires a separate tweaking tool). Customising Razer Ouroboros is simple and makes me appreciate whoever was behind this design.
The Razer Ouroboros is an ambidextrous mouse, meaning it can be used by left-handed or right-handed users. As such, the mouse is symmetrical in design and has both left and right side buttons. The shiny metallic buttons also add a nice flavour to the overall black-colored theme of the mouse. They are at the right positions and I've never accidentally pressed these buttons by mistake (note: I'm a fingertip grip user).
There are also DPI switcher buttons (up to 5 sensitivity stages, which can be customised using the Razer Synapse 2.0 software) and extra DPI Clutch Trigger which sets your DPI into one of your choosing, as long as the area is still being pressed. It's great to use if you want to temporarily lower down your DPI such as when going over the game menus, etc. You can lock these down if you are not going to use them through the lock buttons beneath the mouse.
Razer Ouroboros can be used wired and wireless. It is powered with a single AA battery (a rechargeable AA battery is included) in wireless mode and by USB when you plug the wire in. When you are out and about, you can also replace the rechargeable AA battery with a standard AA battery, in case you need to use Ouroboros wireless and do not have the time to recharge it. Even the battery compartment is of a nice design and concealed perfectly within the mouse.
To recharge, you simply place the Ouroboros on the compact charging dock.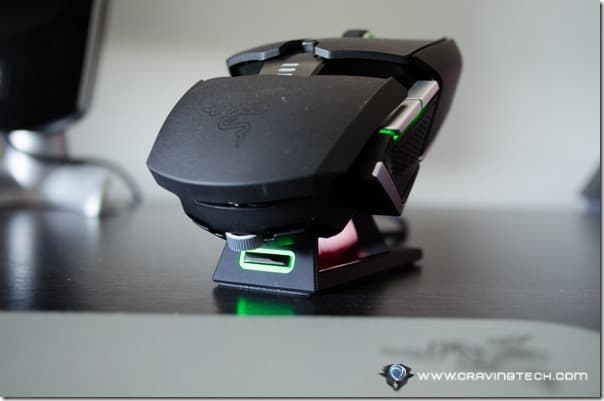 The Ouroboros charging dock is a much better one compared to Mamba's:
It is smaller/more compact
It is easier to dock compared to Mamba's (without looking)
It has this "magic" surface that makes it stick to your table (it's not magnet, nor a sticky tape)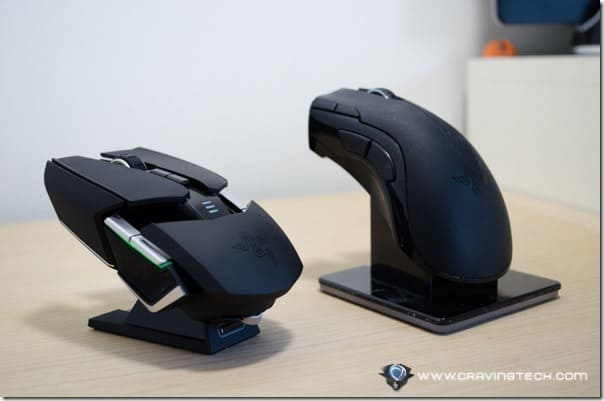 Razer Ouroboros vs Razer Mamba? I definitely pick Razer Ouroboros! The size is somewhat smaller than Mamba and larger than Taipan (which is a little bit too small for me – check out my Razer Taipan review).
The green backlighting on the Ouroboros can be turned off completely if you wish, but who would want to? Except when you are on wireless mode, to save battery life. There are also 3 LED indicators to indicate the battery level of the mouse. To turn the Razer Ouroboros manually in wireless mode, simply press and hold the 2 DPI buttons for some seconds. Do it again to turn it back on.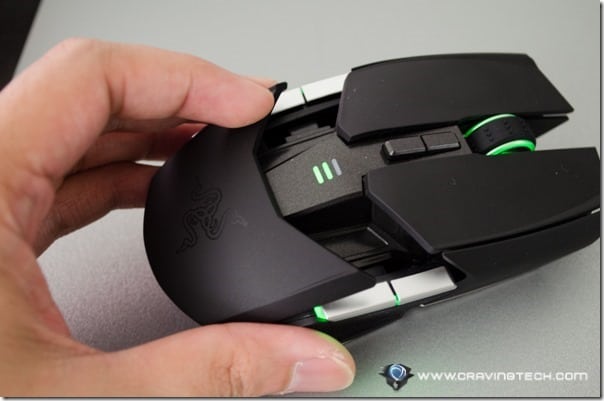 You can also check the exact battery level on the Razer Synapse 2.0 software.
Of course, looks sell but it will not satisfy users for long. Thankfully, Ouroboros does not just stop in the design as it is packed with an 8200dpi 4G Dual Sensor System (that's right, 8200dpi!) and 1ms gaming-grade wireless technology (no input lag, I promise you).
Razer Ouroboros Review – Experience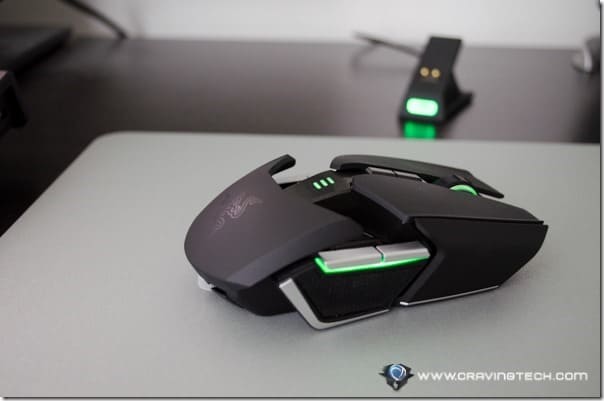 The Razer Ouroboros glides smoothly and accurately on the Razer Scarab (check out Craving Tech's Razer Scarab review). Thanks to Razer Synapse 2.0, you can also tailor it to specifically be configured for any other Razer mouse pads (considering each mouse pad surface is different to one another).
Playing online competitive First Person Shooter games like Counter Strike: Global Offensive requires high precision and control. The Ouroboros fits well on-hand and has the perfect weight, in my opinion.
It can be glided easily, yet has enough weight to maintain control and firmness. The cursor points to where I want it to point and the mouse never fails me (you know, those times where a mouse is doing some erratic behavior just at that right moment?).
I'm also amazed at the battery life when using the Ouroboros wireless. Though the specifications say that the Razer Mamba has 16 hours of battery life compared to the Razer Ouroboros' 12 hours of battery life, I find that the Ouroboros can actually stand longer without having to be charged/plugged. Last Saturday, I was in front of the computer non-stop (a mix of playing games, browsing, blogging, and watching a few movie series) but Ouroboros was still at 37% when evening came. Normally with my Razer Mamba (2013), it would be dead a few hours before. However, there are definitely other factors before jumping to conclusions here (how long did I game? how many swipes and clicks I made compared to Mamba's? etc) so it is possible that I made a wrong assessment.
Nevertheless, the battery life of Ouroboros is excellent and you can simply plug the USB cable if you ever run out of juice (the last LED bar will blink, and this can be customised). There is no eject button in Ouroboros like the Mamba, so it's easier to switch back and forth.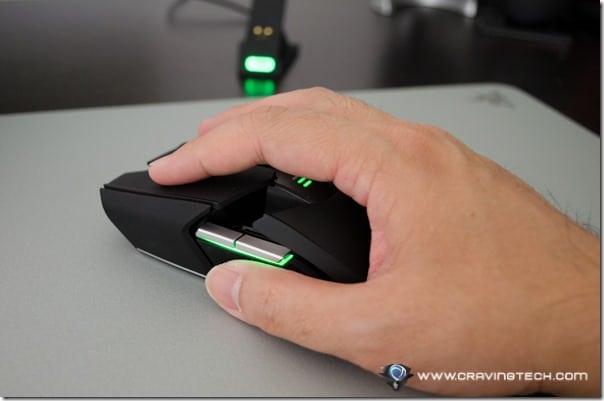 Unfortunately, Razer Ouroboros is not without problems. Often after my Windows 8 wakes up from sleep, the Razer Ouroboros goes into a super low DPI mode. It will take around 5-10 seconds to be normal again (or you can also switch to a different DPI setting to tackle the issue quicker). On really rare occasions, I had to restart my computer to remedy the problem. Other Razer Ouroboros owners seem to experience the same problems.
There were also rare problems where the battery indicators had a wrong battery level information and other quirks (this only happened once or twice during my 2-3 weeks of testing though). Not to worry, I'm sure these are just a driver problem (most likely Razer Synapse) which should be rectified in the near future. Note that the Razer Ouroboros DPI problem does not seem to happen when the mouse is in wired mode.
Razer Ouroboros Review – Conclusion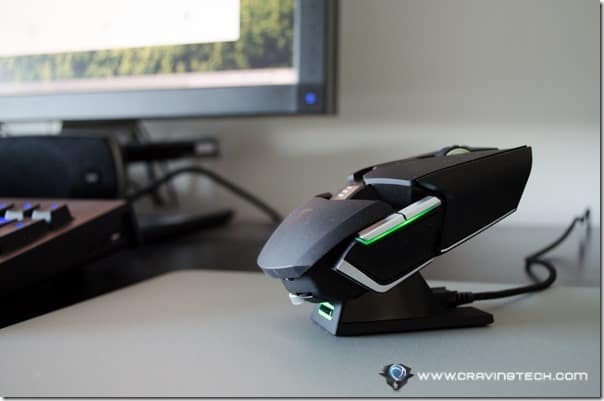 Sorry for the lengthy review. It just shows how much love I put into this gaming mouse and I've never been so happy with a gaming mouse until I try the Ouroboros. Razer Ouroboros has everything – sleek design, futuristic look, customisable ergonomics, perfect weight, optional AA battery when needed, long battery life in wireless mode, non-plastic-y material, superior and accurate performance, and much more. Geek-gasm guaranteed.
If you have the dough, I definitely recommend you to get the Razer Ouroboros. There are indeed a few minor issues, but they are not fatal in my opinion and can be fixed with a driver/firmware update.
Depends on your hand size, however, it's always best to give the mouse a try first on a store if you can – as what fits me well, may be different on your end.
Razer Ouroboros Review –  Pros
+ Futuristic, sleek design
+ High quality materials, no plastic in sight
+ Great looking in every angle
+ Awesome charging dock in every aspect
+ Accurate and powerful sensor
+ 8200 DPI
+ No noticeable lag at all in wireless mode
+ Multi-power support: Wired (USB). Wireless. AA battery.
+ Long battery life. Standby more when not used
+ Can be adjusted and personalised (length of the mouse, the arch of the palm rest, and the interchangeable panels for Palm Grip users or Claw/Fingertip Grip users)
Razer Ouroboros Review –  Cons
– Low DPI issue when computer wakes up from sleep (should be solvable with a future driver or firmware).
Note: Razer Ouroboros Review Sample was provided for the review
Razer Ouroboros
Summary
A sleek and cool looking, wireless gaming mouse from Razer