Razer Taipan Review – It's been a while since we had a new Razer gaming mouse (the last Razer mouse I reviewed was actually the new Mamba 2012, which wasn't exactly new).
Razer Taipan, their latest gaming mouse (don't mention the Ouroboros because it's not available as of yet), comes with a whopping 8200 dpi 4G dual sensor system and an ambidextrous design.
It seems to be made for those with small hands though.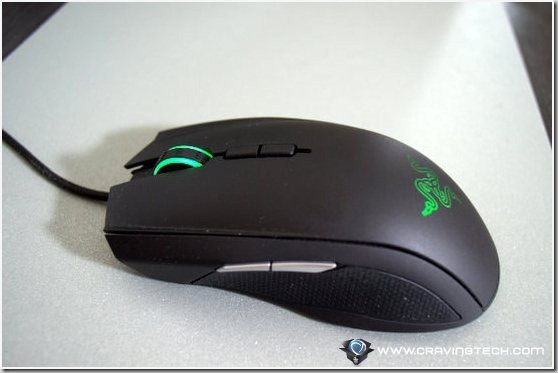 Razer Taipan Review – Unboxing Video
Razer Taipan Review – Design
Razer Taipan comes with high quality matte material with a black finish (goodbye, plastic!) and silver buttons.
Overall, I'm really happy with the material and build quality of the Razer Taipan
The Taipan has 4 side buttons (2 on each side), the usual left-mid-right buttons, and also 2 extra DPI switcher buttons underneath the scroll wheel – a total of 9 buttons and they are all programmable.
Thanks to the ambidextrous design, Razer Taipan can be used left-handed or right-handed (hence, the 2 side buttons on each side). The mouse is also comfortable to use, with the right amount of weight feel. It seems that the Taipan is made for gamers with smaller hands though as I find it to be smaller in size compared to the other Razer mouse I've reviewed before (Lachesis, Imperator, or Original Mamba/Mamba 2012). If you own a Razer mouse and think that the size is a little bit too big for you, then Razer Taipan will put a smile on your face.
The shape is just right, though I'm sure it can be way better if it's specifically designed for right-handed (or left-handed for that matter). Razer Taipan also has a rubberised thumb grip which makes the experience in using the Razer Taipan even better.
The Razer's green theme lights the scroll wheel and also the Razer logo. The color can't be changed in Razer Taipan, though, which makes me wish that I have the new BlackWidow Ultimate version to match (in green).
The cable is also braided for durability with gold plated USB connector.
Razer Taipan Review – Features and Impressions
Just when you thought that a 5600DPI mouse is an overkill, how about 8200DPI? Razer Taipan is equipped with an 8200dpi 4G Dual Sensor System (laser and optical) for exceptional accuracy and calibration on any surface. In fact, using the Synapse 2.0 software, you can actually auto-calibrate the mouse to work best on your specific Razer's mouse pad (I'm using Razer Scarab):
The fast sensor helps when you are playing online competitive First Person Shooter games, and the support for having a higher DPI is compulsory when you game with multiple monitors. I myself only use about 4300 DPI (assuming sensitivity is set to 1 in-game) but I know friends who use more than that when they are playing COD 3 Modern Warfare.
Razer Taipan is accurate, fast, and smooth when I tested it with Left 4 Dead 2, Battlefield 3 and Bad Company 2. The tactile feedback of the buttons are perfect and the middle mouse button is soft, yet firm to press. This gives me a slight enjoyment over playing Left 4 Dead 2 when zooming in and out of a sniper rifle (some gaming mouse that I reviewed in the past had a hard-pressed design and it was frustrating).
Desktop experience doesn't disappoint either. The mouse is accurate and smooth when I had to travel through the edges of the screen (when doing video editing that requires accurate positioning and lots of clicking+dragging).
Razer Taipan Review – Conclusion
Razer Taipan is a straight-forward ambidextrous gaming mouse without having too much features which you can probably live without. It provides what most gamers want, an incredible gaming experience with comfort, precision, and style.
With its black-matte finish, silver buttons, and the glowing green backlighting, you cannot go wrong having the Razer Taipan on your desk, for both gaming and non-gaming purposes.
Do note though that if you have large hands, I would still recommend to get their other gaming mouse model instead.
Note: Razer Taipan review sample was provided for the review