Razer Imperator Review by Michael Aulia – Razer Imperator is the latest gaming mouse from Razer that delivers up to 5600 DPI for a greater precision when gaming (check Craving Tech's Razer Mamba review for a wireless gaming solution). The Razer Imperator is also designed ergonomically to provide comfort without sacrificing the control of the mouse. Because the mouse is made for right-handed gamers only, the Razer team could really optimized the mouse contours for maximum comfort.
Is Razer Imperator just another gaming mouse from Razer? Let's find it out on this Razer Imperator Review post.
Razer Imperator Review – Technical Specifications
Ergonomic right handed design
Adjustable Side buttons
5600DPI Razer Precision 3.5G Laser Sensor
Razer Synapse on-board memory
Up to 200 inches per second/50G acceleration
Seven independently programmable HyperResponse buttons
1000Hz ultrapolling /1ms response rate
On-the-fly-sensitivity adjustment
Zero-acoustic Ultraslick teflon feet
Approx. size in mm: 123(L) x 71(W) x 42(H)
Razer Imperator Review – Highlighted Features
Razer Imperator Review – 5600DPI
You should always game using the highest DPI setting whenever possible to achieve greater precision and smoothness on any gaming mice. Turn down that in-game sensitivity settings (I set it to 1.0 whenever possible) so you can use a higher DPI setting on the mouse. So technically if you have an 800DPI mouse and an in-game sensitivity setting of 4, you can achieve the same feel with a 3200DPI mouse and in-game sensitivity setting set to 1, but with a better precision.
Razer Imperator allows you to crank it up to 5600DPI which is a big bonus for high-sensitivity gamers as they can now set their DPI setting higher & point more accurately, a truly life-and-death factor in a game. I've been playing Left 4 Dead 2, CS:Source, and COD:Modern Warfare 2 for more than a week with 3500 DPI + 1.0 in-game sensitivity setting (I'm more like a low-sensitivity gamer) and I'm truly amazed with the accuracy I've been getting with the Razer Imperator! So if you decide to buy this mouse, don't forget to crank the DPI setting up and lower your in-game resolution until you are comfortable using it.
There is also a hardware acceleration option on the mouse through the configurator software. A good explanation by Razer on what this does can be found on Razer's mouse guide.
Razer Imperator Review – Adjustable Side Buttons
With adjustable side buttons, it is clear that Razer Imperator is designed for both Palm-grip and Claw-grip gamers (it's the way you hold and use the mouse – I'm more like a Claw grip gamer. You can check out Razer's Palm vs Claw grip info here).  You can adjust the side buttons by pushing the trigger underneath the mouse to suit your grip style. This way, you can adjust the mouse instead of you adjusting yourself with the mouse. Although this feature is cool, you probably won't adjust the buttons more than once. Still, it's good to know that whatever style you are using, you'll be able to use the side buttons comfortably. It requires some force to switch it so you won't accidentally slide the side buttons away from you.
Razer Imperator Review – Profiles and on-the-fly-sensitivity adjustment
Using the Razer Imperator Configurator software and Razer Synapse on-board memory, it is possible to save up to 5 DPI settings (sensitivity stages) per profile onto the mouse along with macros and other customized settings. This way, you can conveniently bring the mouse to a Tournament or a LAN party on its own, ready to play instantly with your own customizations.
To change the DPI on the fly, use the "up" and "down" buttons underneath the scroll wheel (if you want, you can change the behavior of these buttons to something else). For example, when you are on your Windows Desktop, use a lower DPI but crank the DPI up when you game. Rather than adjusting the DPI manually, you can also assign a profile to auto-switch when a certain application starts (so you can assign a different profile for every games that you play if you want to).
I wish that I can set a profile as a Default profile though, so when my auto gaming session profile called "Left4Dead 2" ends, it can revert back to the Default profile automatically. At the moment, I need to press the Profile switch button underneath the mouse after I close the application to switch back to my preset Default profile. I've sent an enquiry to Razer about this and will update this post if there is a way to automatically switch back to a Default profile once an application ends. UPDATE: Razer told me that:
Besides cycling through all the profiles using the button at the base of the imperator, you can right click on the Razer driver icon on the taskbar and select the default button.

or alternatively, profile 1 (default profile) can be assigned to load automatically by binding explorer.exe to it. This is not the most elegant of solution but will work to automatically load the default profile upon exiting the game.
So unfortunately there is no automated way to go back to the default profile once your gaming session ends. Perhaps on the next mouse/driver?
Razer Imperator Review – Ergonomic Form Factor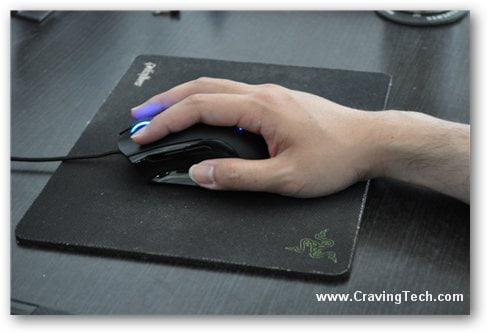 The Razer Imperator ergonomic form factor maximizes comfort while you game for hours. Since the mouse is designed for right-handed gamers, the team could focus on designing surfaces to hold your thumb and little fingers comfortably. I personally love the contour thumb grip which makes me easier to lift the mouse during intense gameplay. Unfortunately the thumb grip is made with a glossy plastic surface so it can be slippery if you have oily hands or if you haven't washed your hands after eating some chips. I wish that it has the same rubber-coated surface like the mouse's top surface. The glossy plastic surface attracts sweats and dirts pretty quickly so you end up having to clean the area quite often.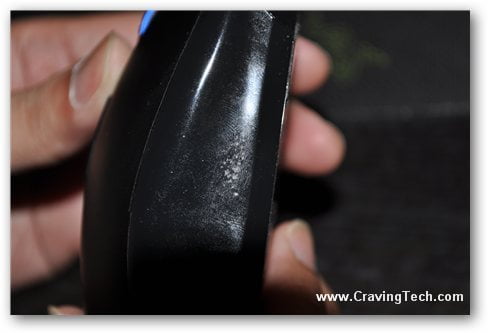 I had a Razer DeathAdder (the first edition) and for some reason I didn't find it comfortable enough no matter what every review seems to say. I ended up selling that mouse away to a friend. However, I really found Razer Imperator comfortable to use even when I gamed for hours. As I said, I'm more like a Claw-grip user and some people say that the DeathAdder is tailored more to a Palm-grip user? Maybe this is why I find Razer Imperator more comfortable than the DeathAdder (assuming that claim is true). It's also a bit smaller in size and have a different contour/build which might suit my hands more than the DeathAdder.
Apparently a lot of research has been done to design the Razer Imperator. You can check out the Ergonomics Whitepaper on the Razer Imperator mini site if you are interested to find out more about it. The document is definitely worth having a look.
Razer Imperator Review – Other minor things but deserve a thumbs up
The mouse has a long cable.
The middle click on the scroll wheel is very smooth and doesn't require any brute force like most Microsoft mouse do
The bling-bling on the mouse (you know, that usual Blue glowing lights on every Razer mouse) if you are into that sort of thing
On-screen display of Profile and DPI when switched (this option can be enabled/disabled) but it doesn't have an LCD on the mouse as a compensation.
Gold plated USB connector.
Razer Imperator Review Conclusion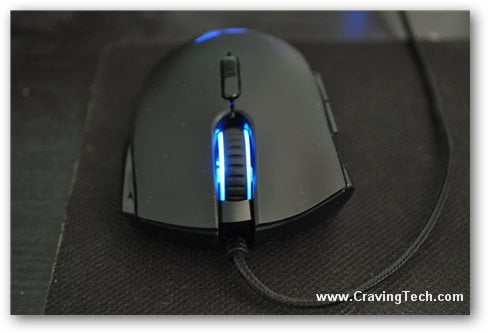 Razer Imperator is designed for both palm and claw grip gamers for maximum comfort and control. The mouse supports up to 5600 DPI which gives you more precision compared with most gaming mouse in the market. Unlike the DeathAdder, I find that the Imperator is more comfortable even after a long gaming session. Playing FPS (First Person Shooter) games such as Left 4 Dead 2, COD: Modern Warfare 2, and the classic CounterStrike:Source has been a wonderful experience with the mouse, giving me a smooth and accurate aim.
Design wise, the mouse has a great design and menacing as always. The buttons are pretty soft which is good but not too soft so you don't get those accidental clicks. Razer Imperator uses both rubber and glossy coating (rubber on the top surface area and glossy on the sides). The glossy surfaces (on the sides of the mouse) unfortunately attract some sweats and dirts so you may have to clean them up every now and then.
And no jittery or skipping experience so far. If so, I'd have already shout a complaint on this Razer Imperator review post.
NOTE: Razer Imperator Review unit provided by Razer

Razer Imperator Review – Pros
+ Looks as menacing as ever and sexy at the same time!
+ Button clicks are soft and register well
+ Smooth scrolling wheel
+ Long cable, with gold plated USB connector
+ Adjustable side buttons
+ 5600 DPI
+ Store profiles with 5 different DPI/Sensitivity stages each
+ Designed for both Palm and Claw grip users
+ Ergonomic, especially with the contour thumb grip (love it!)
Razer Imperator Review – Cons
– Profile/DPI switch feedback on screen instead on an LCD
– The glossy surface on the sides attracts sweats and dirts
To contribute to this Razer Imperator Review post, please do so at the comment form below.