This is a Sponsored Post written by me on behalf of Hyundai. All opinions are 100% mine.
The new Hyundai Santa Fe has outperformed the competition to claim the SUV class of the transcontinental Global Green Challenge. The transcontinental Global Green Challenge covers 3,147 kilometres from Darwin to Adelaide (Australia). It showcases the latest advances in hybrid, electric, solar, low emission, and alternative energy vehicles. It runs from the 24 – 31 October 2009, where the drivers battled the outback terrain of Tennant Creek, Alice Springs and Coober Pedy.
After 7 days of competition, the new Santa Fe R diesel had consumed a total of just 160.46 litres of diesel fuel and achieved a low 137.67 grams of CO2 per kilometre.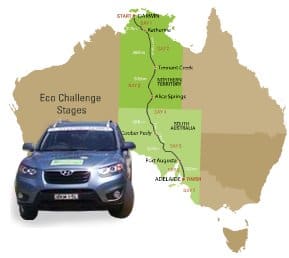 The new Hyundai Santa Fe with 2.2 CRDi (Common Rail Direct Injection turbo Diesel) featuring VGT (Variable Gate Turbo) and new Piezo injector system which enables even more precision of fuel efficiency, delivers power to the road via smooth all new 6 speed transmission.
Santa Fe R Diesel Information

GreenR – 27% more power and 7% less CO2 emissions*
*ADR 81/02 static laboratory urban cycle test for manual
SmartR – with push button start and safe reverse technology
LongR – up to 1,200km on a single tank
SafeR – 5 star ANCAP safety with rollover sensors*
*5 star ANCAP applies to all Santa Fe variants built from October 2009
StrongR – 27% more power and 10% less fuel consumption*
*ADR 81/02 static laboratory urban cycle test for manual
With the current global warming crisis and the emergence of more hybrid cars, Santa Fe joins the green cars "club" and reducing CO2 emissions significantly to the atmosphere. Let's hope that more car manufacturers are following Hyundai's step to tackle the planet's crisis!
Check out the video as well while you're at it:
http://www.youtube.com/watch?v=8-6RnBac7uE