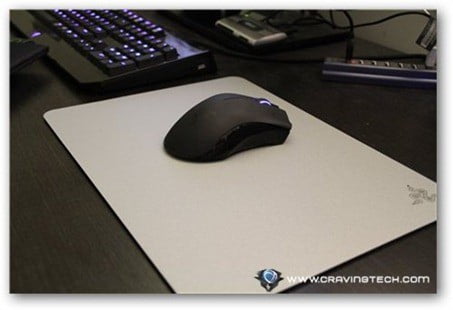 Razer Scarab Review – Featuring Fractal 2.0™ technology, an advanced iteration of the Razer Fractal technology surface, the Razer Scarab provides one of the best mouse mats for gaming in terms of feel, control, and accurate tracking.
What's the advantage of Razer Fractal 2.0 surface and is the Razer Scarab better than the Razer Ironclad? Let's have a closer look in my Razer Scarab's review post.
Packaging
Razer Scarab's packaging is quite standard for Razer's gaming mouse mats, a black box with greenish background for the black colored fonts. The Razer Scarab packaging adds a couple of extra openings, so you can have a feel of the Razer Fractal 2.0 surface and also the soft case that comes with it (before you make the decision to purchase it):
Unboxing Video
Carrying Case
The carrying case is a high quality soft case, yet durable and quite thick to protect the Razer Scarab's Fractal 2.0 surface. It's easy to open and lighter to carry (unlike the Razer Ironclad's heavy case):
Razer Scarab Review – Fractal 2.0 Textured Surface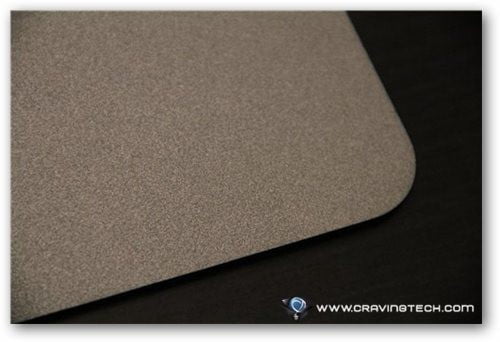 According to Razer, the Fractal 2.0 uses "crystalline coating on the peaks of the grained surface to differentiate against the darker troughs" – meaning that mouse sensors can identify positions faster and more accurate. Fractal 2.0 is an iteration from Fractal surface technology on the Razer Destructor gaming mouse mat. The crystalline coating delivers superior tracking and feels like a hybrid between a soft and a hard surface.
It's a bit hard to explain the feel of the surface. Razer Scarab feels like a smooth-yet-hard-surface. It's coated in grey and has the Razer logo on the top right of the mat.
 
 
The back of the mat is made in rubber which helps the Razer Scarab to stay steadily on the desk. This ensures the mouse mat does not move around even when you are making frantic movements with your mouse. 

Impressions

I tested playing several games with the Razer Scarab, mostly FPS (First Person Shooter) games which require high precision in the middle of frantic moments. I tested the Razer Scarab on Left 4 Dead 2, Battlefield: Bad Company 2, and also on Call of Duty: Black Ops. The mice that I use were the Razer Mamba and the Razer Lachesis 5600dpi. 
Overall, Razer Scarab did deliver high precision to my aim. The control is superb as I swipe my mouse around – the cursor stops when I want it to stop and the mouse glides smoothly, yet steadily. It's a bit hard to compare because I came from using the Razer Ironclad, which is also a good product and delivers a great precision. There is nothing to dislike about the Razer Scarab and it feels like a hybrid of a soft and hard surface gaming mouse pad. You'll love it! 
Razer Scarab vs Razer Ironclad 
Compared to the Razer Ironclad, the Razer Scarab has a smoother surface and much less friction. It requires less effort to aim and also better for the mouse's feet (since the surface is smoother). I do miss the cool touch feeling of the Ironclad's anodized aluminum though. 

Razer Scarab Review – Conclusion

Razer Scarab is truly one of the best gaming mouse pads that Razer has manufactured so far. It stands like a hybrid between a soft and hard gaming mouse pad, giving a smooth yet hard textured surface feel. 
The improved precision in Fractal 2.0 surface helps a lot in online FPS games or any games that require high precision. The crystalline coating adds enough friction for great control yet feels effortless when you are swiping your gaming mouse on it. 
There is nothing to dislike about the Razer Scarab. The size is just nice, it includes a good quality carrying case, and it has a rubber coated back surface to make it stays steadily on the desk. The grey color may not look as sleek as the Ironclad though but it still looks good on the desk, especially if you have a Razer gaming mouse to complement. 
If you are looking for a good all around gaming mouse pad, I highly recommend the Razer Scarab. I have reviewed the Megasoma, Vespula, and Ironclad on this blog and I'd pick the Razer Scarab over the others any day. 

Pros

+ Smooth, hard surface
+ High quality material
+ Easy to clean with a damp cloth
+ Includes a carrying case
+ Rubber based back surface
+ High precision, great control, little friction 

Cons

– None that I can think of, really! 
Disclosure: Razer Scarab review sample was sponsored by Razer for the review. All opinions are 100% mine