Razer Vespula Review – My friends often asked me why they should spend more than $30 for a mouse pad that they can get for under $10? Or even whether a gaming mouse pad can really make a difference. The answer is simple: any serious gamers know the difference between using a true gaming mouse pad compared to a $5 one. No matter how good your mouse is, you will not get the most out of it if you don't use a proper mouse pad to track its movement.
Razer has been manufacturing plenty of gaming surfaces (mouse pads or mouse mats) in the past such as the Razer Sphex, Destructor, and Megasoma. Their latest gaming surface is the Razer Vespula, a double-sided hard surface, complete with a detachable gel-filled wrist rest. Let's take a closer look at the gaming mousepad in this Razer Vespula review post.
Razer Vespula Review – Size and Shape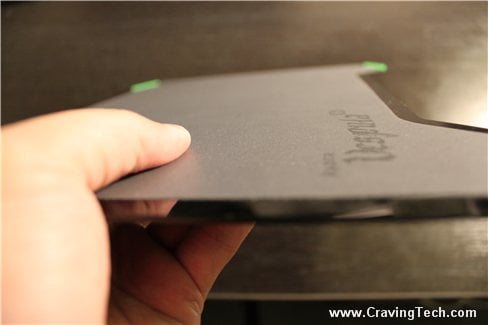 Razer Vespula is 300 mm (length) x 240 mm (width) x 4 mm (height) which is quite a standard medium sized mouse pad. It works perfectly well for both low and high sensitivity user; it's not too small that you can't glide comfortably using your mouse and it's not too large to fit your working area either. The Razer Vespula doesn't have a perfect rectangular shape like an ordinary mouse pad. The shape is not just for the looks, but it's because you can attach the gel-filled wrist rest underneath the surface pad and the wrist rest will fill the empty corner of the pad.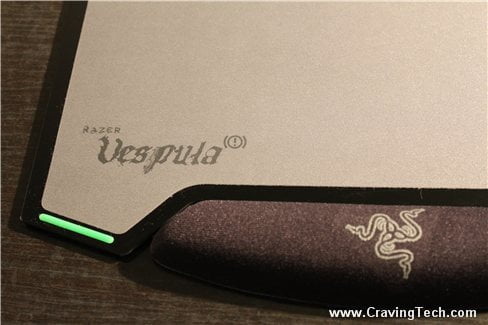 Razer Vespula looks great too compared to my already-worn-out-Razer Goliathus on the left: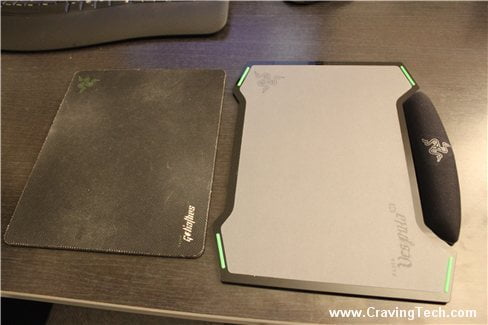 The surface is also made of a high quality material and easy to clean, compared to a soft cloth pad (see the photo again to see how dusty and dirty my old pad was).
Razer Vespula Review – the Wrist rest
Speaking of the gel-filled wrist rest, it is being built separately from the mouse pad itself. You can attach or detach the wrist rest surface easily from the actual mouse pad. Not because it's magnetized or anything, but simply due to the shapes (like when you are attaching a LEGO part to another). If you are worried about the wrist rest (whether it can get detached accidentally), don't. In my experience for a few weeks usage, I never had it accidentally detached from the mouse pad. The bottom surface of the wrist rest somehow "sticks" to my desk and it doesn't feel like it's actually a separate part of the mouse pad at all.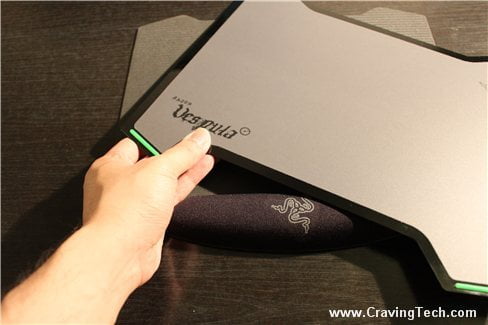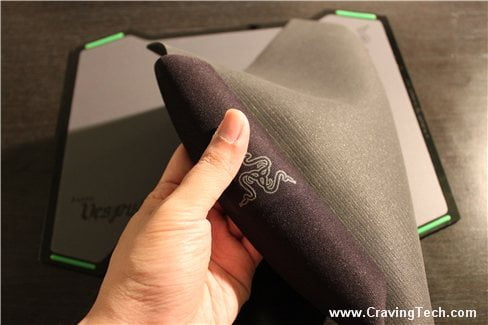 The gel-filled wrist rest protects you from strain and fatigue during a long gaming session. I personally wish that the gels are softer though, but it can be a matter of personal preference. If you are not used to having a wrist rest on your mouse pad, you might find it a bit awkward at first to use the Razer Vespula with the wrist rest attached. Others will find that Razer Vespula is very comfortable to use especially if you normally feel some pain on your wrist because you've been pressing it too hard to your mouse pad/desk surface.
When you feel like using a different surface (SPEED or CONTROL), you can simply detach and reattach the wrist rest surface. This also means that you can choose whether you want to actually use the wrist rest or not. If you are bringing this to a LAN party, you might not want to bring the wrist rest along anyway.
Razer Vespula Review – Dual sided surface
As if having one great gaming surface mouse pad is not enough, the Razer Vespula has both surfaces available to be used upon. One side is called the "CONTROL" surface while the other is called the "SPEED" surface. The only way to differentiate them is by looking at the icon next to the Razer Vespula logo.
The CONTROL surface, marked by the exclamation mark icon: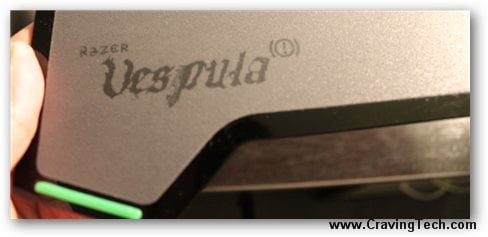 The SPEED surface, marked by the clock/time icon: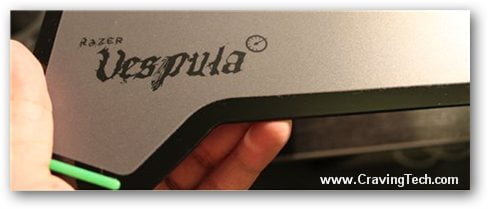 What's the difference between these 2 surfaces? The CONTROL surface is tailored for more precise mouse movements while the SPEED surface is tailored for an increased mouse glide. In both surfaces, my mouse flies! I can feel a bit of friction on the CONTROL side due to the textured surface but I can really feel the smoothness of the mouse glide compared to my Razer Goliathus Control soft pad. On the SPEED surface, it gets crazier as the surface is silky smooth which is good for high sensitivity FPS gamers. I'm sticking myself with the CONTROL surface all the time and enjoying myself from it. My shots are accurate and I never experience the "my cursor suddenly jumps on top of the screen!" moment that I used to have occasionally before.
The area is wide enough for my mouse to glide along the surface and I can make sure that my mouse's Teflon feet don't get scratched from the Razer Vespula.
Razer Vespula Review Conclusion
If you are looking for a hard surface mouse pad to complement your Razer DeathAdder or other Razer mouse, get the Razer Vespula. It's dual-sided so you can pick the right surface to use for gaming or for doing some designs on your desktop. The shape is unique, giving it a distinct look. The size is not too large for a typical desktop set-up and not too small to make you run out of space while gliding your mouse on it.
The mouse flies on Razer Vespula and somehow I haven't experienced a time where I'm suddenly looking at the sky rather than at my enemies (something that I experienced before occasionally). It is also easy to clean and easy on the mouse's Teflon feet.
Two gaming quality mouse pad surfaces combined with a detachable wrist rest? This is the best mouse pad so far from Razer. Pick one, even if you came from a soft cloth mouse pad. You'll love it.
Note: Razer Vespula Review unit was provided by Razer. Photos were taken using Canon EOS 500D.
Razer Vespula Review – Pros
+ Dual-sided for different purpose
+ Unique shape
+ Good looking
+ Detachable wrist rest
+ Accurate tracking and smooth
Razer Vespula Review – Cons
– Surface area may be too small to low sensitivity gamers
Feel free to add any discussions on the Razer Vespula Review post's comment form below.