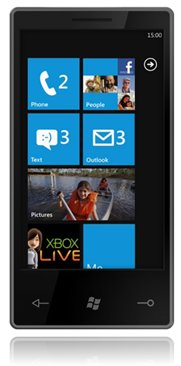 After some rumours and speculations, Microsoft has finally unveiled the interface of Windows Mobile 7 at Mobile World Congress press conference, 15th of February 2010. The interface (by looking at the screenshots and the demonstration video) looks like a Zune-y interface, bringing together Xbox LIVE games and the Zune music + video experience. The design is built from the ground up and still laggy on the video as it's still an early build.
It's too early to make any comment but I hope that the interface will be improved as it doesn't look that sexy at the moment.
From the press release today on my email:
With Windows Phone 7 Series, Microsoft takes a fundamentally different approach to phone software. Smart design begins with a new, holistic design system that informs every aspect of the phone, from its visually appealing layout and motion to its function and hardware integration.

Key features include:

Live tiles: On the Start screen, dynamically updated "live tiles" show users real-time content directly. Create a tile of a friend, and the user gains a readable, up-to-date view of a friend's latest pictures and posts, just by glancing at Start;
Dedicated hardware button for Bing, providing one-click access to search from anywhere on the phone; and
6 Windows Phone hubs: an unrivalled set of integrated experiences on a phone, the hubs bring together related content from the Web, applications and services into a single view to simplify common tasks and are built on specific themes reflecting activities that matter most to people, including People, Pictures, Games, Music + Video, Marketplace and Office.

Partners around the world have committed to include Windows Phone 7 Series in their portfolio plans, including Telstra and Vodafone, and manufacturers Dell, Garmin-Asus, HTC Corp., HP, LG, Samsung, Sony Ericsson, Toshiba and Qualcomm Inc.

To watch the full replay of Steve Ballmer's press conference at Mobile World Congress, and to experience Windows Phone 7 Series through an online product demo, please visit: http://www.microsoft.com/news/windowsphone.
Another problem is.. I don't think my HTC Touch Pro 2 can be upgraded to Windows Mobile 7 when it's released :(