Since I have already reviewed an older version of Norton 360 (check Craving Tech's Norton 360 Review), I'll briefly talk about the software in general while highlighting the new features/changes from the Norton 360 v4.
Norton 360 v5 basically has a new interface, a better download insight (Download Insight 2.0), and improved SONAR 3 technology.
Installation of Norton 360 v5 is fast (under one minute) and has little installation options (which is good for non-technical users).
The main interface looks pretty sleek and through this dashboard, you can see at a glance the status of your computer's overall security, identity protection, any outstanding backup, and required PC optimizations. The interface menu, overall, does not change much from the previous version.
Norton 360 v5 is an all in one security solution for your whole system, as it includes an antivirus, antispam, firewall, phishing protection, download insights (warn you after downloading a file whether it's legit or questionable), and more. The main good thing about the software is that most of the protection happens automatically in the background. After you install Norton 360 v5, you barely need to set-up anything else as the software enables all the crucial things by default.
The Norton 360 v5 antispam works together with my Outlook 2010 and smartly modifies the subject of an email should it detect an email as a spam.
So far, it works great detecting spam emails although it accidentally tagged a software update email as a spam:
The antivirus works in the background, protecting your system for any viruses and Trojan. You can also run a scan manually (full or quick) to scan your whole system for viruses.
I also tried running an EXE file which has a virus in it. Norton 360 v5 successfully identified the security risk as I double clicked on the file: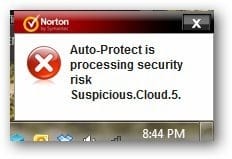 It then automatically removes the threat:
The SONAR 3 (Symantec Online Network for Automatic Response version 3) technology along with System Insight 2.0 pro-actively protects your system from any emerging threats and cause of PC slowdowns where as the Download Insight 2.0 automatically checks Symantec's online database whenever you download a certain executable file. It will then let you know whether the file is questionable or deemed safe.
So far whenever the System Insight reported me of an application hogging the CPU, it's always legit (such as when I'm playing games or when I'm editing video with my Adobe Premiere Elements). However, I'm totally aware that sometimes a spyware can hog the whole CPU and having the System Insight would definitely help me in pinpointing the cause easily.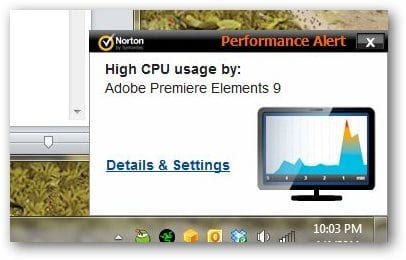 When you are not using your computer after a period of time, Norton 360 v5  does some background optimizations but instantly stops when you are back at your computer.
Now, how many of you have fallen into a trap of clicking a bad and dodgy link on your news feed? I almost did, once. Norton Safe Web Social Media Scanner lets you check your Facebook wall for any bad and dodgy links. The Norton Safe Web is also able to auto-scan if you enable it.

Norton 360 v5 also protects you from visiting any phishing website (some of us may accidentally click a link from an email which leads to phishing sites).
Norton 360 v5 Review Conclusion
Norton 360 v5 is an easy-to-install and easy-to-use security solution for your Windows system. It has the complete security package consisting of an antivirus, antispam, firewall, anti phishing, and many more. In addition, Norton 360 v5 also has a backup feature and a few system optimization tools.
Norton 360 v5 keeps your system protected in the background while you are using your computer. Whether you are planning to install a new program, running one, reading your emails, or just browsing the web, Norton 360 v5 is there for you, watching you and taking actions when things get suspicious. A complete package for both protection and optimization. Highly recommended. You can also download Norton 360 v5 trial version to try out.
Note: License was provided for the review
Norton 360 v5 Review Pros
+ All in one security solution
+ Includes Optimization and Backup tools
+ Pro-actively protects your system (after you download an executable file, etc)
+ Easy to install, easy to use
Norton 360 v5 Review Cons
– Need more installation options for expert users
– Automatically installs an add-on toolbar on my browser by default