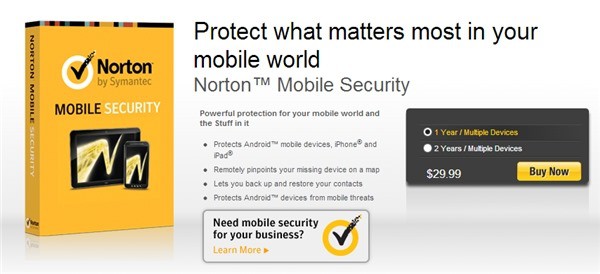 I was never a believer of security software. Until recently.
A couple of weeks ago I accidentally downloaded a malware from Google Play. I was searching for an app already popular in iOS but it was in fact a malware in disguise (if only I was being more diligent and checked the reviews beforehand I would not have been tricked by the app). It started popping up ads in notification area and when I checked further, the malware installed poker and other game apps.
At that point of time I really don't know how extensive the 'damage' is. And having concerned about the safety of the data in the handset, I decided to reset and restore my phone.
It wasn't a pleasant experience at all. So when I was offered Norton Mobile Security I was very keen to try it.
Setting Up
Setting up Norton Mobile Security can be a little less straightforward than installing apps from the store. If you are doing it from the physical package, you first need to scan the QR code (which means downloading a QR reader if you haven't had one) which will take you to the Norton website to create a new account (or sign in if you haven't already). After you verify your email address by clicking on the confirmation link from the email you received, you will need to select your device (Android and iOS), before finally taken to the App Store (or Google Play) to download the app and sign-in.
I would envisage it to be a little less back-and-forth if you first download the app and use the sign-up link within the app, however the first QR code scan carries your Product Key, saving you a little bit of hassle of typing it in.
Anti-Malware
It only makes sense that as people are spending more time on their mobile devices to attend their matters, a lot of unscrupulous people are also increasingly targeting their victims on these devices.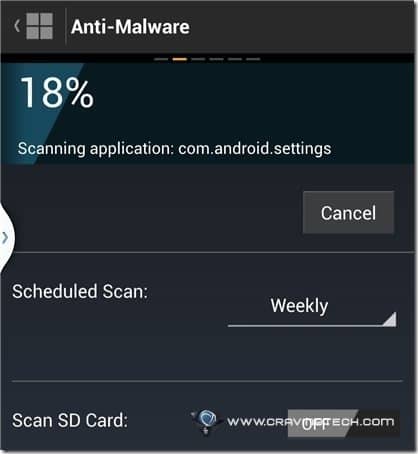 Norton Mobile Security allows you to schedule your scan daily, weekly, or monthly, although it doesn't allow you to set a particular time to it. It also has the option to scan your SD card, although it notifies you that it may affect scan time and device performance should you decide to enable it.
Anti Theft

Anti Theft is, in my opinion, by far the most exciting piece in the suite. While it might probably be a redundant feature in iOS (since you have Find My iPhone), it is quite a usable app for an Android device.
It has been widely known that Google Play, unlike Apple's App Store, have less stringent procedures as to what apps can go through into their store. As my experience have taught me, some apps can be very sneaky even for cautious users, that that might spell risks for your privacy.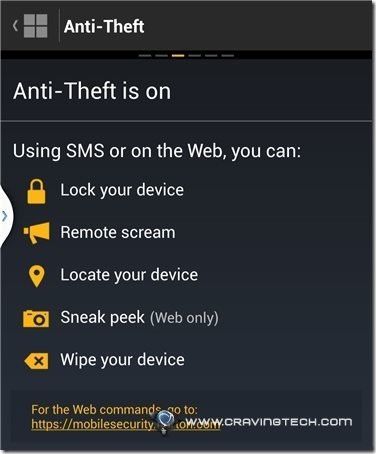 The Anti Theft feature allows you to do the following (from a website through the desktop or by sending SMS):
Lock Device: locking your device and have it display a custom message.
Scream: sound an audible alarm from your phone even when it is on silent.
Locate: finding the current (or recent) location of your device – when it is online.
Sneak Peek: taking pictures from the front-facing camera and view the last 10 photos (this feature is available from web only)
Wipe: remotely erase all personal data from your mobile device (including stored contact information and call history)
Backup: backing up all your contacts.
While I was trying Scream and Sneak Peek feature, it took a few minutes for Norton to connect to my device and sounded the alarm and took a picture. Although the Scream only lasted for about 10 seconds, it was quite surprising when it first started.
Looking from several setup articles in Norton website, it appears that the newer version of this software might have more features. To lessen the possibility of your handset being hacked, you can have more than just a 4-digit passcode. Also, you can assign trusted phone numbers from where you can send your Anti-Theft SMS.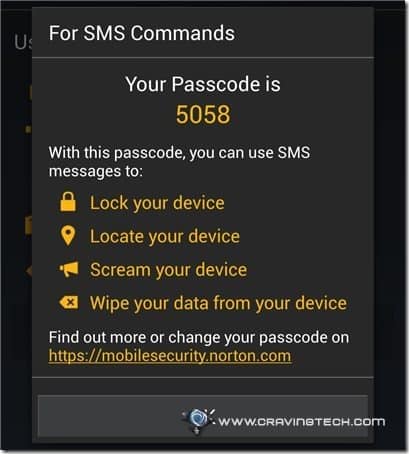 Backup
Much to my disappointment, the Backup feature can only backup (and restore) Contacts data. It is a pretty neat feature though, considering you can perform scheduled backups and can restore from within the app, making it easier and faster to get back up and running (no pun intended) should you lose your Contacts data for some reasons.
Call Blocking
The Call Blocking feature allows you to add phone numbers to the system and block any calls and/or SMS messages coming from those numbers. However, I have a voicemail feature turned on and although the caller did not reach me, he did reach my voicemail and I also received notification from my network saying that I have received a new voicemail. So that doesn't quite work in my case.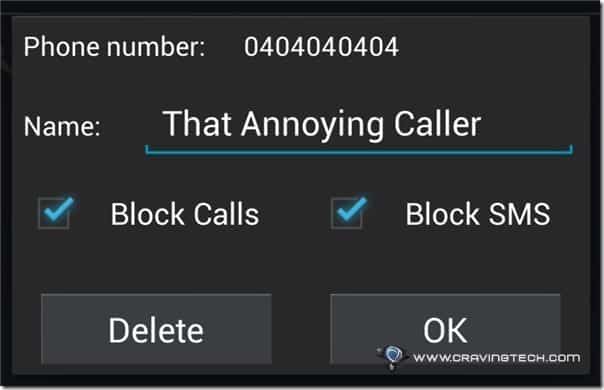 Web Protection


If you are still using the default Android browser on your phone, then Web Protection might probably be useful to block fraudulent sites.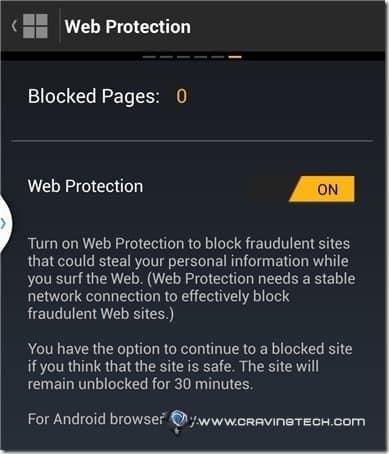 Judging by the description, it appears that the web address you typed in will be checked against an online database in order to determine whether or not the site is fraudulent. If you still decide to proceed, though, Norton will unblock the site for 30 minutes.
Again, it doesn't seem that you are able to manually block a particular site or specify the time limit for the unblock.
Norton Mobile Security Review – Verdict
While I can safely say that this is a quality product coming from a well-known company, there are a lot more room for improvements and customisations. Some of them might already be available in the newer version of the software — while we might need to wait for a while for the rest of them to reach our phones.
Disclosure: Norton Mobile Security review license was sponsored for the review. Opinions are 100% mine