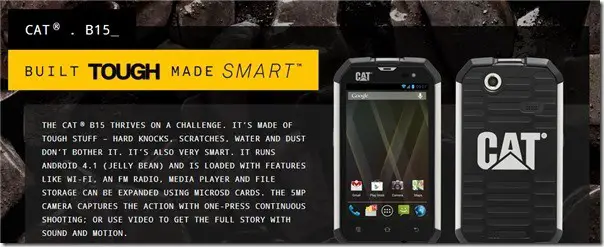 The Android phone market is a tough place for a new phone maker, even if it's a brand well-known in some other field. Such is the case of the Cat B15, an Android phone from Cat, a famous construction and apparel brand that has a reputation for being rugged and tough.
The Cat B15 is not the company's first foray in the smartphone biz, but this is undoubtedly their most advanced. Their reputation also extends to their unit, boasting a degree of water and drop resistance rarely seen in similar devices. But are these features enough to draw attention and generate sales? Let's have a closer look at what the Cat B15 has to offer and see if it can hold its own against the big names in the industry.
Smartphone Features
Dual-core 1GHz processor, 4-inch, 480 x 800 screen, 5.9 oz weight, 5 MP rear camera, Android 4.1 Jelly Bean OS.
The specs on the B15 are not really something that could blow your socks off, but it is capable enough to run most of the applications that you can download from the Android applications store. Its dual core 1 GHz processor is reminiscent of the 2-year old Galaxy SII, and its 4-inch, 480 x 800-resolution screen is quite small by today's standards.
This smartphone is on the thick side at 0.58 inches, but even with the added bulk from its tough exterior, the B15 is able to remain light at just 5.9 ounces. It is a bit heavier than the Galaxy S4 (4.6 oz) but lighter than the Note 2 (6.28 oz).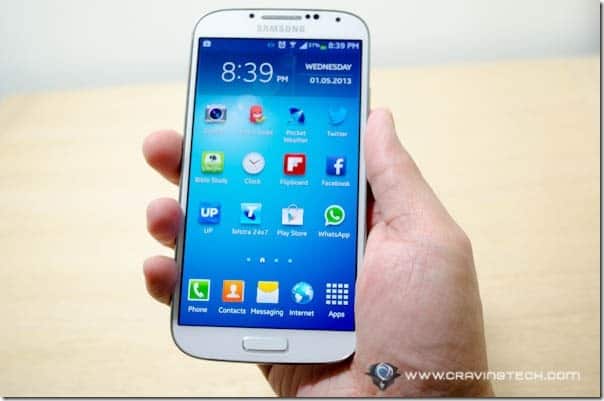 It also has a 5-MP shooter, but don't expect a lot from it. Most smartphones have at least an 8 MP camera, so it's obvious that the B15 can't capture quality images and videos comparable to the latest high-end smartphones in the market. What's great is that this phone packs the one of latest Android OS, 4.1 Jelly Bean, so users can enjoy the latest look and feel of this operating system.
Water-proof, dust-proof, shock-proof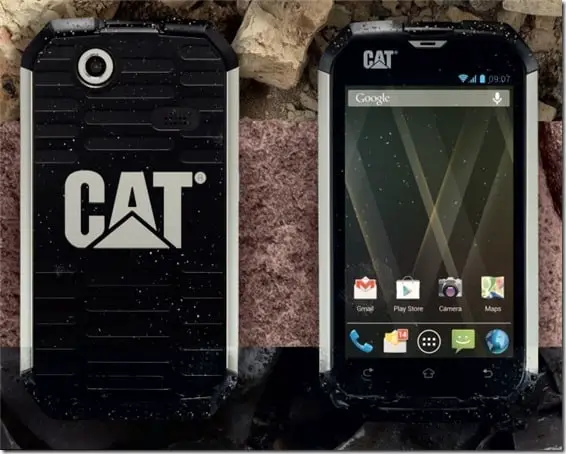 What it lacks in (high-end) specifications, the B15 clearly makes up for in terms of toughness and protection. Coming from a brand like Cat, the smartphone has all the extra features that make it the go-to handset for the outdoors. It is waterproof at one meter-deep waters for 30 minutes, with the touch-sensitive screen fully functional even when submerged.
This is perfect for those who enjoy various water activities (aside from deep sea diving) and outdoor activities that usually involve damp, moist places. Cat confidently claims that the B15 is impervious to dust, as it is rubber sealed all throughout. The headphone jack and micro USB slot are protected by tight-fitted rubber. The volume rocker on the side is rubberized and sealed from the elements as well.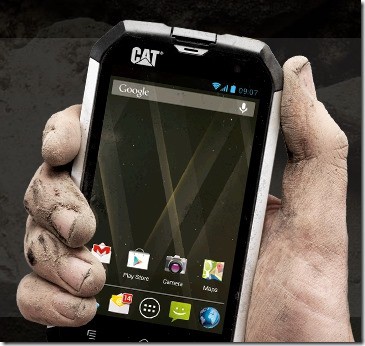 Lastly, the B15 easily survives a six foot drop, so you won't get that little heart attack when it accidently slips from your hand. The rubber and aluminum shell that houses the B15 is enough to keep it intact even under punishing conditions.
This toughness is the biggest draw for this phone, a good enough reason to get it as an alternate to your business phone.
What it should improve on
The Cat B15 doesn't have high end specs, but it still delivers a decent performance for a rugged smartphone. A better camera and a faster processor could surely boost its value, and a bigger screen would make it truly desirable not just for the more adventurous users, but for everyone who could use a tough and rugged phone.
It is 3G-only, so users can't enjoy faster data connectivity on this phone. Boosting it to 4G would hook users up to up-to-date speeds, a welcome addition when you're outdoors.