If you have been following the rumors and concepts about iOS 7, then this is the time to push all of them aside. This is the real deal. This morning, at WWDC 2013, Apple officially announced the all new iOS 7.
A big challenge for Apple is to redesign iOS so that it has a fresh, modern, new look but keep the familiarity to current iOS users at the same time.
As we have heard, Apple completely redesign iOS look-and-feel into flatter, simpler, minimalist design. The "flatter" overall look may or may not appeal to all users but it definitely looks elegant in its own way. The stock icons have also been redesigned to follow this change.
Overall though, iOS 7 looks more modern and has an amazing typography. The font style and color are easier on the eyes to look at. Simplified edges and background bring out the actual content out of an app.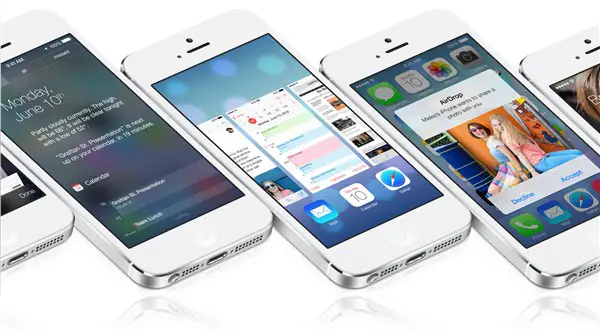 Besides the design overhaul, Apple also adds some new features on iOS 7. We have probably seen some of the features on other mobile OS such as the Android or BlackBerry 10 OS, but they are nice additions to iOS overall. Unfortunately, there are no widgets and the home screen still displays rows of app icons.
Some of the new changes and features on iOS 7:
All new Control Center
For long, iOS users have been longing to get a quick shortcut method to enable/disable Bluetooth, Wi-Fi, and a few other phone settings. Many of us do not use Bluetooth devices for the whole day so it makes more sense if there is a way to quickly turn Bluetooth on and off.
You can also control your music on the Control Center and have quick access to turn your iOS device into a flashlight.
Revamped Notification Center
The Notification Center also gets redesigned and is now accessible directly from the lock screen. Previously, you would have to unlock your device first before you can get into the Notification Center.
True Multitasking
iOS now has a better interface to browse through your minimised background apps. In addition, apps can also be running in the background (depends on the developers to implement this on their apps) without sacrificing battery life. iOS will make updates only when necessary and by learning your behavior in using certain apps (for example, by remembering the times you open a certain app, etc).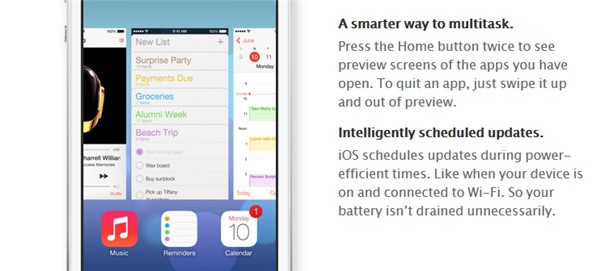 Siri has a complete voice make over and is smarter
Siri now actually sounds less robotic (from the demo) and there is an option to change its voice to male. You can also turn Bluetooth on/off with Siri and it now checks more sources to answer your questions faster and more accurate.
Siri can even search Twitter and bring you the most up to date information about your search.
Photos and Filters
Hundreds of photos are being taken with our iPhones and at the moment, they are most likely stored in the Camera Roll album. Browsing through our photos can be a pain but Apple has designed a neat solution for this. The new Photos app will automatically grab the location info of all the photos and arrange them automatically.
You can even "zoom out" to browse all your photos by time (Years). iOS 7 also has built-in photo filters and you can apply these while lining your perfect shot with the camera, or during post processing.
Other iOS 7 highlights
There are many other features worth mentioning such as the Air Drop feature that allows you to send photos quickly to other iOS 7 users around you (that's right, you don't need to bump your phones to each other anymore!). Safari tabs also get sexier and easier to interact. Back gesture on most apps can be done by swiping the screen from left to the right.
Apple iOS 7 official video

iOS 7 – My initial thoughts
Overall, iOS 7 looks like it is heading to the right direction. It may shock some iOS users with the simpler and minimalist interface, but in the long run, they will surely appreciate the new design and the little things that are yet to be discovered in iOS 7.
At first, to be honest I was disappointed and had mixed feeling about iOS 7. It looks weird at some places (for example, I don't like the transparent layer on the Control Center – makes it look cluttered and dirty). Some icons also look horrible (like Safari), in my opinion.
However, after watching the official iOS 7 video again and the WWDC 2013, I somehow quite fall in love with the whole interface. Again, this is too early to say. I really need to use iOS 7 before I can give a real opinion. I didn't really like Windows Phone interface until after I actually see and use it myself (on the Nokia Lumia 800).
iOS 7 definitely wants me to go back to my iPhone 5 (I'm on the HTC One now which is running on Android) all over again. It now has what I want from a mobile OS (apart from a shiny new home screen and optional widgets) and I still miss some of my favorite iOS apps.
Note: Images courtesy of Apple