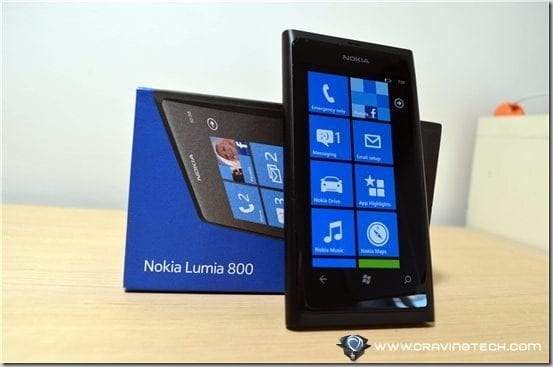 Nokia Lumia 800 Review – After attending the Nokia Lumia 800 media launch event coverage in Melbourne back in February, I fell in love with the phone. There is definitely a reason why Nokia market this phone like there is no tomorrow.
To win a Nokia Lumia 800 a few months after the launch event from an online competition sounds too good to be true, but that's what happened to me!
So, I've been using the Nokia Lumia 800 for a few weeks now and here is my Nokia Lumia 800 review. Since this is pretty much a review about the phone, I'll try not to review it based on the operating system (although in a way, it is related because when you buy the phone, you cannot change the operating system).
Nokia Lumia 800 Review – Unboxing Video
Nokia Lumia 800 Review – Design
The model I have is the Black version, though it's also available in Cyan, Magenta, and White.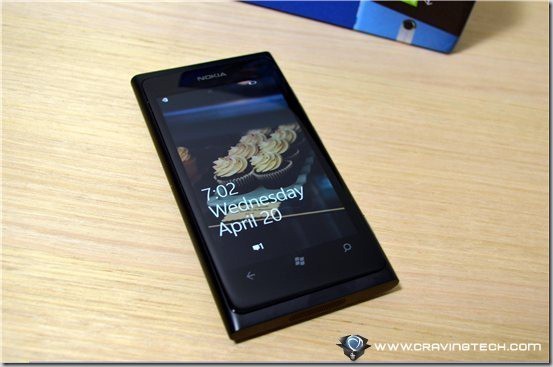 The design is similar to the Nokia N9 and it looks beautiful, elegant, and stylish. It's somewhat square-y and curvy, making it a beauty to behold. It's pretty flat at the back side of the phone, compared to the Nokia N8 that I reviewed back in 2010.
The smooth surface combined with a curved glass design makes the Lumia 800 one of the most beautiful smartphones I've ever had. It has a 3.7″ , 800 x 480 pixels AMOLED touchscreen. Equipped with Gorilla Glass, I've decided not to get a screen protector and so far there is not a single scratch on it (though I haven't really abused it). The shiny metal plate at the back of the phone is not quite protected, however. Before long, I can notice some minor scratches on it if I really look at it closely.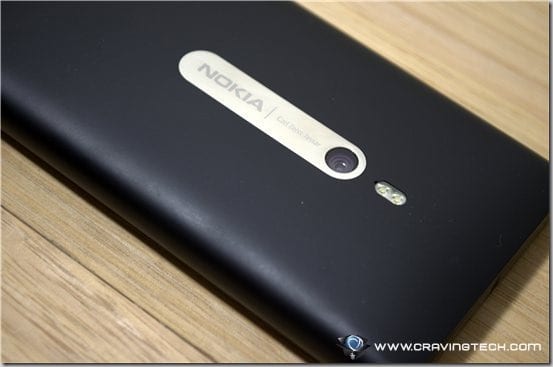 The USB recharging dock and the micro SIM slot are hidden from view (located on the top, next to the earphones jack). Press the slot with your finger nail to expose the dock. It's neat and protective, but you have to do this every time you want to charge the phone. It's not really a big deal though and the snap sound when you close the slot does give a somewhat minor amusement.
Nokia Lumia 800 is equipped with an 8 Megapixels back-facing camera with Carl Zeiss Optics. Unfortunately, Nokia Lumia 800 does not have a front-facing camera so don't try to take any self-portrait or do some video calls with the phone (go for Lumia 900 for this purpose).
The photos are quite sharp (thanks to the Carl Zeiss optics) though I find that the auto white balance does not always do a great job. Daylight shots are incredible and it can also take a night shot pretty well. I personally find that the iPhone 4S seems to do a better job (in terms of contrast and color saturation) compared to the Lumia 800 on their default settings. But this is because iPhone 4S seems to do lots of auto post processing compared to the Lumia 800.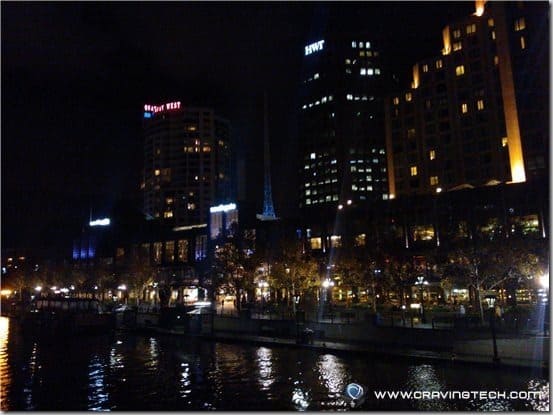 Nokia Lumia 800 hard buttons are all located at the right side of the body: Volume, Power, and Camera buttons. There aren't any labels on the buttons so I had to do some guess work at first (yeah, I'm not the type to read manuals unless if it's necessary).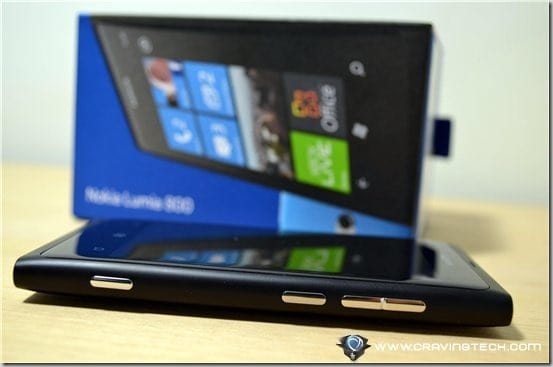 Nokia Lumia 800 Review – Impressions and Experience
In terms of looks, there is no doubt about it – Lumia 800 is a gorgeous phone. The smooth feel of the phone is excellent and the size of the screen+phone overall is just nice. I wish I got the Cyan version though because I think that the color makes the Lumia 800 really shines.
I tend to accidentally press the "Search" soft button when holding the phone with one hand and interacting with my thumb but it's probably just the way I hold the phone.
Battery life is good although I still have to charge it every night before I'm off to bed (which I always do whatever smartphone I  used in the past anyway).
The experience with the Windows Phone 7 is also smooth on the Nokia Lumia 800 and I haven't encountered any lag when I have to scroll through the screen. Moving between screens is also a breeze without any frustration.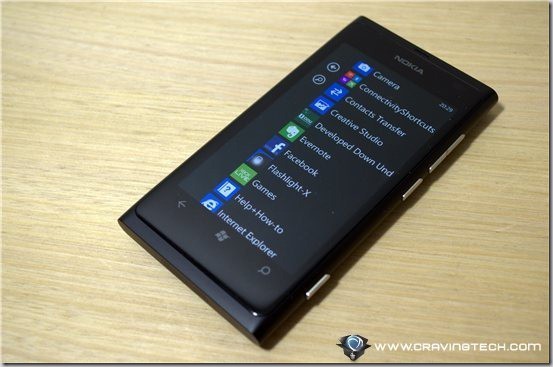 Nokia has also included many great Nokia applications such as Nokia Music, Nokia Maps, and Nokia Drive. I like Nokia Drive the most, because it's a GPS turn-by-turn navigation application with voice and offline maps (you can pick a country and download the map to the phone). The Australian map is around 200 MB in size and for a free application, it's a really great app (it even includes 3D landmarks on the map).
One thing that is quite confusing is that this is not a quad band phone so they release 2 different phone models to handle different network frequencies! This is definitely confusing for most users because they wouldn't know about these things. For example, there is Nokia Lumia 800 RM-801 model that works on Australia's Optus and Virgin. However, if you are on a different telco (Telstra or Vodafone), you need to buy the RM-819 model. Then, there are also the same models but being referred to as 800.1 or 800.2. Nevertheless, please double check this before you buy a new Nokia Lumia 800!
Nokia Lumia 800 Review – Windows Phone 7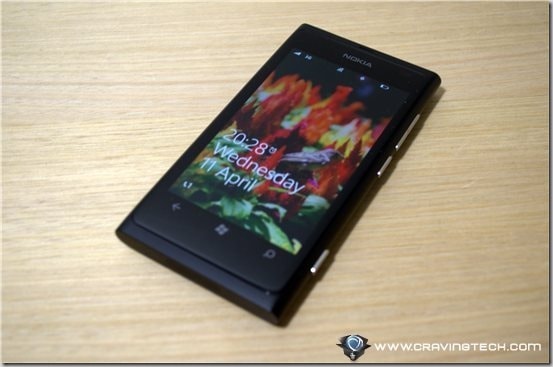 Though I've tried not to include Windows Phone 7 (the OS it's on) as part of the phone review, I still have to talk a bit about it. This is because you will be stuck with it and there is no point in having a great phone with a crappy OS, right? In short, going from their dying Symbian OS to Windows Phone is a good move by Nokia. The interface is slick and even though I used to hate Metro interface, my eyes have been opened. The Metro interface is beautiful in its own way and the typography looks really good in Nokia Lumia 800.
Thanks to the display as well, text looks really sharp – as if you are looking at a solid text on an engraved glass.
Contacts are also integrated really well with the social media; Search a contact and you can now see/access his/her Twitter, email address, phone number, address, date of birth, and other info compiled from social networks. The OS does a good job in linking these together. Keeping in touch with specific people is really easy to do and works.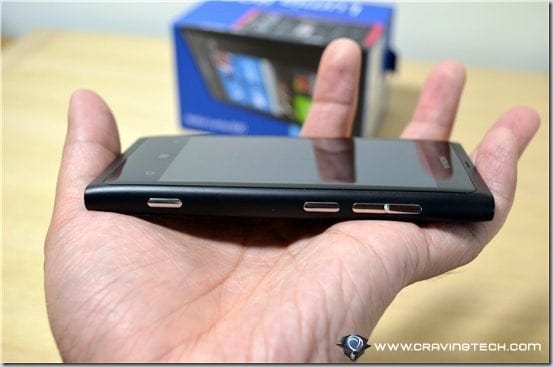 Unfortunately, I find that the OS is still in its early stages. I mean, it's beautiful and it's promising BUT I'd say it needs another major update before it can truly shine in Nokia Lumia 800. Multitasking is not complete yet (it pretty much closes an app down when you move to a different screen) and most importantly, great quality apps aren't that many, compared to iOS and Android. An app that exists in iOS and Android versions (such as Whatsapp) is often lacking in terms of quality. Sometimes it's also a few versions behind.
I'm not saying that I don't like Windows Phone. I do. It's modern, sleek, and I love it more than iOS and Android (even though I'm an Apple fan boy). With another major update to the OS (is it Tango? Or Windows 8?) and the right incentives to app developers (Nokia and Microsoft are doing it at the moment), this is definitely going to be my main favorite OS.
Nokia Lumia 800 Review – Conclusion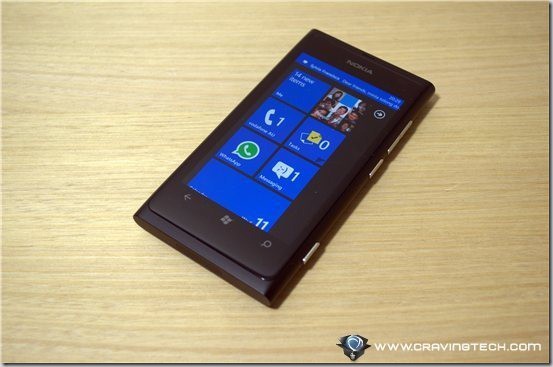 Nokia Lumia 800
All in all, if you are looking for a smartphone with Windows Phone as its OS, you cannot go wrong here. Nokia Lumia 800 is sexy, sleek, elegant, has a crisp display, smooth, and the size is just right. Browsing and interacting with the phone are seamless and I can say that this is one of the best smartphones I've ever used in terms of looks, design, and usability.

The only drawback is probably the lack of apps, but I have to say that after using it for several weeks, I find that I don't really need 80% of my iOS apps anymore. I've got all the main apps I need on Windows Phone 7 or at least an equivalent (with a somewhat lesser quality). This shouldn't hold you back from getting the Nokia Lumia 800 though unless if you are coming from an Android or iOS phone and you've made quite a big investment.

The camera produces a sharp quality looking image although the auto white balance (you can turn it off) and lack of auto post processing may turn some casual users off a bit.

If you've been wondering whether you should get a Nokia Lumia 800 as your Windows Phone, look no further (unless if you are thinking of its big sister, the Lumia 900)!
Nokia Lumia 800 Review – Pros
+ Sleek, elegant, beautiful
+ Super crisp screen, clear
+ 8 Megapixels camera with Carl Zeiss Optics
+  Includes great apps such as Nokia Music, Nokia Drive, Nokia Maps
+ Comes with many beautiful colors
+ Smooth, fast experience
Nokia Lumia 800 Review – Cons
– No front facing camera
– Not a quad band phone, 2 different models;
– You may not be able to change your network unless if you buy the different model
– Depends on Windows Phone updates and apps to thrive