HTC One Review – Oh… where do I start? There is so much to talk about this gorgeous Android smartphone. The last HTC phone I had was the HTC Touch Pro 2 back in 2009 and I truly loved the design of the phone. A few years later, one thing is still certain: HTC still cares and puts it all on the design.
In fact, HTC One is the best designed Android smartphone at the moment and in my opinion, the best Android smartphone overall. We'll find out why in a second.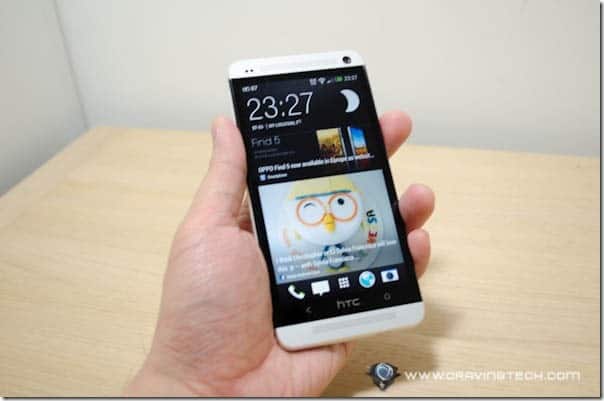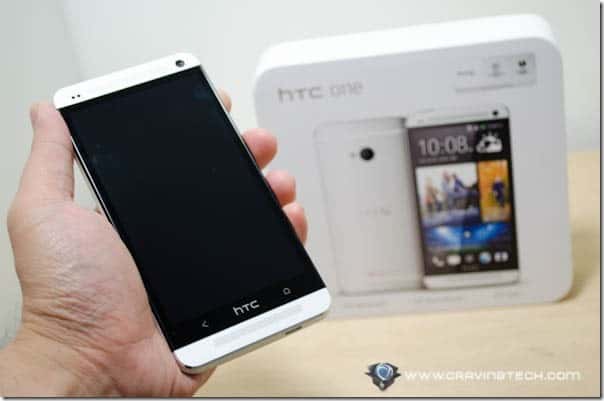 I have to admit that I'm an Apple iSheep. I had an iPhone 4, iPhone 4S, and now I'm on the iPhone 5. Every time I tried moving to Android, I always ended up using my iPhone back after few weeks had passed. At least, not until I get my hands on the HTC One about 2 weeks ago.
HTC One Review – Design
Just by looking at the product photos and many videos uploaded by satisfied HTC One users, you can already personally see how wonderfully designed this smartphone is. It looks good and it feels good. It has a sleek aluminium body and luxurious feel to it. A nice tip: hold it in public or among your friends to attract crowds. It's just gorgeous to behold.
The aluminium body is cool to the touch though it gets warm pretty quickly once you use the phone for a period of time. But there is just that "happy, geeky feeling" every time you pick the phone up. It feels that good.
The phone itself has a 4.7 inch screen with Full HD 1080p (468 ppi – pixels per inch). The screen is gorgeous and everything looks crystal clear. The colors feel natural and texts look sharp.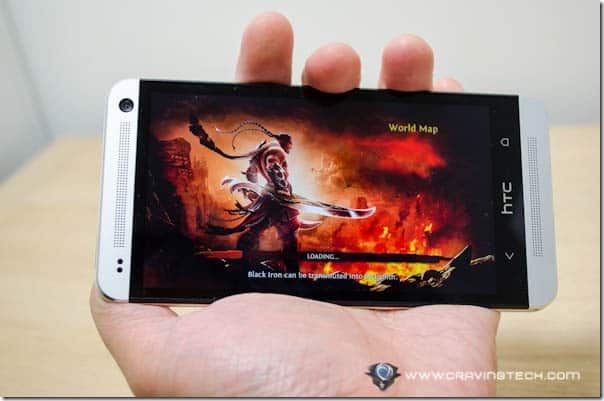 Unlike the other Android phones, however, HTC only has 2 buttons (all soft buttons) – Home and Back. There is no Menu button but app settings are always accessible within the app. HTC also places the buttons differently: the Back button on the left and the Home button on the right (rather than at the center of the phone). This may take some time to adjust, but I think it actually makes more sense to have a Back button on the left. The "HTC" logo is not a button and does nothing when pressed, though it adds a slight aesthetic value to the front panel overall. I always preferred to use a physical Home button to wake my phone up but I can only do this through the HTC One's power button.
HTC One places the speakers in front, rather than at the back or at the bottom of the phone like other smartphone manufacturers. Again, this makes a lot more sense because when you are watching videos or listening to music, you'd definitely want the sound coming at you. The trade-off, I guess, is having a longer body to accommodate.
HTC One Review – Features
There are just too many great features that the HTC One has and I don't think I can go through them all in just a single article.
HTC BoomSound
The front speakers aren't just for show. They sound loud and good. It is powered by built-in amplifiers and also Beats Audio. After having the HTC One, I actually end up watching more YouTube videos on the phone (movie trailers or live music performance) than my iPad. It just sounds really good and the Bass is pretty strong (which I like).
The Beats Audio can be turned off/on so if you are not a fan of it, you can still get a great sound from the phone. I prefer to leave it on.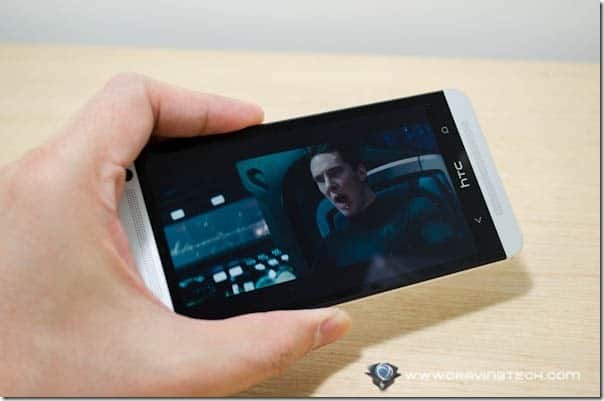 HTC BlinkFeed
I used to spend hours customising my previous Android phones by downloading different widgets, launchers, and even some heavy stuff customisations. I rarely have time for that now and never ended up happy with my tweaks anyway. HTC BlinkFeed makes the phone look unique and better. It acts like a Flipboard on your Home screen by displaying the latest updates from your favorite sites or topics, in magazine-style format. Though I honestly don't use this much, I like the way it looks every time I wake my HTC One up.
If you hate it though, you can swap the home screen with the usual Android panels (containing widgets and app shortcuts). You cannot remove the BlinkFeed but you can just move it to the last panel or something.
HTC UltraPixel Camera with Low light photography
One thing I like the most about HTC One is its camera. Rather than following the megapixels race, HTC decides to come up with its own technology at the expense of smaller megapixels. The HTC One only has a 4 megapixel camera but you should know that bigger megapixels do not mean better photos. You'll only notice the lack of details when you zoom in, crop, or print a whole wallpaper out of the image file.
Since most of us upload our photos to Facebook, Twitter, Pinterest, or Instagram, a 4 megapixel image is actually more than enough for most users. HTC One has a bigger sensor camera though, which means better shots in low light, among other things.
Daylight photos are not the best compared to the other phones but low light photography is where the HTC One shines. I personally prefer this, as there are greater moments happening in a low lit environment: wedding receptions, inside a restaurant or cafe, or outside a theatre.
Daylight shots (without HDR):
Some low lit shots: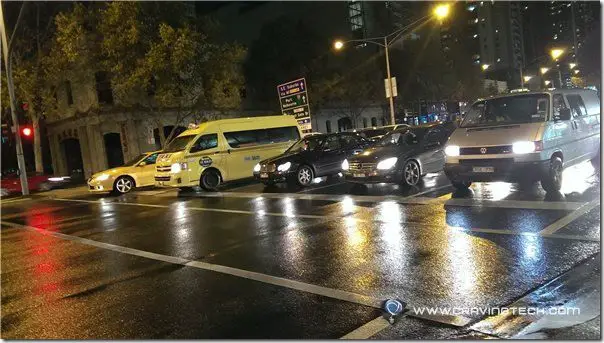 The camera is also wide angled, so you can get more objects into your snaps and do not have to hold it too far for taking self-portrait photos.
Another feature is the HTC Zoe that captures up to 20 photos and a 3-second video. You can then pick the best frame you like and even remove unwanted objects from the scene (such as a passer by). This feature works better than I expected it to be.
Simply tap the objects to remove from your snap.
HTC One Review – Conclusion
There are just so much to love on the HTC One that it has totally converted me over from my iPhone 5. I also haven't mentioned how I love the HTC Sense UI on top of the stock Android. I find the UI more elegant and pleasing to look at (even the pattern locking screen has this elegant feel to it).
Everything runs really smooth (even smoother than the S4, despite the difference in processor speed) and the camera snaps as soon as I press the shutter button.
I'm in love with the camera and find that I like to experiment more with it, trying to take unique photos around sunset or in the evening. You can even press+hold the camera button to take continuous burst of shots, so you'll never miss a critical moment in your snaps. These snaps are saved in a collection so you won't end up having 50 extra photos cluttering your Photo Gallery.
With the BeatAudio, awesome front speakers, and gorgeous display, I also find that I rarely touch my iPad anymore to watch YouTube videos or to browse  around when I'm on the bed.
The only disappointing bits are the 4 megapixels, no microSD expansion slot, and you cannot replace the battery. However, I can live with that.
In my opinion, HTC One simply is the best Android smartphone at the moment. It's worth every penny and it's easily the smartphone I'd pick in a 24-month plan.
The HTC One is available now on Vodafone Australia for free on the $60 2-year plan and above.
There are also lesser plans available if you don't want to spend that much per month:
$30/month plan (+$16/month for the phone)

$40/month plan (+$14/month for the phone)

$50/month plan (+$8/month for the phone)
Or if you are a heavy user, you can go for the infinite talk plan at $80/month or higher. To find out what you get and also the other available plans, check the HTC One on Vodafone page.

Also to note that Vodafone 4G is coming to Australia around June (that's just weeks away!), so you can enjoy the fastest speed possible on your HTC One.
Note: HTC One review sample was sponsored by Vodafone for the post. All opinions are 100% mine.