The new HTC Touch Pro 2 released not long after the HTC Touch Diamond 2. It is the successor of HTC Touch Pro which is still quite popular despite of the sluggishness of the TouchFlo3D version in the phone. Now, you can buy HTC Touch Pro 2 almost everywhere and if you are here on my HTC Touch Pro 2 review post to find out whether it's worth the money to get the phone, you come to the right spot!
I've had my HTC Touch Pro 2 for almost a month now and I've never regretted my decision in purchasing it up til this day. In fact, I'm very satisfied with it. I've been a Windows Mobile user for years (Mini O2 was my first PocketPC device and the second was the HTC P3600i) and HTC Touch Pro 2 truly is the best PocketPC device that I've ever had, in terms of the specifications and also features.
HTC Touch Pro 2 Specifications
Processor: Qualcomm® MSM7200A™, 528 MHz.
Operating System: Windows Mobile ® 6.1 Professional (HTC Touch Pro 2 is upgradeable to Windows Mobile 6.5).
Memory: 512 MB ROM, 288 MB RAM.
Dimensions: 116 X 59.2 X 16.65 mm (4.57 X 2.33 X 0.66 inches)
Weight: 178.5 grams (6.3 ounces) with battery.
Display: 3.6-inch TFT-LCD touch-sensitive screen with 480 X 800 WVGA resolution with adjustable tilt screen.
Network: HSPA/WCDMA (Europe/Asia: 900/2100 MHz, up to 2 Mbps up-link and 7.2 Mbps down-link speeds) and Quad-band GSM/GPRS/EDGE (Europe/Asia: 850/900/1800/1900 MHz – Band frequency, HSPA availability, and data speed are operator dependent.)
DeviceControl:

TouchFLO™ 3D and Zoom bar.
Keyboard: Slide-out 5-row QWERTY keyboard.
GPS: Internal GPS antenna.
Connectivity: Bluetooth® 2.1 with Enhanced Data Rate and A2DP for wireless stereo headsets, Wi-Fi®: IEEE 802.11 b/g, HTC ExtUSB™ (11-pin mini-USB 2.0, audio jack, and TV Out* in one).
Main camera: 3.2 megapixel color camera with auto focus.
Second camera: VGA CMOS color camera.
Battery: Rechargeable Lithium-ion battery (1500 mAh).
Memory Expansion Slot: microSD™ memory card (SD 2.0 compatible).
Radio hardware included but need to install a separate small program to enable it.
HTC Touch Pro 2 Look & Feel
I'm pretty sure that you have been drooling over seeing HTC Touch Pro 2 screenshots or early videos before it got released to the market. I'm happy to tell you that the actual device doesn't look much different from the screenshots. HTC Touch Pro 2 simply looks great and its TouchFlo 3D interface really fits well with the device.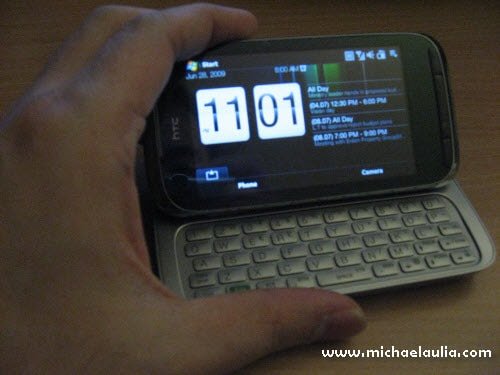 HTC Touch Pro 2 has an iPhone-y look although it is thicker because of the built-in QWERTY keyboard. It is not too bulky though and I can put it inside my jeans pocket comfortably (I normally dislike having my phone belt-clipped). It does feel a bit slippery though so hold it with an extra care especially if you are the careless type.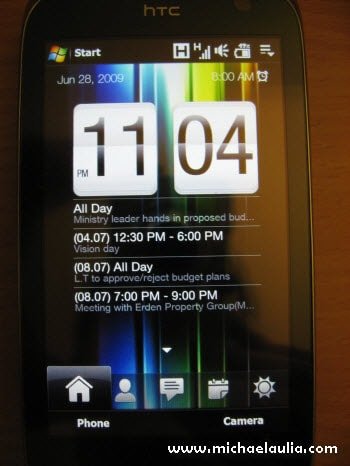 HTC Touch Pro 2 has a very large screen at the expense of smaller buttons (to Accept Calls/Make Calls, the Windows Start button, the Back button, and the Reject Calls/Home button). HTC has decided to throw the D-Pad navigational away for a larger screen. Some people dislike this move but I personally don't mind it at all. The TouchFlo 3D interface that comes with it is more than enough for you to browse and use the phone to its fullest. Of course there are times when you need to navigate through the horrible touch support of Windows Mobile 6.1, but since the Touch Pro 2 screen is quite large, you'll get away with using your finger. Very rarely I have to take out my stylus from the HTC Touch Pro 2. Once Windows Mobile 6.5 is available, you'll probably realize that you never need those D-Pad buttons anymore.
HTC Touch Pro 2 screen is a finger-print magnet (just like any touch screen devices) so make sure that you apply the screen protector that comes with it before you start using the phone. I'm also worried because the back-side of the phone looks quite fragile. However, it's safe to say that it can be easily replaceable (I've seen a variant where the back-side was black instead of the gray-ish look that mine has).
HTC Touch Pro 2 Highlighted Features
Internal GPS.
Combined with the QuickGPS application and TechrificWay, GPS lock is faster than ever now, even on the CBD. Previously with my older HTC phone, the HTC P3600i, satellite lock could take ages around skyscraper buildings.
QWERTY Keyboard.
Probably the best keyboard on a mobile phone ever, HTC Touch Pro 2 keyboard is powerful yet comfortable to use. You can even assign a sound when it slides in and out.
Straight Talk technology.
Conference call capability straight from your emails to call the participants by putting the Touch Pro 2 upside down on a flat surface level. It will automatically switch to the speakerphone (enhanced with noise suppression and high fidelity sounds). It also has 2 microphones with noise cancellations.
3.2 Megapixel Camera & Video recording capability.
The camera isn't the HTC Touch Pro 2's strength, so don't expect it to deliver high quality shots (have a look at my HTC Touch Pro 2 sample camera shots below). Crappy pictures quality but decent enough.
High Quality Screen.
Screen resolution is of high quality and crisp. Watching high quality videos on the device is like watching it in a computer with a good LCD screen.
Zoom Bar.
Slide through the Zoom bar to automatically resize the page on the Opera browser and also on supported applications. You can also do a hack to the Zoom bar to scroll pages on other applications.
HTC Touch Pro 2 QWERTY Keyboard in Detail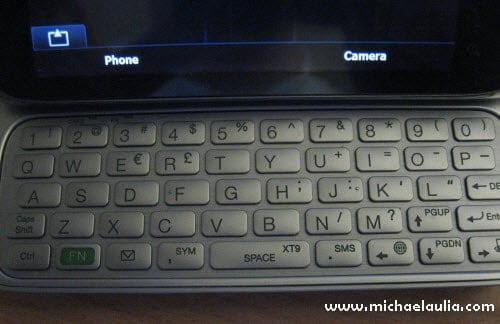 I'm very happy with HTC Touch Pro 2 keyboard. It is the main reason why I'm going for the phone. If not, I'd take the HTC Touch Diamond 2 because of the slimmer design. Although the QWERTY keyboard makes the Touch Pro 2 bulkier, it is well worth it. The keyboard is very comfortable and easy enough to be used for typing. I normally use my 2 thumbs to type on the keyboard but it is almost as quick as typing on a real computer keyboard, once you get the hang of it.
The HTC Touch Pro 2 keyboard is not a simple keyboard. Apart from the missing TAB key (but possible to do – check out HTC Touch Pro 2 keyboard hacks), it has Shift, Caps Lock, Ctrl, Backspace/Del, Page Up, Page Down, Arrow keypad, some symbols (located above the number keys on your regular keyboard), and also shortcuts to important program such as writing a new email or an SMS.
The Ctrl and Shift buttons are very powerful and highly efficient because you can do a copy (Ctrl-C), paste (Ctrl-V), Undo (Ctrl-Z), Font Styling (Ctrl-B for Bold, Ctrl-I for Italic, etc), and even block highlighting (Ctrl-Shift-Right or Left). Or you can quickly move between words by using the Ctrl + an arrow key.
Other things I like about HTC Touch Pro 2
It has a backlight indicator that will adjust the screen & keyboard backlighting automatically based on the lighting conditions.
Lights indicator on top of the device when there is a missed call or an SMS, when the battery is fully charged, or when you have the Bluetooth connection turned on.
Fully upgradeable to the upcoming Windows Mobile 6.5.
It's so pleasant to look at (both the device and the screen when it's turned on, it's not funny!).
No smudges and finger prints on the Phone (like iPhone) except on the screen area (easily wipeable).
Integration with Facebook (you can grab your contacts' photos and birthday from Facebook).
Plenty of RAM & ROM to play around with.
Supports playing YouTube videos although I'm not the type who likes watching YouTube videos on my phone with chargeable data connection.
The speaker phone is of high quality. I love using my speaker phone now because of the clarity of the sound.
I love TouchFlo 3D user friendliness although it takes a considerable amount of memory from the phone.
Other things I dislike about HTC Touch Pro 2
Sometimes the TouchFlo 3D is not starting when you restart the phone. Some people suggest there can be conflicts with other installed applications during the start-up or because you enter the PIN code too fast. You can try a few restarts to get it to work, or by ticking-unticking the item on Today items, or by disabling some applications loaded during the start-up, or by disabling PIN codes during start-up.
I can see some tiny scratches on the area where the keyboard slides in and out. I hope it doesn't accumulate throughout the years.
TouchFlo 3D can't be updated unless you flash the ROM. It's also not smooth enough although it is far better than the previous Touch Pro (according to the original Touch Pro users).
No universal audio jack (although I don't use the phone to listen to music anyway).
Wish the camera quality is better but again, this phone is not meant to take high quality pictures so just treat the camera as a bonus.
It takes some time to get used to not having a D-Pad (the arrow navigational button) especially if you have older programs.
The phone needs to lie on a flat surface in order for the auto conference mode to be activated.
Photos taken with HTC Touch Pro 2 Camera
Other thoughts on HTC Touch Pro 2
The battery life is not bad but it's not too great either. You can see some statistics of what you've done since your last full recharge. For example, here is mine:
Standby time: 32 hours 18 minutes.
Talk time: 6 minutes.
Device usage: 2 hours 20 minutes.
The current battery level: 6 bar out of 10 (about 60%).
I was sending around 15-25 SMS between Friday 8 a.m to Saturday 6:30 p.m. Made/received a few calls, and reading notes on the device for around 5-10 minutes non-stop. I also had a friend checking out the phone for a few minutes. Since I only had a few full recharge of the battery when I noted that statistics, it's hard to tell the actual performance of the battery.
HTC Touch Pro 2 also comes with a radio hardware but you need to install a tiny CAB file hack separately to enable the radio. I guess it was still buggy or there was a reason why HTC didn't enable it with the ROM that came with it. I'm not sure why but if you want it, get the HTC Touch Pro 2 radio hack from xda developers site.
Where to buy HTC Touch Pro 2

Lots of online and retail shops have the HTC Touch Pro 2 in stock. I personally got mine from Clove Technology (a UK based online store formed since 1992). Their support was fantastic when I made the purchase. The phone was delivered through DHL service, which was fast and reliable. I ordered it on Thursday and I got my phone (delivered from UK to Australia) on Monday morning which is fast! You'll also get a DHL tracking number when you purchase from Clove Technology so you can track their quality of service (both DHL and Clove Technology).
I also bought an extra screen protector from Clove and since they haven't got it in stock at that stage, they sent it on a separate package without any additional cost. Even after I made the purchase, they were still happily answered my queries and questions about the phone. I'd recommend buying HTC Touch Pro 2 from them if you are looking for a fast and reliable service.
HTC Touch Pro 2 Review Conclusion
The HTC Touch Pro 2 is a great phone and probably the best PocketPC phone I've had for years. The price is quite reasonable for the features that you are getting. The phone performs really well even when TouchFlo 3D is turned on (which reserves quite a large amount of memory for itself). The TouchFlo 3D interface that comes integrated with HTC Touch Pro 2 really suits the phone and it comes with all the functionalities you need. You don't need to purchase a separate contact management application or even the famous SPB Mobile Shell for your today screen. You can still see the horrible Windows Mobile 6.1 behind the scene but since Windows Mobile 6.5 is just around the corner, there is no reason to wait to buy this phone.
The camera isn't great so if you are looking for a phone because of the camera, then you need to think twice whether you should get HTC Touch Pro 2. The qualities suffer especially on a low light condition. HTC Touch Pro 2 camera has no flash so try not to take pictures at night or in a low lit condition room.
HTC Touch Pro 2 or iPhone? It depends. If you are looking for playing fun games, great multimedia support, and a "complete" phone out of the box, get an iPhone. If you are a professional user and if you like tinkering/customizing your phone, HTC Touch Pro 2 is for you. Not to mention that HTC Touch Pro 2 comes with a great keyboard. Try typing for an SMS message (or an email) on an iPhone and compare that with the experience of using an HTC Touch Pro 2 keyboard! I got a free iPhone from my Vodafone plan and I sold the iPhone to a friend to buy HTC Touch Pro 2. Those iPhone users can boast their iPhone smoothness interface but they can't beat the professional features that my HTC Touch Pro 2 has!