Note: This is a guest post written by Mike Spencer.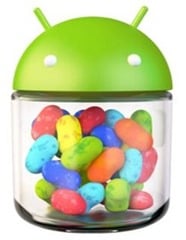 The Official logo of Android 4.1 Jelly Bean
Android 4.1 Jelly Bean – It's not long time back when we witnessed the official launch of Android 4.0 (ice-cream sandwich) which was a major update in Android market in the year 2011. Android 4.0 brought several changes to the core applications such as the contact list, e-mail clients, button-less controls, a change in look and feel to Android.
This year Android came up with a modest update with the introduction of Android (4.1) Jelly bean which was first rolled out to smartphones such as the Galaxy Nexus. Nexus S. Jelly Bean added some modest changes in ICS and is more of an incremental update.
Here, We are going to discuss some Android 4.1 enhancements and key features that we found quite eminent for the users.
Jelly Bean User-Interface Enchanting Like Jelly
The aesthetics of Jelly bean is more like ICS with few minor changes and trust me those changes are really good. A major optimization in terms of notification system is done in Jelly bean.
Notification bar is mended in such a way that it provides more details to the users, for example multiple emails are shown in a single entry. Larger icons are used in notification tray to improve readability and user experience.
In Jelly bean, you have 3 on-screen touch buttons which was earlier introduced with Honeycomb, but we suspect whether many manufacturers are going to use this feature or not. As most of the people still prefer the old school physical buttons.
Along with this, Jelly Bean adapts the dark "Holo" theme, which seem to be replicated from "Tron legacy"-like blue, black and gradient gray theme which gives a whole new vibrant look to the user interface.
Notification bar of Jelly Bean displaying multiple e-mails,updates in a detailed manner.
Jelly Bean Theme seems to be inspired from Sci-fi Hollywood flicks
Project Butter – Making User-experience Buttery Smooth
As the name suggests, Google unveiled "Project Butter" to reduce lags in their devices and to make the touch response more fluid. Project Butter helps the devices to run CPU and graphics consecutively and don't crash into each other. With this latest feature, the touch response felt much snappier and smoother.
Project butter emphasized on 3 technologies to smoothen the user-experience:-
Vsync to increases the frame rate to 60fps and improve graphical performance!
Triple Buffering allows the CPU, GPU and display to work simultaneously and to provide much smoother animation.
Touch Responsiveness is a technology that uses an algorithm to make a prediction that where you're likely to touch on the screen of your smartphone, so that the screen will be ready to respond. Normally, when a device comes out of the power saving mode, it tends to feel sluggish for a moment, but it won't happen with Android Jelly Bean.
Project Butter has brought remarkable difference in the Google Nexus speed. Nexus responds very fast in comparison to high-end devices like Samsung Galaxy SIII, HTC One X, etc. Project Butter has bought some major improvement in the OS-speed, which is quite evident in Nexus tablet. Now, the menus and applications in Nexus 7 seem to open faster than earlier.
Your Wish is Jelly Bean's Command – Google Now and voice searching
Finally Google came with an answer to Apple's much hyped voice search app siri. Google voice search let you control your tablet and phone by speaking out aloud and it is quite responsive. This application uses data from Google services and various social networks that tracks your location. After which it chooses those things that might interest you and will provide you suggestions accordingly.
Isn't it annoying that you can't dictate something to your phone when you are not connected to the Internet through Wi-Fi or cellular data connection. Google Now has overcome this issue with offline voice typing, though the offline voice-to-text is less accurate than the cloud based service but still it works great.
This service is powered with new language engine, which can point out different words that are spelt the same, depending on the context in which it is used. This means that the quality of voice recognition on Android Jelly Bean is quite good and impressive.
Conclusion
In the end, I'd say that though Google has made some modest changes in Android 4.1 (unlike the case of ICS), but it has done a great job by overcoming small lags in the system and making additional improvement in it. Android 4.1 Jelly Bean has come up with a whole refined and modern UI and several performance improvements, Jelly Bean can be termed as improved ICS version with additional benefits including the best voice searching engine, until now.
Android 4.1 (Jelly Bean) is beautifully designed, fully-functional and improvised version of Android OS by Google, it screams 'modernity' because of its refreshing theme, applications and project butter, that has really added to the performance of the system.
Note: This guest post was written by Mike Spencer. He is an online marketer working with Valuecoders, a renowned application development agency with a global presence. One can hire professional android developers for their android app development needs. Valuecoders also offers a wide range of other services namely web application development,application maintenance, Joomla development and much more.