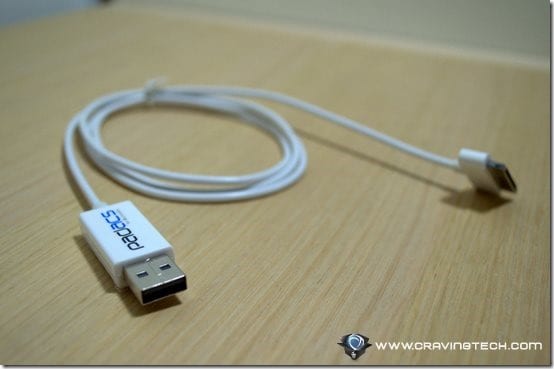 PADACS RapidCharge Review – Ever got frustrated when your iPad cannot be charged through your computer's USB slot? Since an iPad requires more power to charge (10 Watts where as a USB port is 8 Watts), we need to normally use the power charger to charge our iPad. With the PADACS RapidCharge cable, however, you now can recharge iPad through USB on your desktop computer or a notebook.
The RapidCharge cable also recharges your iPhone and iPod 25% faster than before according to PADACS.
I find that the cable is at the right length: it's short enough to make it easy to carry around but it's long enough so that you can use your device while it's plugged.
To make the rapid charging possible, PADACS RapidCharge "disables" data connection so the cable can focus on.. recharging. To achieve this, the cable has a small toggle button that allows you to switch between 2 modes:
Data Link, to access the data like an ordinary cable (marked as "D") OR
Power Charging, which is the rapid charging mode (marked as "P").
There is also a small color-coded status light so you know which mode you are in when you plug the cable in. If you want to use the cable to sync your device, the light should turn Blue. If you just want to recharge your iOS device as quickly as possible, the light should be Green (the rapid charging mode). There is also another light indicator, Red, which means an over-current or high temperature warning. I've never seen this red light on my tests with the RapidCharge so far (which I guess, is a good thing).
On a few experiments, I found that on average, PADACS RapidCharge increased my iPhone's battery by 6% in 10 minutes, compared to 5% in 10 minutes when I was using a standard charging cable. The longer you charge, the more you can get out of PADACS RapidCharge obviously, compared to a standard cable. Now of course, there were many factors when noting experiments like this, so the results may vary.
Charging the iPad with the RapidCable works even with an old computer system, such as the old dual-core Dell Precision 490 machine in my office. The cable also works really well on my MacBook Air that I bought back in 2010:
It is really awesome because charging your iPad through a USB connection normally couldn't happen before.
Though it took about 7 minutes to get an extra 1% on my iPad 3, this is still a good option should you want to use your iPad more than your notebook during a travel.
PADACS RapidCharge Review – Conclusions
Often, you may only have half an hour to charge your phone in the middle of a hectic day. At a crucial moment like this, PADACS RapidCharge ensures that your device gets a boost of power as much as possible. Even a few more percent of battery life helps!
Not just that, PADACS RapidCharge also gets rid of the annoying problem of having to carry a wall charger to charge your iPad everywhere you go (which is kind of bulky). With the RapidCharge, you can now hook your iPad to a computer. Life just gets easier and easier, thanks to PADACS.
I couldn't test the cable on different range of desktop computers unfortunately so I wasn't sure why the iPad charging couldn't work on my desktop. I assume it will work on newer range of motherboards in 2012 and beyond.
Note: PADACS RapidCharge review sample was provided for the review