This is a Sponsored post written by me on behalf of GFI for SocialSpark. All opinions are 100% mine.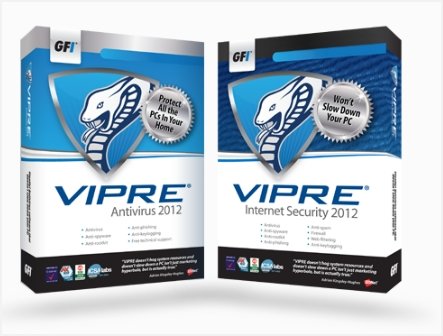 VIPRE Anti-Virus Review – I've heard many times about VIPRE Anti-Virus before but haven't really had a chance to try it out. Through a campaign at SocialSpark, I installed and gave it a go in my system.
I'm quite amazed at how simple and light the antivirus is, an important thing to consider when you are picking an antivirus software, apart from the protection it gives.
The installation was pretty simple and didn't require you to choose difficult options (such as when to do an auto-schedule or virus definition updates). It was quite straight forward and friendly to non-technical PC users.
VIPRE Anti-Virus Dashboard:
The interface is not of a sexy one but it is straight forward and plain simple. This also means that it is very light in resources when you are browsing through all the settings and modules in the Dashboard. At a glance, you can check about the protection status of your computer, the expiry license date, and also how many times VIPRE Anti-Virus have protected you. As you can see from my Dashboard screenshot, it has protected my PC from 72 risks in a week (mostly from phishing, cookies, or potential malicious URL in the emails). There is no easy way to find out what these risks are unfortunately (you have to go through the Manage menu and check the history, instead of just clicking on the number of risks protected).
As far as protection, VIPRE Anti-Virus did not disappoint either. It caught a malware in an attachment (which happens all the time in your inbox) and if you are not careful, you might be opening or running malicious software in your computer, thinking that it's a legitimate email.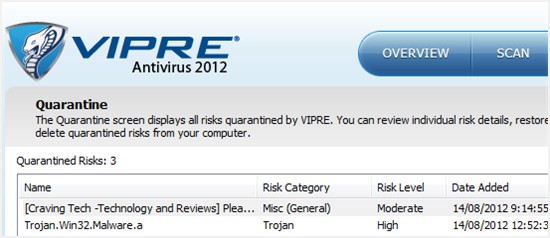 VIPRE Anti-Virus is also capable of blocking a URL embedded in an email body (I'm using Microsoft Outlook). If it suspects a malicious URL, it will replace that URL with its own text to warn you. Though it has a tendency to block a valid URL in most of my emails, it is always better to be cautious than sorry, right? Here is an example of a body text being replaced by VIPRE – though the email was a legitimate one, sent by one of our crews on a movie project I'm involved in:
You can go to the Quarantine area to get the original email (before VIPRE replaces it) if you are certain that you can trust the email's sender. It can also detect Trojan and viruses in an email attachment and remove it:

It also has an auto-schedule to scan your system – which you can configure easily in settings.
It's also able to block a trojan and notify me:
The VIPRE Anti-Virus runs great in my machine and I don't notice any slowdowns at all. It's light, easy to use, doesn't have complicated settings, and protects both your online and offline activities. I love its simplicity.
More information can be found at vipreantivirus.com or http://www.facebook.com/GFIVIPREAntivirus and I encourage you to give this antivirus a go. There's a trial version over at their website.
VIPRE Anti-Virus license giveaway
Or, you can try to win a license of the VIPRE Anti-Virus by using the widget below and gain points by referring this post to your friends. Highest entry will win the license. You MUST also answer "Why would I need an anti-virus software?" with your name and email address.
Note: Please use the same name as your Facebook name, so if you win, I know who you are and can send the license to your email :)
Terms and conditions:
ONE license will be given away to the winner with highest entries
Eligibility: Worldwide. The license will be emailed to you.
Giveaway starts on 17/08/2012, 9 p.m AEST and will end on 31/08/201,2 9 p.m AEST.