Razer Mamba 2012 Review – Razer Mamba 2012 is an updated version of the original Razer Mamba (read Craving Tech's Razer Mamba review), the most powerful wireless gaming mouse that I've ever tried and reviewed on.
The original Razer Mamba has a gaming grade wireless technology, meaning it performs as good as a corded mouse. So what does the new Razer Mamba 2012 offers compared to the original version?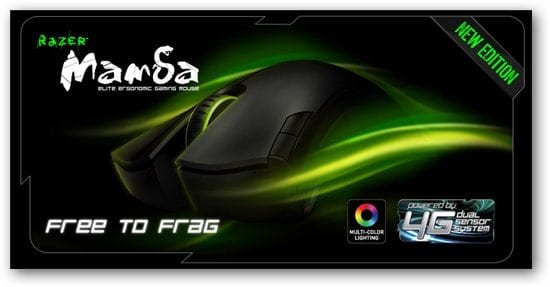 Razer Mamba 2012 Review – Unboxing Video
Razer Mamba 2012 Review – Packaging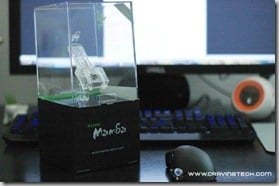 The packaging is really similar to the original Mamba and of course, looks really good in a nice, sturdy display case.
The packaging feels luxurious and if you are the type who wants to own this mouse, then you'll definitely appreciate the see-through display case. The cables, manuals, CD, and all that are stored in nice little compartments: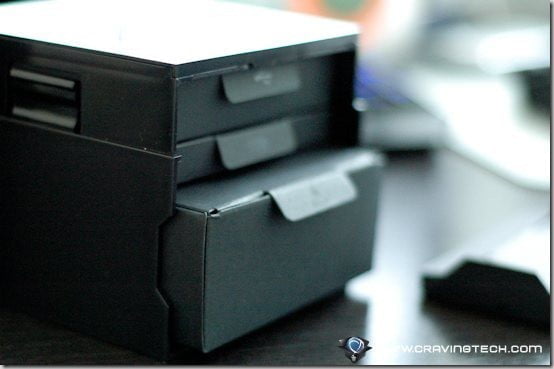 It's unfortunate that once you've taken everything out, you'll probably store the case away somewhere in your wardrobe or in a cabinet, never to be seen again.
Razer Mamba 2012 Review – Specifications
From the official product page:
Gaming Grade Wireless Technology
6400dpi 4G Dual Sensor System
Dual mode wired /wireless functionality
1000Hz Ultrapolling /1ms response time
Multi-Color Lighting
Up to 200 inches per second* /50g acceleration
Approximate size: 128mm x 70mm x 42.5mm
Battery Life: Approx 16 hrs (continuous gaming)
Razer Mamba 2012 Review – Design
The mouse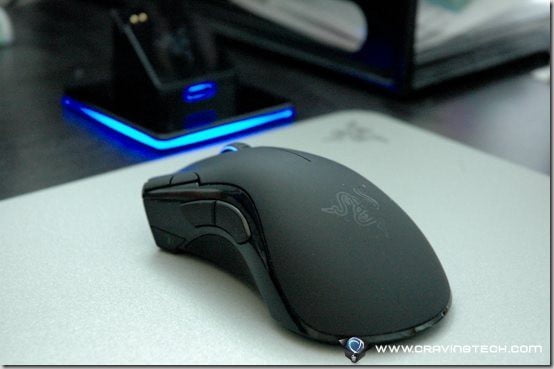 Razer Mamba 2012 has a similar design to the original Razer Mamba. It has a mix of plastic and rubber coating with black finishing touch all over. I love how the thumb area is coated in rubber for a better grip and it's also not easy to get dirty like plastic's. The mouse is designed for right-handed gamers only and feels comfortable to use for hours of gaming.
It has 4 extra buttons: 2 on the top to change the DPI settings as defaults and 2 side buttons on the left side of the mouse. There is also a battery indicator (using 3 small LEDs) which also serves as an indicator to show you what profile you are on.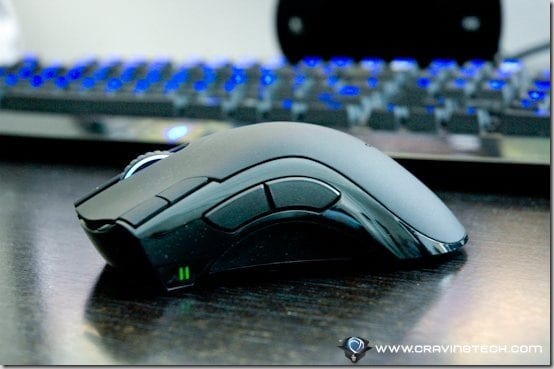 Underneath the mouse, we have the on/off (to turn the mouse off), connect (to pair the mouse with the wireless transceiver/dock), and the eject button (to unplug the cable out of the mouse)
The dock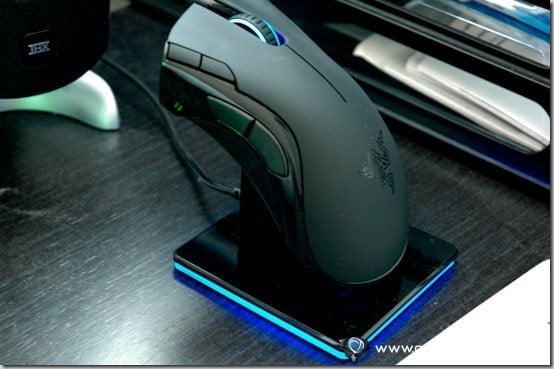 The wireless transceiver also looks really cool with its own back-lighting and fits the overall theme of the mouse. It also serves as a charging dock so you can hook the mouse into the dock when you are off to bed. The dock itself is quite large in size, so it is not really that portable (that's why they have Razer Orochi for that purpose).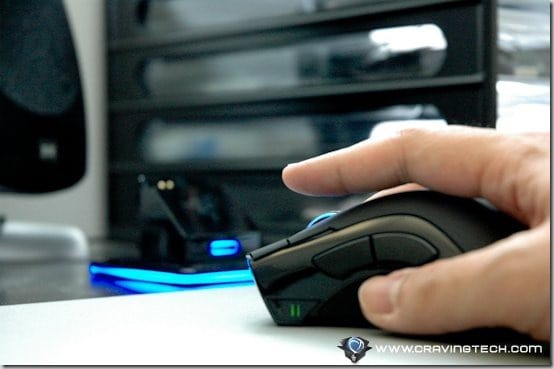 Razer Mamba 2012 Review – Razer Mamba 2012 vs the original Razer Mamba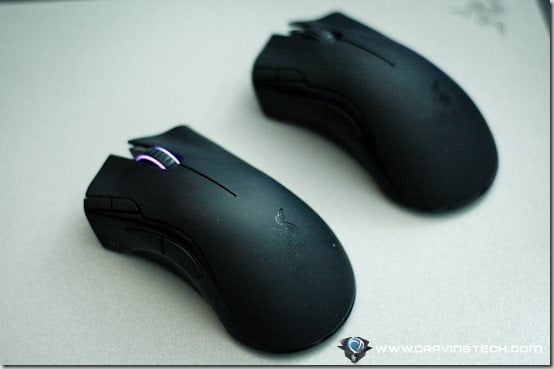 So if everything looks the same (the packaging, the mouse, the dock), why bother buying the new Razer Mamba? Well, that's because the new Razer Mamba has:
A 4G Dual Sensor System
The new Razer Mamba is actually outfitted with a laser and an optical sensor. This new design accurately calibrates the mouse to any surface for better accuracy and tracking. So whether you are gaming on a soft or hard gaming mat, Razer Mamba can auto calibrate itself to make sure that you've got the most accurate tracking. This also allows configuration of cutoff distance to suit your play style using the software.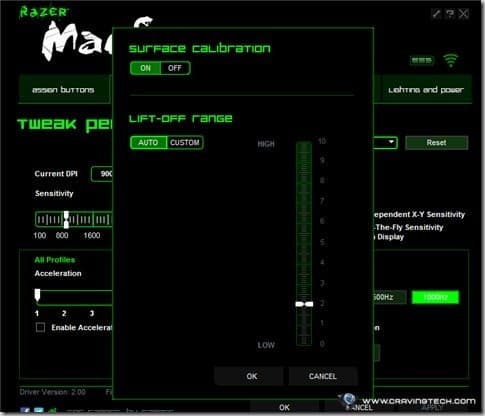 Better battery life
With around 15% more battery life compared to the original Razer Mamba, you can game longer before you have to recharge your mouse or plug that USB cable back into the mouse. This is great because I often forgot to recharge my old Mamba when I wasn't using it for a few hours. In the end, often the mouse ran out of juice because of this. Thanks to the latest Mamba, this happened less frequently (yes, unfortunately I still forgot to recharge the mouse every now and then :()
Multi-Color Lighting
If blue is not your color or if you just feel bored of seeing blue, simply change the back-lighting to over 16 million possible combinations! Using the software from Razer, it's easy to pick a color to suit your mood or style (pink for ladies, perhaps?). Or let it rotate the color if you can't choose.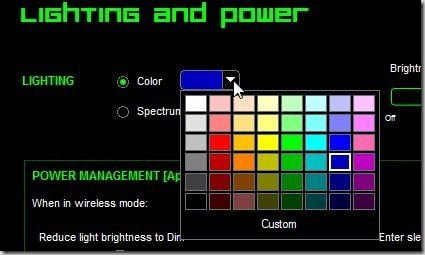 Better Driver (though backward compatible)
The new driver for the Razer Mamba rocks, really! Besides being able to customize the lift-off distance and the back-lighting colors that I have mentioned earlier, there is also a sleep mode! The new sleep mode means that you can further save the battery when you are not using the mouse after a specific period of time. This has helped me numerous times when I forgot to hook my new Mamba on the dock. It does take a few seconds to wake the Mamba up again though but this shouldn't bother you too much.
There is also a new power management area in which you can adjust the brightness of the back-lighting in both wired and wireless mode. It also displays an estimated battery life based upon your brightness settings. Nifty.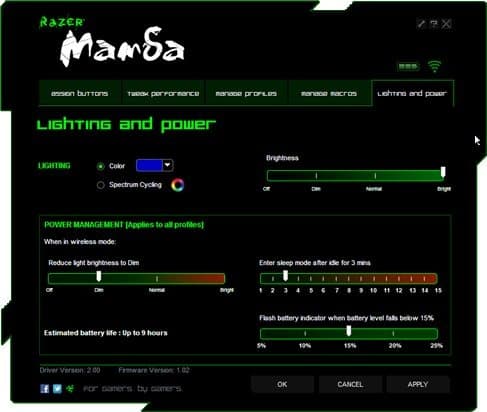 Razer Mamba 2012 Review – Conclusion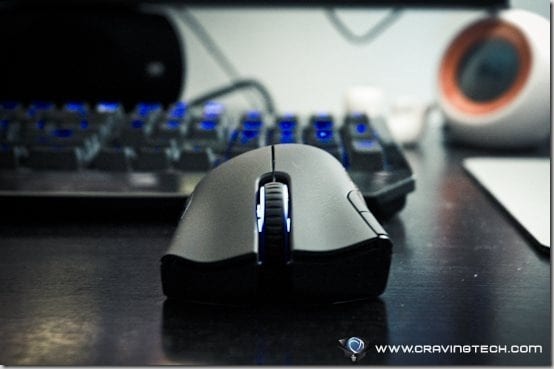 All in all, the new Razer Mamba 2012 promises a more accurate tracking, longer battery life, and more customization (lighting color, brightness setting, etc). When tested on playing FPS games online (Left 4 Dead 2, COD Black Ops, Battlefield: Bad Company 2), Razer Mamba 2012 simply rocks – it's smooth, accurate, and feels natural.
The mouse is also comfortable to use for hours and glides smoothly on my Razer Scarab. So far, the Mamba is still the best wireless gaming mouse without lag issues and also has plenty of juice for wireless gaming (16 hours of continuous gaming according to Razer – I manage to get around 2-3 days out of the Mamba without recharging; around 4-5 hour-ish of usage each day, so the claim is about right)
Razer Mamba 2012 Review – Pros
+ 4G dual-sensor for more accurate tracking on any surface
+ Wireless without sacrificing speed
+ Sleek looking
+ 15% more battery life compared to the original Mamba
+ Multi-Color Lighting
+ Better driver
+ Comfortable
+ Sleep mode to further save battery life
+ Cool wireless transceiver dock + to recharge
+ Can be transformed into a corded mouse solution almost instantly
Razer Mamba 2012 Review – Cons
– Plugging the cable out of the mouse is not a pleasant experience
Note: Razer Mamba 2012 Review Unit was provided for the review
Buy Razer Mamba 2012 at Razer Australia's web store