Note: This is a guest post written by Steven Farrell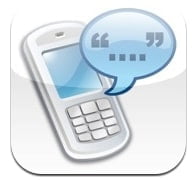 5 Best Chat Apps for the iPad – The iPad is one of Apple's newest innovations, and it features a crisp, broad screen that's perfect for getting work done and even playing games. Even more, the iPad makes it extremely easy to connect and stay in touch with friends. Many iPad users choose to use chat apps to contact and communicate with friends and family, and there are several that make instant messaging a cinch! So what are the 5 best chat apps for the iPad?

5 Best Chat Apps for the iPad
1. Messenger for Facebook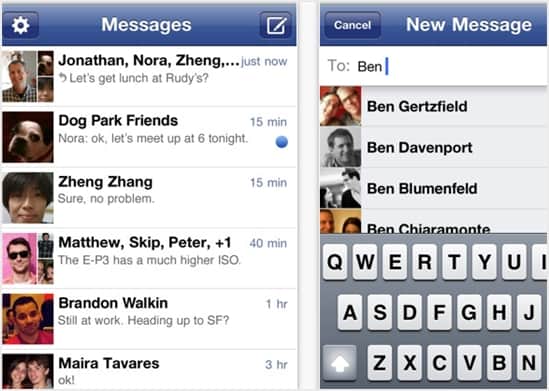 Messenger for Facebook is the perfect app for reaching out to your Facebook friends through a simple and intuitive interface! With rich emoticons and an SMS-like chat environment, this is what Facebook users with iPads need to stay in touch with friends.
Facebook Messenger – Facebook, Inc.
2. BeejiveIM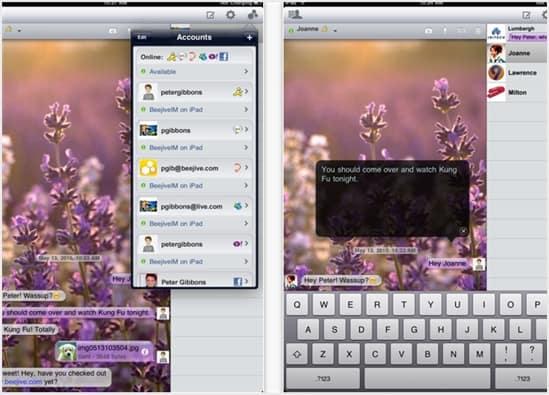 What makes BeejiveIM so great for iPad users is that it is an all-in-one solution for the user with several IM accounts (as well as the user with just one). BeejiveIM can connect to your friends on Windows Live, AIM, Yahoo!, MySpace, Facebook, Jabber, and GoogleTalk all at once. What's even better is that Beejive will continue to run in the background after you leave the application and also when you switch from a WiFi spot to 3G service (or vice versa).
BeejiveIM for iPad – Beejive, Inc.
3. IM+ Pro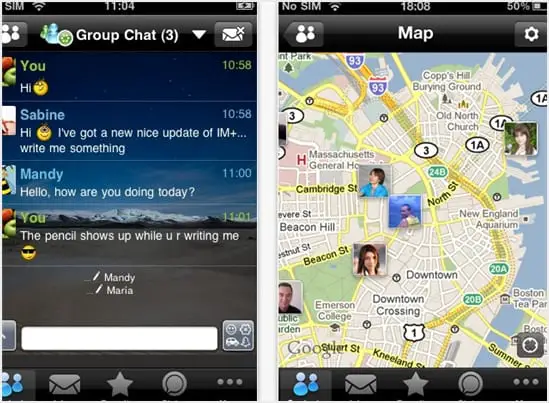 IM+ Pro is one of the more visually impressive chat apps because you can personalize the app with your own unique wallpapers for your buddy list as well as your conversation backgrounds. Customization with IM+ Pro is completely in your hands as you can use various sound effects for incoming chat messages, contacts going on or offline, and more! Also, with features like a chat history, integration with Twitter, group chat, and speech recognition, you really can't go wrong!
4. LimeChat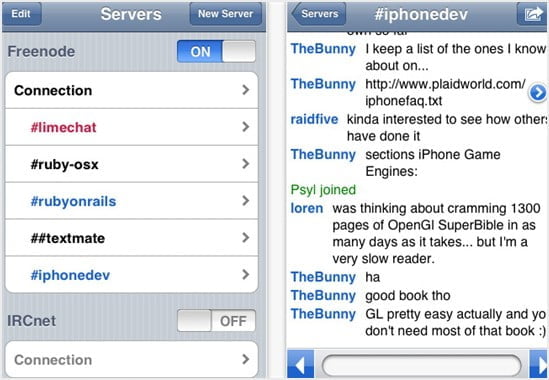 Looking for that perfect IRC client for your iPad? Look no further; LimeChat covers this area perfectly. Traverse various channels easily by tapping from the list on the side of the screen, stay up to date on what's happening in all of your channels by arrow notifications, and assign LimeChat to vibrate for specific words. IRC chat is made easy with LimeChat for iPad!
LimeChat – IRC Client – Satoshi Nakagawa
5. Agile Messenger HD Pro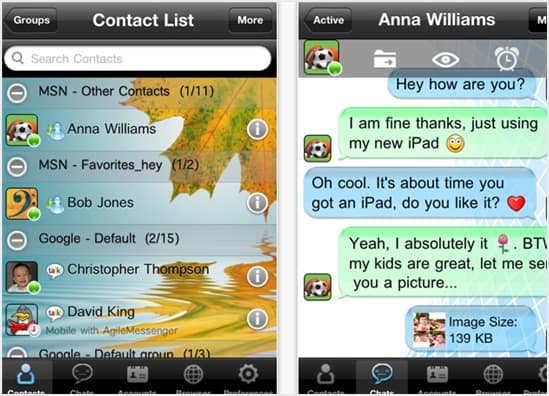 With Agile Messenger HD Pro for iPad, you can connect to all of your favorite IM service including Windows Live, Yahoo!, Facebook, AIM, and more. Not only will Agile Messenger HD Pro connect you to your friends seamlessly, you can enjoy extensive Facebook support for checking out your news feed and posting comments, picture messaging, a built-in web browser, support for emoticons on the different instant messaging services, full customization and more. There isn't much that you can't do with Agile Messenger HD Pro in terms of instant messaging, so why wait any longer for a solid IM app?
Agile Messenger HD Pro – Agilemobile.com Ltd.
So what's your favorite chat apps on the iPad?
Note: This is a guest post written by Steven Farrell. He is the administrator of ReversePhoneLookup.org.