Razer Orochi Review – Labelled as "Gaming on the Go" mouse, the Razer Orochi delivers high performance gaming at the size of a notebook mouse. With its 4000 dpi 3D Laser sensor,  Razer Orochi gives hardcore mobile gamers what they've been longing to have from a compact mouse.
Although you can technically squeeze your Razer DeathAdder, Mamba, or any other gaming mouse in your laptop bag, lots of gamers would have preferred to have a compact size mouse without sacrificing a true gaming experience. Not to mention that the Orochi can connect via Bluetooth (in Wireless mode) for convenience or via USB connection (in Wired mode) for gaming.
Razer Orochi Review – Packaging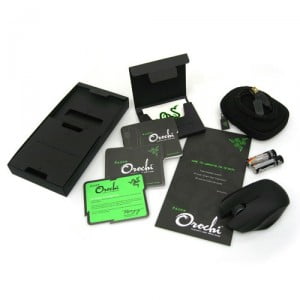 Razer Orochi packaging contains:
The Razer Orochi Mouse
USB cable
A nice travel pouch to carry the mouse + the USB cable
2x AA Batteries
Stickers, Guides, etc.
Razer Orochi Review – Features
Razer Precision™ 3G Laser sensor
Tracking up to 100 inches per second
Ambidextrous design
Razer Synapse™ On-board Memory (for PC only)
On-The-Fly Sensitivity™ adjustment (for PC only)
Zero-acoustic Ultraslick™ Teflon® feet
Gold-plated USB connector
A battery life of approximately 1-3 months under normal usage
Bluetooth® 2.0 connectivity
Razer Orochi Review – Overview and Impressions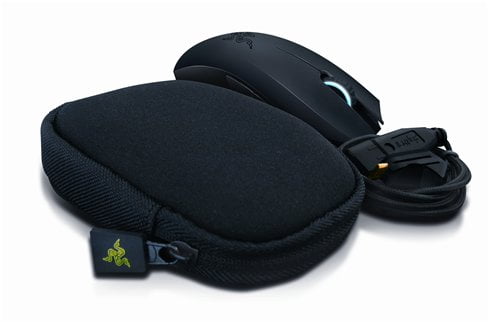 At the first glance, Razer Orochi looks like a Black Tiger's paw. It's menacing yet sleek and modern (just like any other Razer products). The mouse's aesthetic look definitely gears for hardcore gamers and not for ladies looking for some cute pinky mouse. Rest assured that you'll amaze your friends when you take out Razer Orochi out from its bag. Especially once the blue light comes off under the scrolling wheel.. "Oooohhh…"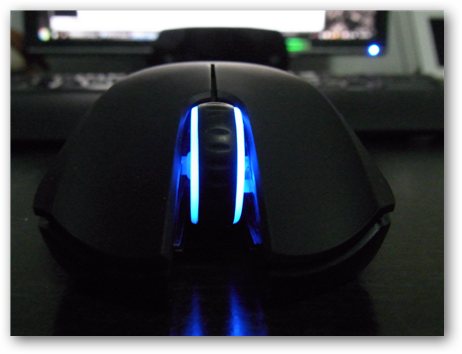 PS: Just remember to turn this on using the software :D It was the first thing I did when I used the mouse for the first time.
Razer Orochi Review – Wired vs Wireless mode
Razer Orochi can be used wired or wireless. To get the ultimate gaming performance, you should go for the wired mode (plugging the USB cable to the mouse). It allows the mouse to deliver the highest precision, control, and accuracy.
Wireless: Razer Orochi delivers up to 2000DPI sensitivity and 125Hz polling/8ms response rate.
Wired: Razer Orochi delivers up to up to 4000DPI sensitivity and 1000Hz Ultrapolling™/1ms response!
In wireless mode, Razer Orochi uses Bluetooth 2.0 connectivity compared to a USB wireless receiver. At first I frowned at the idea of using a Bluetooth connection (maybe because I was so get used to using a USB wireless receiver to connect my wireless mouse/keyboard). In practice however, Razer didn't make a mistake when they made this decision. It gives you a hassle free connection but more importantly, an extra USB slot (which normally comes rare in laptops!).
Razer Orochi Review –  Battery Life
Although Razer's specification stated that battery life will be around 1-3 months under normal usage, it's a bit hard to justify. When you plug the USB cable to the Orochi, the mouse will automatically grab the power from the USB instead from the battery. When used wirelessly, there is also an option to turn the mouse off (power button underneath the mouse), extending the battery life even further.
Since there is no LCD indicator on the Orochi, you need to check the indicator on your Windows system tray if you want to check how much battery power it has left.
Razer Orochi Review – On the Fly DPI settings
Razer Orochi has 4 side buttons (2 on each side) which can be used to change the sensitivity of the mouse. These settings will be stored on the mouse's memory (or  the Razer Synapse™ On-board Memory). However, you need to connect the mouse to the USB first to "program" it. You can even choose to switch the cool blue light off from the mouse (Don't! It's so cool lookin').
I would expect the mouse to remember the last DPI setting that I had before I turned it off, but apparently it didn't. However, you can set the default sensitivity stage (out of the 5 stages) using the Orochi Configurator software. This way, whenever you turn the Orochi back on (or replug it), it will always be on the default stage that you already set.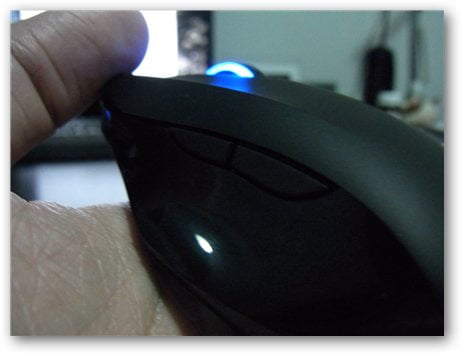 Razer Orochi Review – Conclusion
Razer Orochi delivers a gaming grade quality mouse despite of its compact size. It supports both wired and wireless but if you really are serious in gaming, always use Razer Orochi in wired mode when you game.
When I tested playing Left 4 Dead with my Dell XPS 13 laptop, Razer Orochi gave me a much better experience compared to my old wireless notebook mouse. My shots were more accurate and the aim was definitely smoother. Just remember to set the mouse pointer speed to the middle (in your Windows control panel) and turn the "Enhance pointer precision" off. This lets the Orochi to handle all the gliding and pointing bits natively.
Razer Orochi's compact size is your best friend when you go mobile. It was my best friend when I went to Singapore for the Nuffnang's Asia Pacific Blog Awards a few weeks ago. It shall still be my best friend whenever I travel with my laptop, until Razer Marachi (Mamba+Orochi?) comes along (don't take the Marachi seriously and start Googling, it was just a joke).
Note: Razer Orochi review unit was provided by Razer.
Razer Orochi Review – Pros
Sleek and menacing design.
A gaming grade notebook mouse.
Can be used wired or wireless.
Bluetooth connectivity; saving you one extra USB slot (normally used for the wireless receiver).
Can be turned off and on to save battery life.
A nice compact pouch included to fit the mouse + the cable.
Razer Orochi Review – Cons
Unrest feeling due to the compact size after a few hours of gaming.
Didn't remember the last DPI setting used when switched off.
Need Bluetooth to go Wireless.
If you own Razer Orochi, feel free to add more discussions on this Razer Orochi review post's comment form below.