CORSAIR K57 RGB Wireless Gaming Keyboard Review – Many years ago, I tweeted about wanting a gaming peripheral company to make a wireless, gaming keyboard. No one seemed to be able to claim that on those days – most likely due to the lag or wireless intereference that it may have caused.
Years ahead, looks like the technology has kept up because CORSAIR K57 RGB Wireless is now here, and it promises a deliver lag-free 1ms gaming experience to many wireless gaming enthusiasts.
CORSAIR K57 RGB Wireless Gaming Keyboard Review – Unboxing
CORSAIR K57 RGB Wireless Gaming Keyboard Review – Design & Features
It's a full-sized keyboard (i.e with numpads, macro keys, media controls) which means it doesn't make compromises AND even comes with RGB lighting. I mean, it's 2019, right? If you like to show your gaming system off, a gaming keyboard needs its RGB lighting.
But wouldn't this take a toll on the battery life? It always is, but CORSAIR have another trick up their sleeves. With CAPELLIX LEDs, power consumption can be kept to a minimum, lower than the traditional LEDs used in most gaming keyboards.
As a result, the keyboard can be used wireless for up to 35 hours of gaming with RGB lighting turned on. If you don't really need them, turning the LEDs off will give you up to 175 hours – which is pretty amazing.
As with every wireless gaming peripheral, the fun usually ends when you have to charge the batteries. The CORSAIR K57 RGB Wireless has rechargeable batteries so you don't have to keep buying AA batteries. In fact, if you end up plugging the USB cable to charge, you can also use it wired.
This actually offers many options. For example, you might not care using a wired gaming keyboard at home (so you keep the USB cable plugged all the time) but if you like to bring your gaming keyboard to a LAN party, tournament, practice, etc, you can leave the cable at home and just bring the K57 RGB to be used wireless as it will have enough power to last the session.
The wireless USB receiver is tiny and you can place it inside a small compartment on the keyboard. Nifty.
The keyboard also supports Bluetooth connectivity, which is quite unusual for a gaming keyboard but you can pair it with your phone so that you can answer chat with the keyboard.
As far as gaming go, I couldn't feel the difference. Keys seem to register as soon as I press them, and I was very comfortable gaming with the K57 RGB Wireless in wireless mode, even playing competitive online games like Overwatch.
Whlie I wish the keys are mechanical (they are rubber dome switches), they feel pretty good and I've been typing all my reviews for the past few weeks with the K57 RGB Wireless keyboard with no complaints. I do miss the tactile feel of the CORSAIR K70 RGB MK.2 LOW PROFILE though.
It did take me a while to get used to not having my Esc key on the most top left of the keyboard where the macro G1 key is), but your experience may vary.
CORSAIR K57 RGB Wireless Gaming Keyboard Review – Conclusion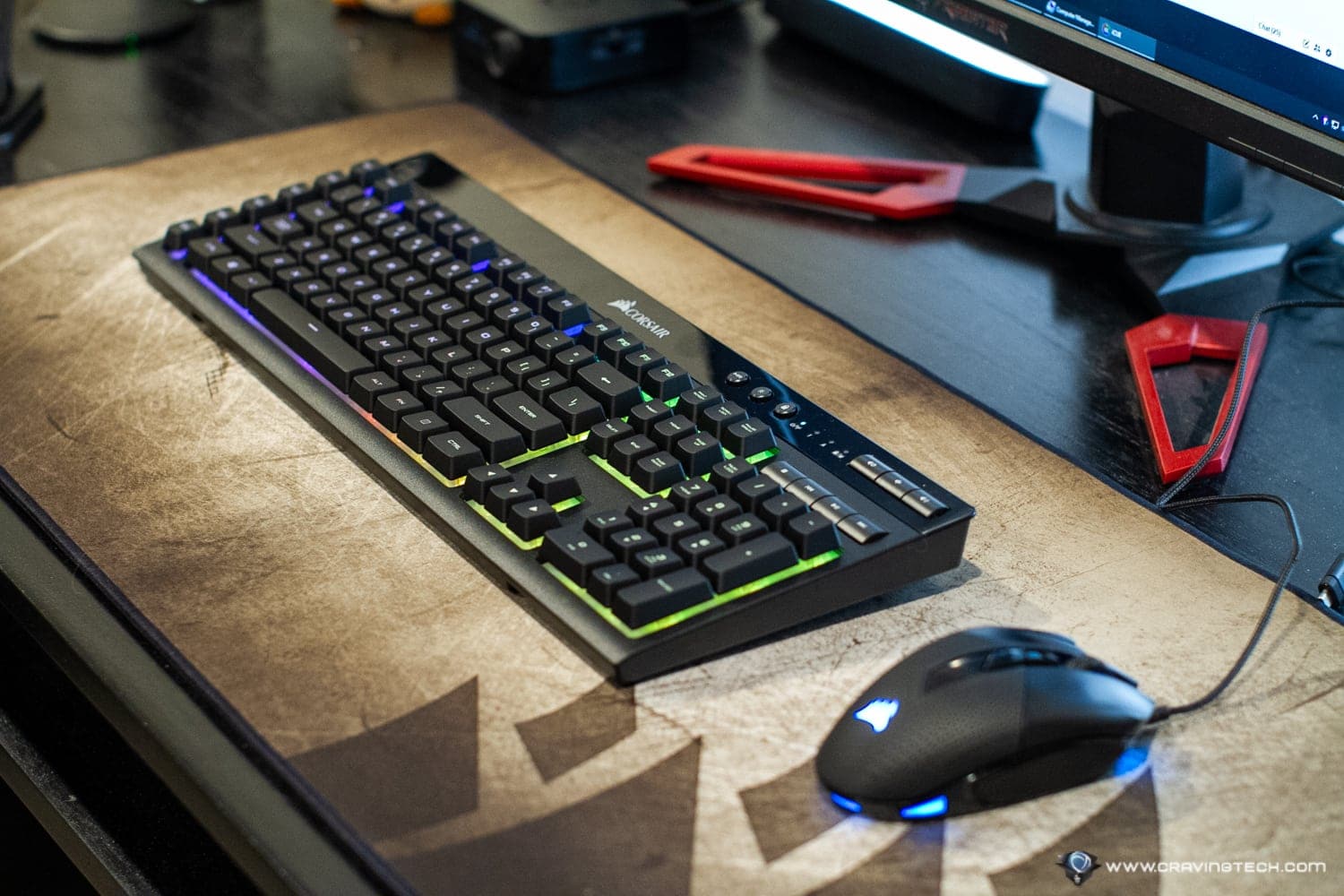 Wireless gaming was in a muddy area years ago due to the lag interference and skeptical minds that came with it. However, it's 2019 now and we have seen many technological advances in the wireless area and with 1ms response time, wireless gaming should be on your list.
CORSAIR K57 RGB Wireless Gaming keyboard doesn't take shortcuts. It comes with a full-sized keyboard complete with macro keys, media controllers, and RGB lighting. With CAPPELIX LEDs, it doesn't forsake battery life too much and you also have an option to use the keyboard wired while it's charging itself.
CORSAIR K57 RGB Wireless is available now at retailers around Australia for around AU$155.
Disclosure: CORSAIR K57 RGB Wireless Gaming Keyboard review sample was supplied for reviewing but all opinions are mine and not paid
CORSAIR K57 RGB Wireless Gaming Keyboard Review