CORSAIR K70 RGB MK.2 LOW PROFILE Review – Low profile mechanical keyboards seem to be the next thing in 2019. They have slimmer and flatter keys that are not there just for the looks, but to prevent fatigue from extended typing or gaming. Plus, low profile keyboard design gives you a more natural feel on the fingers due to the positioning.
While I honestly never feel fatigued after using mechanical keyboards (it's a different story with good, old rubber dome keys), it's nice to see Corsair releasing a worthy low profile, mechanical gaming keyboard for those who game and type a lot (like myself).
The CORSAIR K70 RGB MK.2 LOW PROFILE brings comfort, design, and performance in one whole package.
CORSAIR K70 RGB MK.2 LOW PROFILE Review – Packaging
The packaging comes with W-A-S-D & a few more keycap replacements with textured surface for better grip and durability, plus a detachable palm rest (but it's not soft padded like Razer's BlackWidow Chroma V2). The cables are braided for an extra protection, which is nice.
CORSAIR K70 RGB MK.2 LOW PROFILE Review – Design & Features
I truly love the design of the K70 RGB MK.2 LOW PROFILE. It's minimal on the desk, but doesn't sacrifice comfort and has the feel of a full keyboard typing experience. Everything looks proportional and durable, even the space bar gets an extra protection.
I like how CORSAIR always have a volume roller on their keyboards which is far easier than using a combination of Function + Volume keys (like most Razer keyboards!). There is also a dedicated button to disable Windows key and to change the backlighting options.
Speaking of backlighting, I like how bright and prominent the colours are on this keyboard. Most likely this is because of the low profile design, but it looks so good on the desk.
They K70 RGB MK.2 LOW PROFILE keyboard comes with CHERRY MX Low Profile Speed, which has a great actuation point performance compared to the other CHERRY MX switches. If you want to find out more about the Cherry MX Speed & its impact, check out my review on the CORSAIR K70 RGB RAPIDFIRE mechanical keyboard. The Low Profile version has 35% lower key height compared to the standard (29mm vs 40mm), and also has different specifications:
Standard Cherry MX Speed: 1.2mm actuation, 3.4mm travel distance, 45g activation force.
Low Profile Cherry MX Speed: 1.0mm actuation, 3.2mm travel distance, 45g activation force (CherryMX page)
These mean the low profile Cherry MX Speed has faster performance compared to the standard switch. In game, this simply means your skills and abilities are registered faster once your finger makes contact, giving you the edge over your opponents.
A USB pass through is on the rear – a perfect spot to plug my wired CORSAIR NIGHTSWORD RGB mouse.
CORSAIR K70 RGB MK.2 LOW PROFILE Review – Typing and Gaming Experience
I do lots of typing as you can see from all the articles and reviews I've written here at Craving Tech every day. After switching to the K70 RGB MK.2 LOW PROFILE, I can still type as fast and take no effort to get used to the keyboard. I mean, I've tested and reviewed a variety of CherryMX and brand-specific switches from other brands, so I'm used to switching keyboards.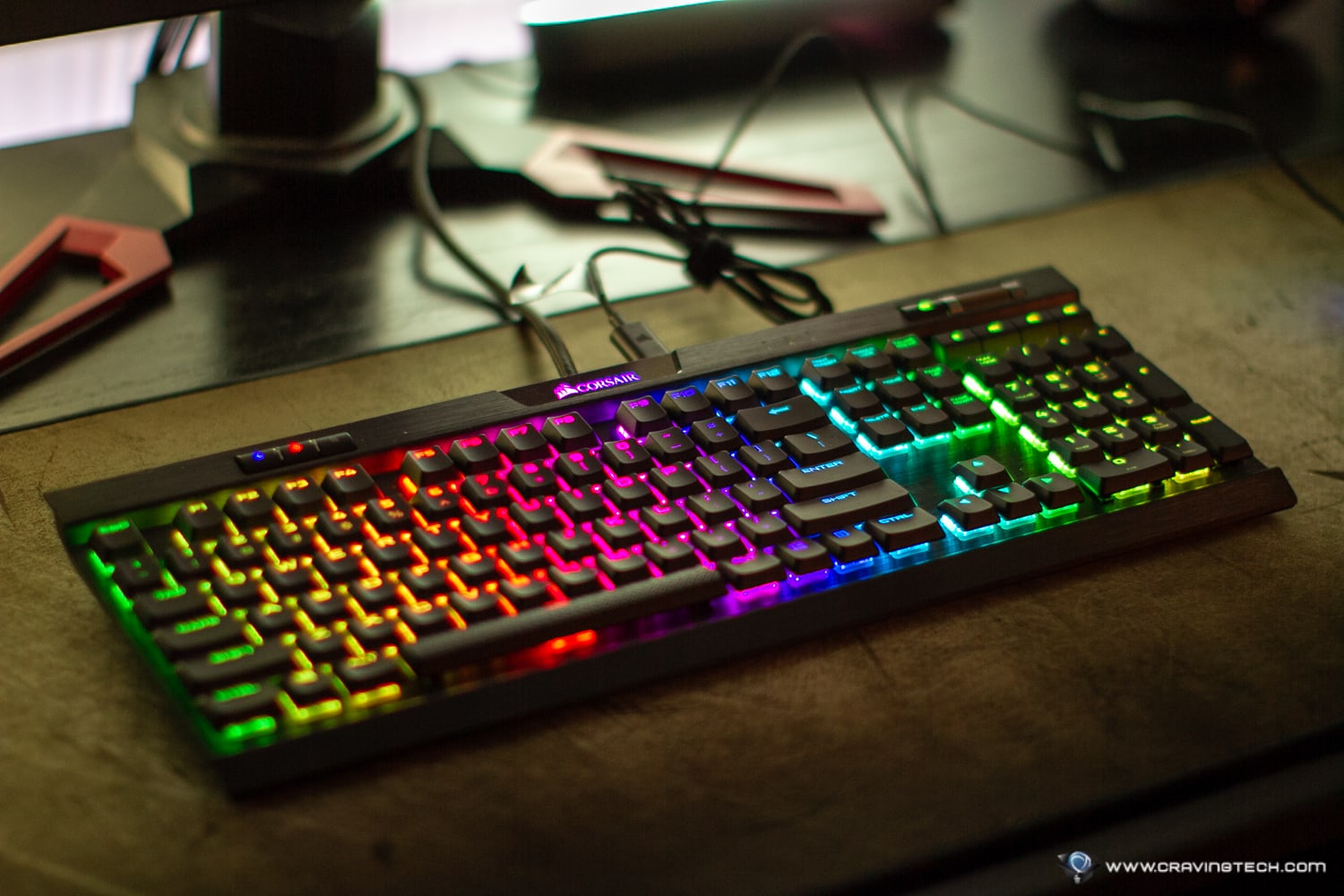 Gaming is also a breeze as the keys are responsive and laid out properly with excellent distance from one to the other. Due to how fast the switch registers, you do have to be careful with accidental presses – especially if you like to panic in game. I had a couple of occasions where I accidentally pressed the ability keys "Q" and "E" while playing Overwatch. But on the other hand, I've saved my teammates a few times too because I could react faster with the Low Profile switch (I played as Zenyatta, and used my Transcendence skill by pressing Q within a split second as the enemy's Reinhard executing his devastating Earthshatter skill to my team. None of my teammates died because of this.
And yeah, I should have remembered to record these moments so I can show a proof video to you (which I normally do whenever I review a gaming mouse). I'm using the keyboard with the CORSAIR NIGHTSWORD RGB (review coming soon) – which is a really good mouse. Check out a short gameplay video here:
Those who like bouncier keys for typing or want more tactile feedback may not like the K70 RGB MK.2 LOW PROFILE though (e.g those who prefer the CherryMX Blue switches feel & sound). In terms of tactile feedback, I recon this is below CherryMX Red so if you are not a fan of Red, you may not like the Low Profile Speed.
CORSAIR K70 RGB MK.2 LOW PROFILE Review – Conclusion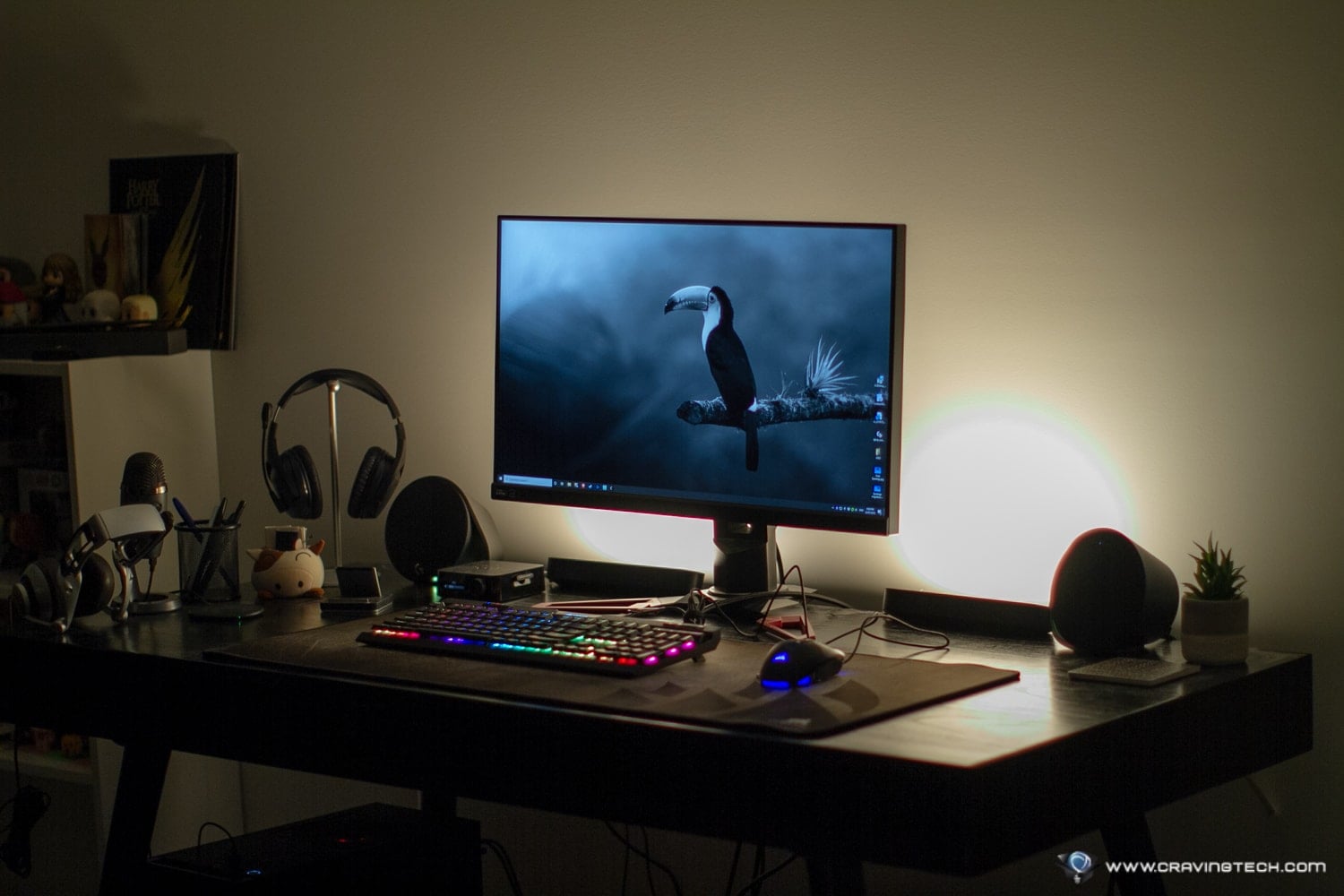 CORSAIR K70 RGB MK.2 LOW PROFILE definitely ticks all the boxes for me. It has a great, minimalist design that actually looks good and it feels like I'm using a full-sized keyboard. The Low Profile CherryMX Speed also makes the lights more prominent and brighter, while offering very fast performance for gaming where miliseconds matter!
In terms of looks, feel, comfort, and performance, CORSAIR K70 RGB MK.2 LOW PROFILE has them all. On top of these, it also has a volume roller and other dedicated keys, a detachable palm rest, and a handy USB Passthrough.
CORSAIR K70 RGB MK.2 LOW PROFILE is now available for purchase in Australia for AU$215 (at PC Case Gear) and available at Amazon.
Disclosure: CORSAIR K70 RGB MK.2 LOW PROFILE mechanical gaming keyboard review sample was supplied for reviewing but all opinions are mine and not paid
CORSAIR K70 RGB MK.2 LOW PROFILE Review