Corsair K70 RGB RAPIDFIRE (Cherry MX Speed) Review – Cherry MX Switches have been around for quite some time and being utilised on mechanical gaming keyboards from different manufacturers.
Recently, Cherry had a nice surprise for us, especially gamers, by adding a new switch to the current line-ups of Black, Blue, Brown, and Red switches: the all new Cherry MX Speed (Silver or Gray switches).
Corsair RAPIDFIRE mechanical gaming keyboards are world's first keyboards equipped with the new Cherry MX Speed (at least for 6 months of exclusivity), which includes the Corsair K70 RGB RAPIDFIRE I have to review here.
Corsair K70 RGB RAPIDFIRE Review – Unboxing Video
Corsair K70 RGB RAPIDFIRE Review – Packaging
Corsair includes a set of replacement keycaps with textured surface, making it easy to identify them with just your fingers in-game without looking. A key-puller is also included should you want to swap them around. A detachable wrist rest is included in case you don't have much space on the desk. The textured material is comfortable and soft to the touch and I'd recommend you to use it.
Corsair K70 RGB RAPIDFIRE Review – Design & Features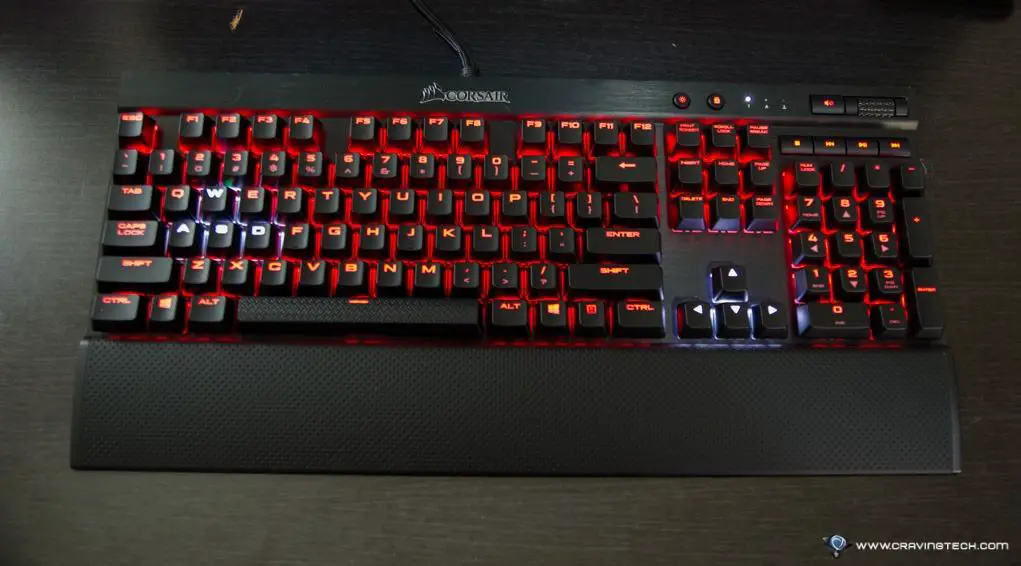 The Corsair K70 RGB RAPIDFIRE is a compact keyboard that will fit any workspace. As you can see from the photos, there is no wasted space with the narrow edges on the design. To trim the keyboard even further, no dedicated macro keys are present (good if you don't use them).
The new Cherry MX Speed switches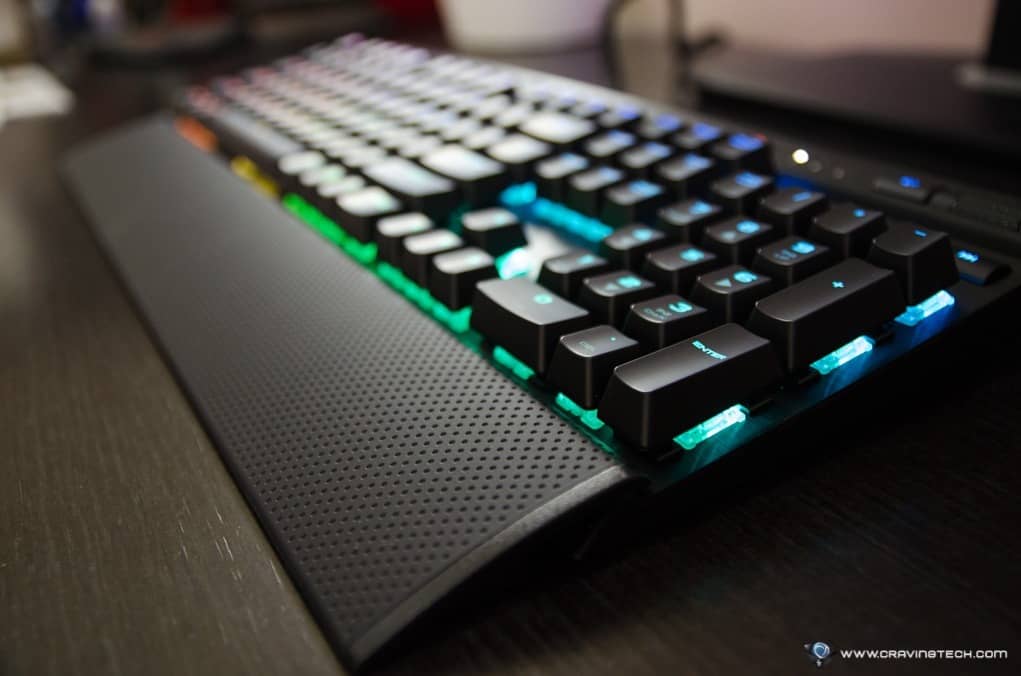 If you only need one reason to upgrade to the K70 RGB RAPIDFIRE, then do it for the new Cherry MX Speed switches. They have the best actuation point in the market at the moment (1.2mm with low 45g activation force) which means they have the fastest response time compared to the rest of the competition.
Other Cherry MX switches' actuation points:
Cherry MX Blue: 2.2mm
Cherry MX Black/Brown/Red: 2mm
Even with gaming peripheral manufacturers developing their own custom-made switches designed for gaming (has lower actuation points than the non-Speed Cherry's), the Corsair K70 RGB RAPIDFIRE with the new Cherry MX Speed is still the clear winner:
Razer's Mechanical Switches: 1.9mm
Logitech's Romer-G Switches: 1.5mm
SteelSeries QS1 Switches: 1.5mm
Cherry MX Speed: 1.2mm
In reality, I thought I wouldn't feel the difference, but I did. The keys do response faster, even for typing (and I've typed thousands of words on the K70 RGB RAPIDFIRE). In a highly competitive gaming environment, every split second matters and if you are the guy who can reload or react a tad faster, then you'll have the advantage.
I also love how the keys feel. They are soft, comfortable to type, and have good tactile feedback.
RGB Lighting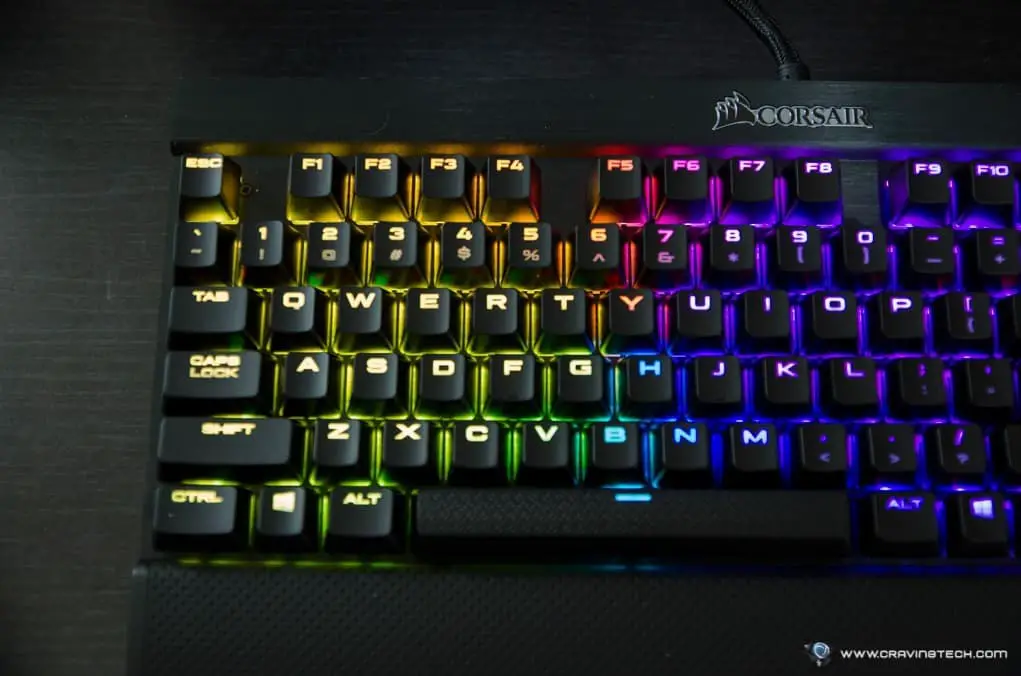 One of the other reasons why you are eyeing on the Corsair K70 RGB RAPIDFIRE is probably for the RGB lighting and I won't blame you. With multi colour, per key backlighting support, you can fully customised them through Corsair software.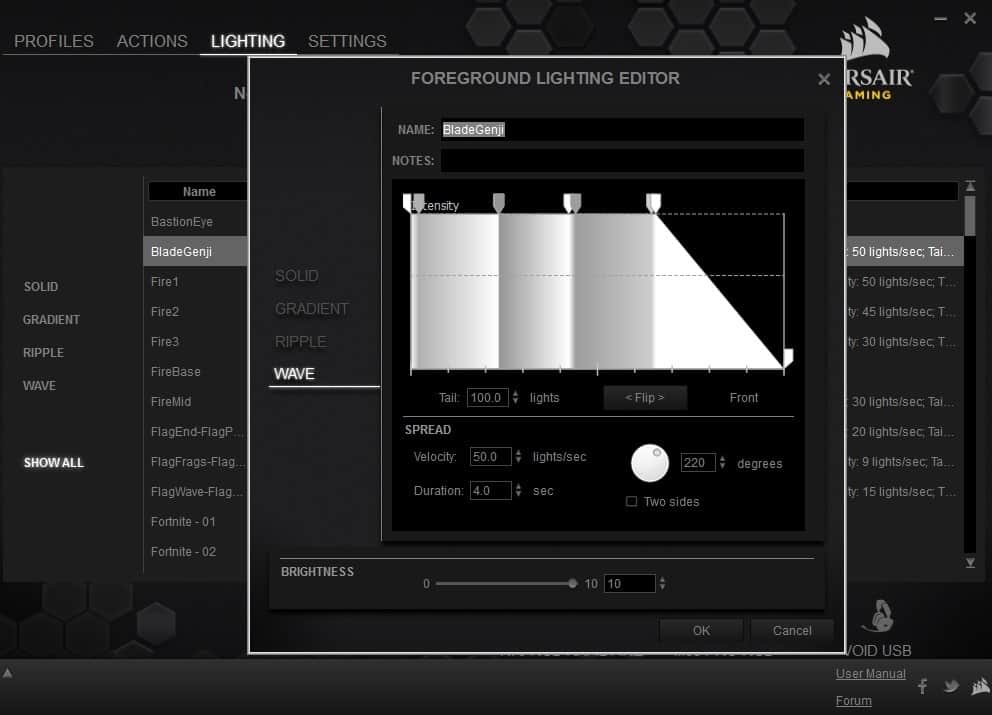 The colours are bright (customisable) and Corsair designs the key caps so that more lights can be seen and they do look gorgeous.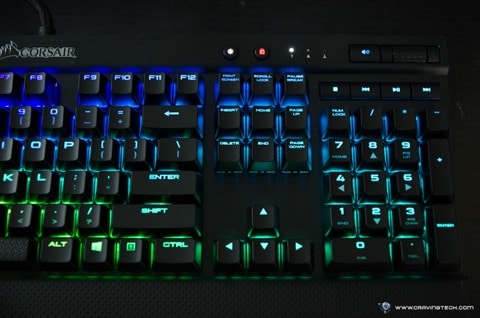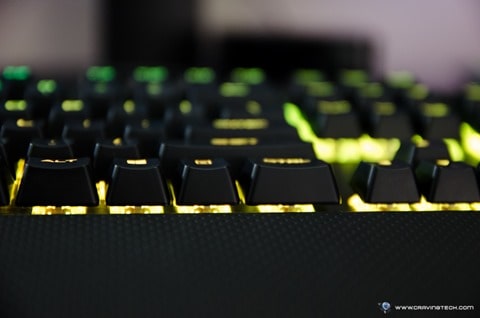 You can even import backlighting profiles made by the community, which is recommended if you are too lazy like myself. The discussions and downloads can be browsed at the Corsair forum.
Here are some of the awesome profiles I've imported to my K70 RGB RAPIDFIRE:
https://www.instagram.com/p/BF1Od9qKFw5
Unfortunately, the Corsair engine does not support dynamic lighting based on what's happening in a game/app like the Razer Chroma on BlackWidow Chroma or SteelSeries GameSense on Apex M800. However, if you rarely look at the keyboard while you game, then this is not going to be a ground-breaking feature for you (as cool as they may sound).
Volume Wheel/Roller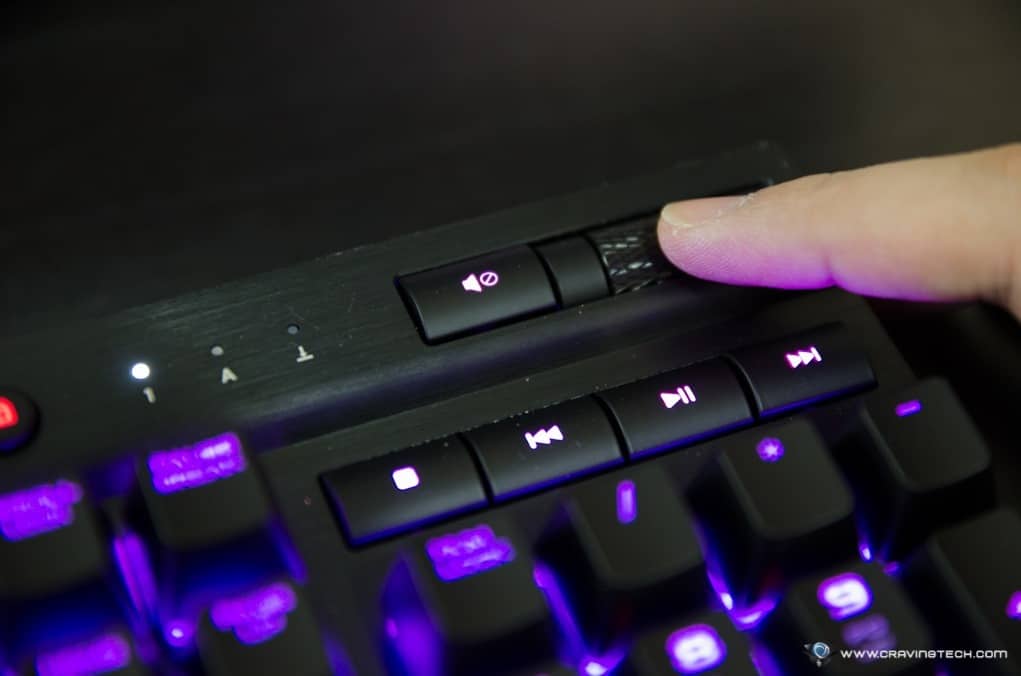 In my opinion, a volume wheel/roller/rocker is the best way to control volume from a keyboard (rather than using a dedicated key or worse, a Function key). Just by simply rolling your finger up and down, you can adjust the Windows volume naturally and instantly. So far, I've only found keyboards with a volume roller on Logitech's gaming keyboards like the G710 Plus.
The keyboard also has other dedicated multimedia controls, meaning, no awkward presses with 2 fingers using a Function key. It's surprising how Corsair can manage to squeeze all these while keeping the size of the keyboard rather small.
Corsair K70 RGB RAPIDFIRE Review – Conclusion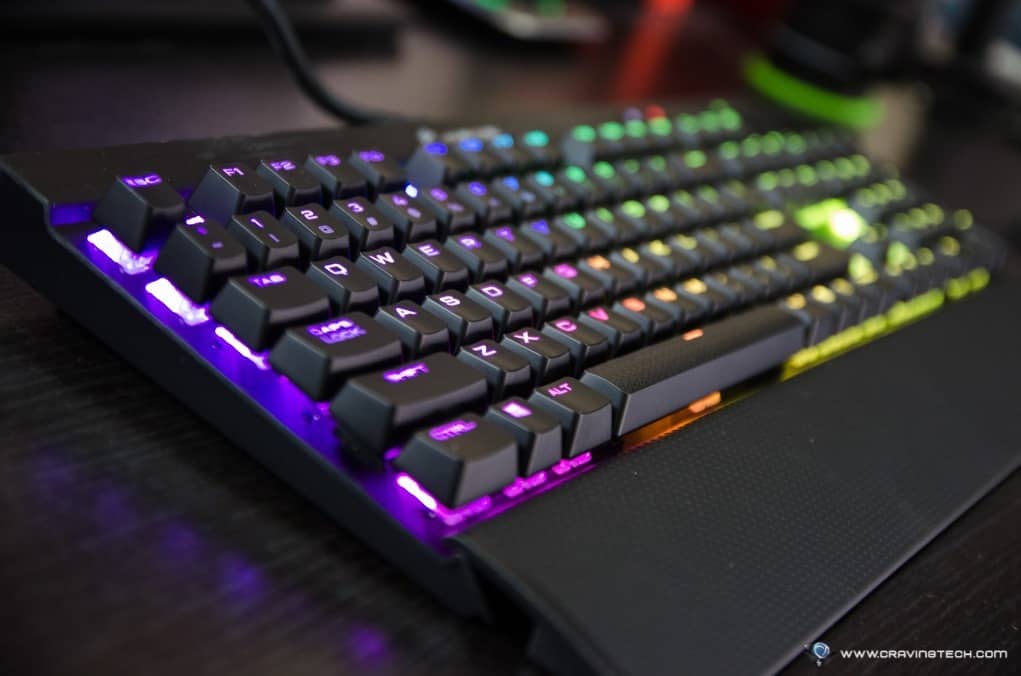 I'm totally sold. I've used and reviewed many of the best mechanical gaming keyboards at the moment, and in my opinion, the Corsair K70 RGB RAPIDFIRE definitely comes on the top of the competitions. It has the best mechanical switches in the market at the moment, solid build quality, awesome backlighting support and design, has a volume roller, and pretty much without flaws in general.
Sure, it does not have dedicated macro keys, no in-game dynamic backlighting support, no headphone jacks – but if they are not important for you, then there is nothing else to stop you from grabbing this awesome keyboard. With only some months left before the end of the year, Corsair K70 RGB RAPIDFIRE can definitely be the best mechanical gaming keyboard in 2016.
Disclosure: Sample was supplied by Corsair for reviewing but all opinions are mine and not paid.
[AMAZONPRODUCTS asin="B01D8H09LQ"]