Razer BlackWidow Chroma Review – After using the Razer BlackWidow Ultimate 2016 for some time during my review tests, there was this craving for more. The backlighting was cool, but it was only available in green. And some gamers might be disappointed for having the dedicated macro keys taken away by Razer to get a compact build.
Well, I'm sure all your cravings and longings will be gone for good, once you've got a hold of Razer BlackWidow Chroma. It's truly the king of all gaming mechanical keyboards with plenty of support from the Razer community (even though the BlackWidow Ultimate 2016 is actually newer than the BlackWidow Chroma).
Razer BlackWidow Chroma Review – Packaging
Razer BlackWidow Chroma Review – Design & Features
Razer BlackWidow Chroma has a similar design with the other BlackWidow family. There are no glossy material to be found and what we have here is a keyboard of great quality with a solid build. The surface of the keyboard is also smudge and finger-prints free.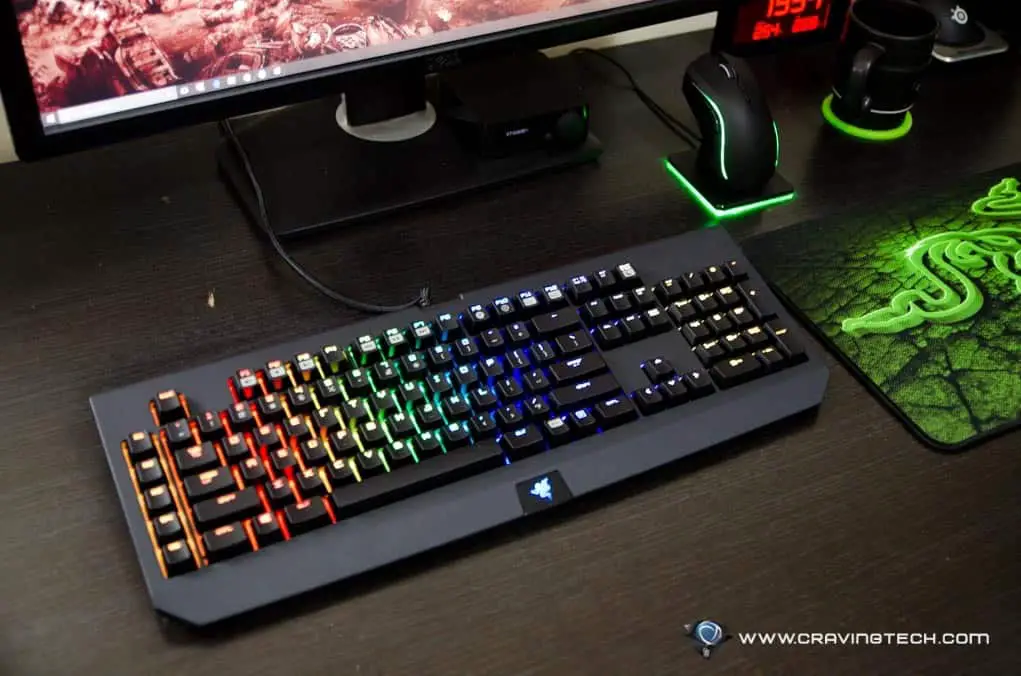 It features Razer's own mechanical switches that gives you better response, speed, and durability compared to the traditional CherryMX switches. The review unit I have from Razer here uses the Razer Green Switch (Clicky) that has 50g Actuation Force and a satisfying audible click on every key press.
Typing & Keys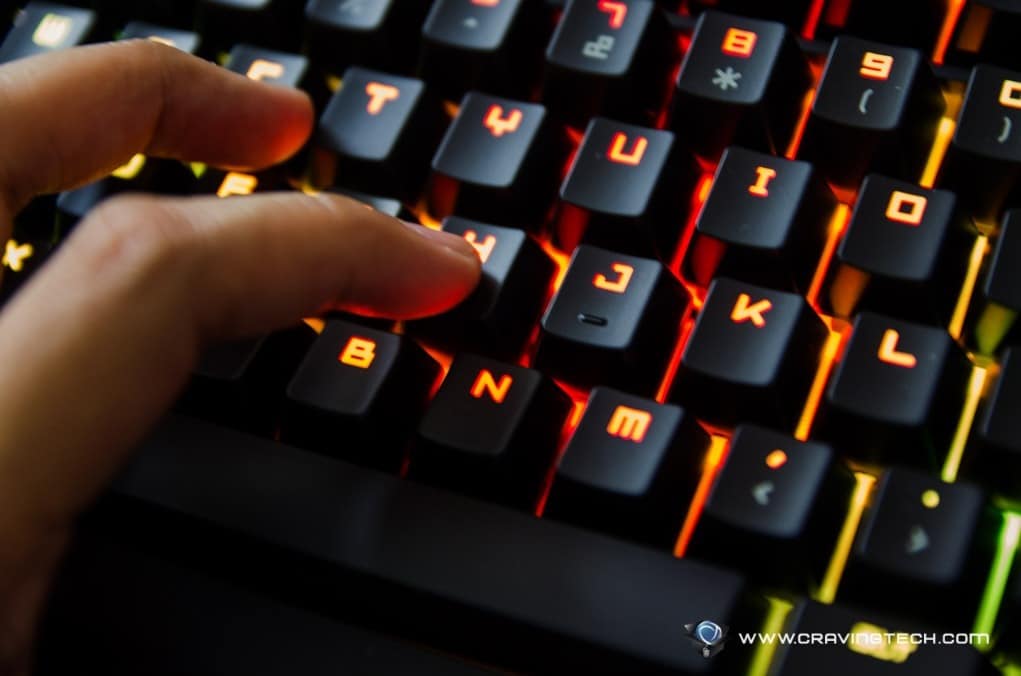 Compared to the BlackWidow Ultimate 2016 I reviewed earlier with the Orange switches, Razer Green switches are considerably louder, with sounds similar to when you are clicking your mouse. This gives the user a great audible and also tactile feedback as to when a key press is registered. For playing games that take advantage of keyboard shortcuts, it feels great.
For typing, it also gives a satisfying click-and-feel (if there is such word), though at the expense of noise. This is definitely not the switch you'd go for if you have someone else sharing the room with you or in an office environment. I demoed it at our open-plan office and it was banned almost instantly. If you like an audible feedback to how fast you type, then you'll be a happy chappy. If not, you can always opt for the BlackWidow Chroma Orange (Silent) switches.
Chroma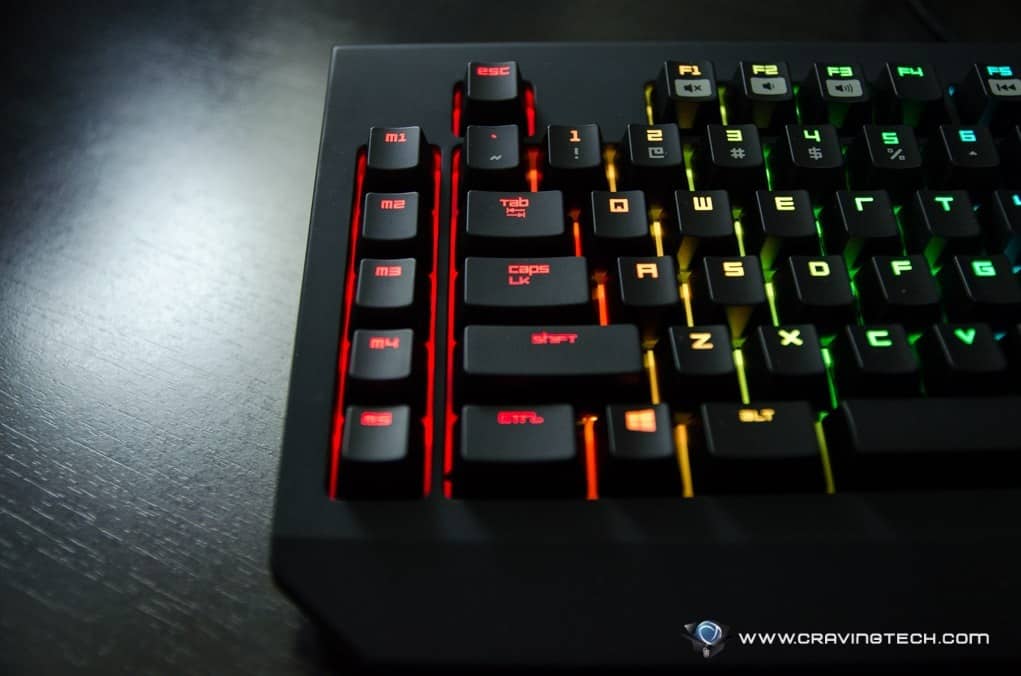 But of course, you are here for the funky lights, aren't you? And you will not be disappointed. The BlackWidow Chroma features individually programmable backlit keys with 16.8 million colour options. These are not limited to boring, static colours. With the help of Razer Synapse, you can pick a preset Chroma lighting effect, make your own, or import a pre-made one from the community.
My most favorite Chroma profiles are the Heartbeat, LiveMatrix2, and Scorching Zero v2. They are not too flashy (personal preference), but there are lots more funky ones at Reddit, Razer Insider forum, YouTube, etc.
At Razer Chroma Workshop, you can also get a cool in-game effects on your Razer BlackWidow Chroma, thanks to ChromaSync and GameDog. When you are playing a supported game, your lighting effects will change and something magical will happen.
I tested this on CS:GO and it worked really well. If I pick to be in the Terrorist side (or watching a Terrorist play upon my death), my overall light theme changes to Amber; Blue for Counter-Terrorist.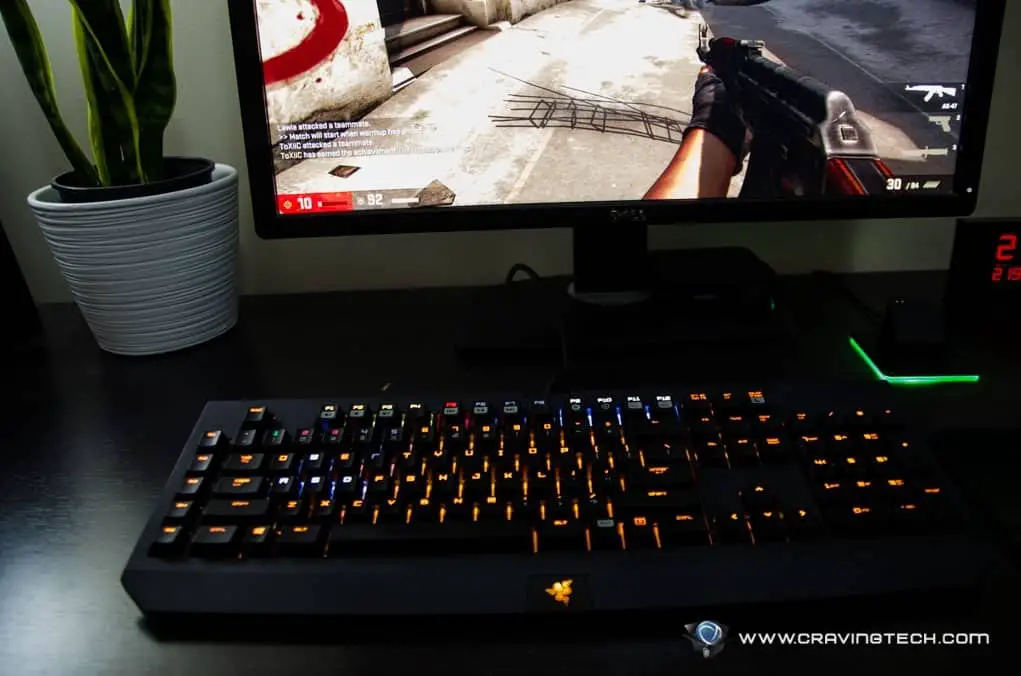 Parts of my keyboard also blink in synchronisation when the bomb has been planted. Here is an example video of BlackWidow Chroma support in CS:GO:
And Dota 2:
Is this useful? Well, when I'm playing games, my eyes are normally focused on the monitor so I never actually stare at my keyboard. I actually tried playing for a while and I almost never caught any light changes while I played, unless if I purposely looked at the keyboard.
This, to me, is more like a cool thing to show off to than a necessity. But if you like to game in the dark or sit not too closely to the monitor, then it can become a good visual aid.
Another cool thing that the BlackWidow Chroma can do, is this Audio Visualizer. A video speaks a thousand word, so here as a short video I made with the Audio Visualizer running (free app):
Saying goodbye to any limitation #Razer #AudioVisualizer #gaming #keyboard @Razer https://t.co/DpLlsu3ZNU pic.twitter.com/mZgKoxAzlS

— Michael Aulia (@michaelaulia) March 9, 2016
Other features
Five dedicated macro keys, USB 2.0 passthrough, and audio-in + microphone-out port.
Razer BlackWidow Chroma Review Conclusion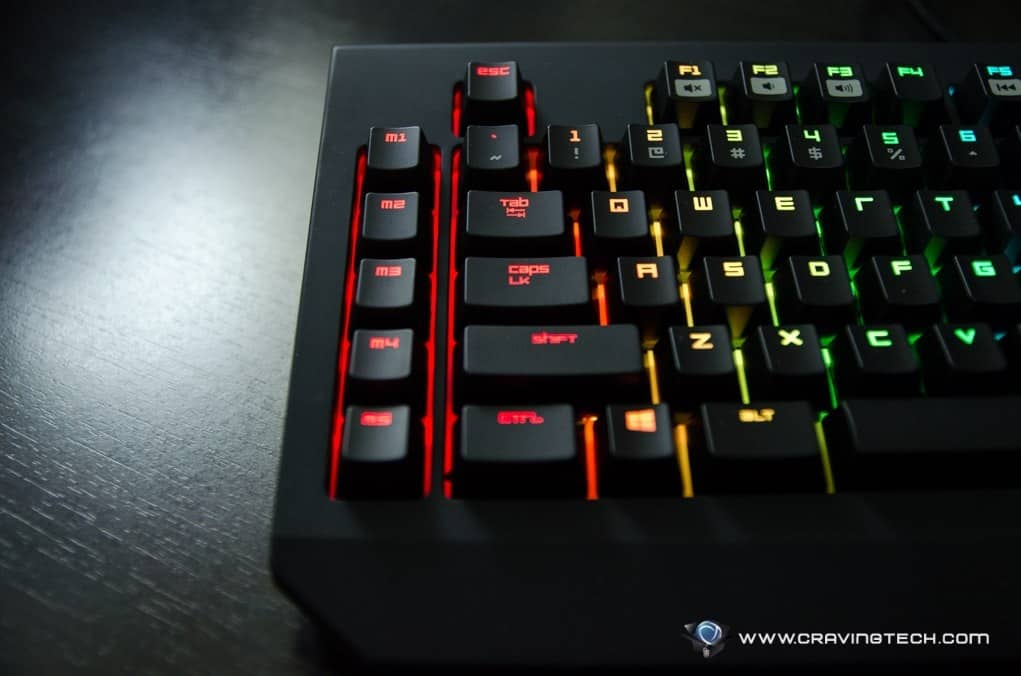 Razer BlackWidow Chroma can be treated as the king (or mother, or father if you like) of all Razer gaming keyboards at the moment. It pretty much has every feature that a gamer would want from their gaming keyboard (apart from having a wireless one).
It is well-designed, well-built, and the cool, adjustable backlighting catches the eye as you turn your gaming computer on with your favorite lighting effects. They are bright, distracting (in a good way), and has limitless potentials.
Disclosure: Review sample was supplied for reviewing, but all opinions are mine and not paid
Razer BlackWidow Chroma Pros
Stylish looking
Satisfying typing experience
Solid and Sturdy Build
Customisable Chroma lighting with plenty of support from the community and limitless potentials. They are bright too.
Razer BlackWidow Chroma Cons
Chroma lighting is cool, but not essential
No backlit on the Spacebar key
[AMAZONPRODUCTS asin="B00MTWV0II"]