Razer BlackWidow Ultimate 2016 Review (Stealth/Silent-keys) – Razer's BlackWidow line-ups received lots of praises from gamers and Razer fans. It also got a high praise here at Craving Tech (check out Craving Tech's BlackWidow Ultimate 2014 Review) for being a great all-around mechanical gaming keyboard that looks and feels good to both the eyes and fingers.
Razer has made a refresh by improving what's already a great gaming keyboard with its BlackWidow Ultimate 2016 Edition and though the design hasn't changed much at all, we don't really mind. Why change what works, right? It's not bigger but definitely better!
Raze BlackWidow Ultimate 2016 Review – Packaging
Razer BlackWidow Ultimate 2014 vs 2016
At a glance, the 2016 edition looks similar to the 2014, though not exactly the same at a closer look. It has a new smudge-resistant coating, better indicators panel, a backlit on the Space bar key, more compact (having the dedicated macro keys removed), a combined audio and microphone jack, and a more advanced lighting controller.
Razer BlackWidow Ultimate 2016 Review – Design & Features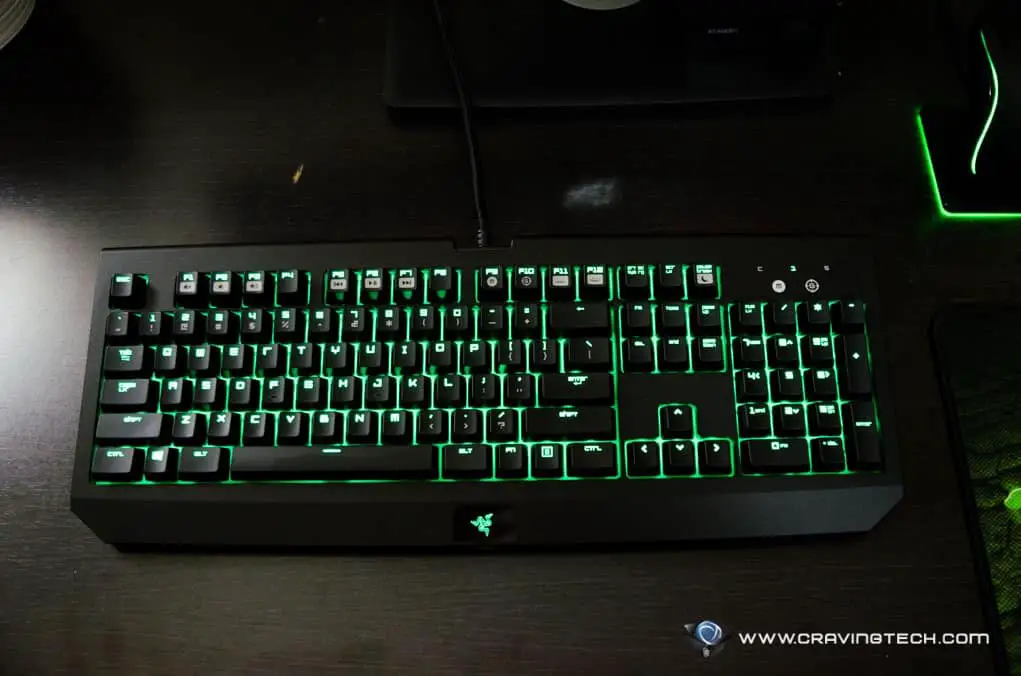 Like any other Razer peripherals, the BlackWidow Ultimate 2016 looks really good, and strikingly cool on the desk. It has the prominent Razer's green signature all over it (once you've plugged the keyboard in).
Switches/Keys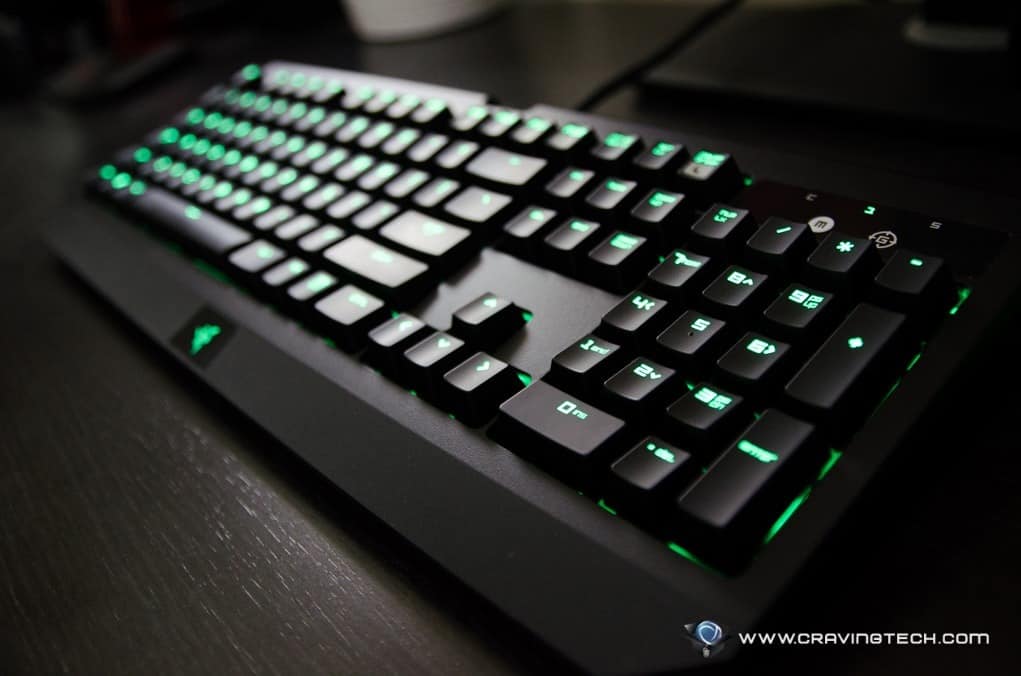 The unit that I have to review is the Silent mechanical switch type (with Orange switches), also known to some as the BlackWidow Ultimate 2016 Stealth. It uses Razer's own mechanical switch (compared to the traditional CherryMX keys) that can withstand up to 60 million keystrokes and has an actuation force of 45g.
The keys offer fast and great typing experience without making too much of a noise, compared to the Clicky version (Green switches). When moving from Razer's Green switches (I'm reviewing the BlackWidow Chroma with Green switches at the moment) to the Orange, the keys feel hollow inside but the noise is reduced quite significantly and performance feels as good.
Typing while in-game to device a strategy with your team mates is quick and there really is no complain on the responsiveness when you try to execute a quick melee attack as you bump to an enemy in the corner, or unleash your ultimate skill in DOTA.
Backlighting
The keys are all individually backlit with Green LEDs but the 2016 also offers a new feature: advanced backlighting. Previously, you can only control the intensity of these lights. With the BlackWidow Ultimate 2016 edition, you still can control the intensity, but this time you also have more options with its dynamic lighting support.
Here are the new pre-set lighting effects that come with it (Starlight is my favorite):
Note that it's not like the BlackWidow Chroma. You only have a single colour here (Green) and since it does not support the Chroma SDK, you are quite limited with what you can do. Even if someone creates an amazing light show in Green with the Chroma SDK, you sadly cannot import it to your BlackWidow Ultimate 2016 keyboard. I haven't found someone who makes a lighting effect for the BlackWidow Ultimate 2016 yet, so make sure you're happy with the Razer presets that come with it and take the community's one as a bonus if there is any in the future.
New indicators panel, ports, and other things
The new panel clearly displays if a Num lock key is on, for example, and the display is much clearer compared to the BlackWidow Ultimate 2014 (and the Chroma). From my experience in using the BlackWidow Ultimate 2011 for a couple of years, I found that it was harder to see which lock key is lit up at times. It looks like Razer has improved the panel so you can now clearly see the LEDs.
Razer BlackWidow Ultimate 2016 Review Conclusion
The Razer BlackWidow Ultimate 2016 does not offer an overhaul design of a complete new keyboard, but more like a refresh to what already was a great gaming mechanical keyboard of all time.
The BlackWidow Ultimate 2016 is definitely better than the previous 2014 model (unless if you really want those dedicated macro keys at the expense of the keyboard taking up more space on your desk), but you don't really need to upgrade if you are on a tight budget.
If you do have the budget, you should just go all the way to Razer BlackWidow Chroma, which I'm still reviewing at the moment.
Razer BlackWidow Ultimate 2016 – Pros
No more dedicated macro keys, more compact
Sleek, cool looking
Great feel of mechanical switches, comfortable
Solid build quality + material
Better indicator panel with more prominent LEDs
Advanced backlighting support
Smudge-and-finger-print-free material
Razer BlackWidow Ultimate 2016 – Cons
No more dedicated macro keys (though you can still use other keys to record macros)
Not much reason of an upgrade if you already have a BlackWidow Ultimate
Does not support Chroma SDK and no custom lighting presets from the community yet
Disclosure: Review sample was supplied for reviewing but all opinion are mine and not paid.
[AMAZONPRODUCTS asin="B017K61ZIW"]