Sennheiser GSP 370 Wireless Gaming Headset Review – Compared to many of the wireless gaming headsets I've reviewed here at Craving Tech, Sennheiser usually comes above in terms of design and sound quality for non-gaming activities.
The Sennheiser GSP 370 is no different. It has a premium look-and-feel like high end studio headphones, a great sound quality, and comes without the wire. And surprisingly, the GSP 370 wireless gaming headset is advertised to even have 100 hours of battery life! Madness.
Packaging & Unboxing
Design & Features
Those who are looking for a more "exotic", gamer look with customisable LEDs might be disappointed here. But Sennheiser is never about adding these bling-bling to their gaming headsets, oh no. They've always been focusing on comfort, design, and sound quality. If you look at their other gaming headsets like the GSP 550 or PC 373D, you'll understand what I'm trying to say here. Besides, funky lights mean less battery life and you can't see them anyway when you game.
Comfort wise, the GSP 370 has a snug fit to the head but with no pressure feel. It uses dual-material earpads with suede-like material on the inner parts to reduce heat build up. For the past couple of weeks here in Melbourne, we didn't really have any hot weather yet so I have not tested the headphone under hot and sweaty condition. But so far, the headset is comfortable and my ears never sweat from gaming.
All the angles and joint are made so that every part of the headset fits different parts of your head nicely.
The packaging includes a USB wireless transmitter that works with PC, Mac, and PlayStation 4. I tested the headset on my PC and have never experienced any noticeable latency or delay in games, music, and movies.
GSP 370's microphone has a noise cancelling feature that minimizes background noise and can be muted automatically by lifting the boom arm. My voice is clear in game and my teammates never had any problems understanding me in-game.
There is a handy volume dial that lets you adjust the volume, and it's easily reachable while wearing the headset.
The surprising bit is actually the battery life because Sennheiser GSP 370 promises 100 hours of battery life, which is no small feat for a wireless headset! To be fair, I rarely see a wireless gaming headset that can last this long AND yet still has great sound quality. Others usually make compromises with the speaker drivers, or heavier/bulkier design in favour of having a longer battery life.
Speaking of sound quality, the headset delivers audio clarity and an exceptional bass performance as advertised. Listening music with the headset never gets tiring as it offers a great balance among all channels. The bass is strong and powerful, but the headset manages to keep everything else pretty balanced.
In games, the headset helps in delivering immersion and enhancing the games' ambiance. For competitive, online first person shooter games, GSP 370 also offers great sound positioning in-game and doesn't struggle in trying to keep up with all the different sound during a frantic battle.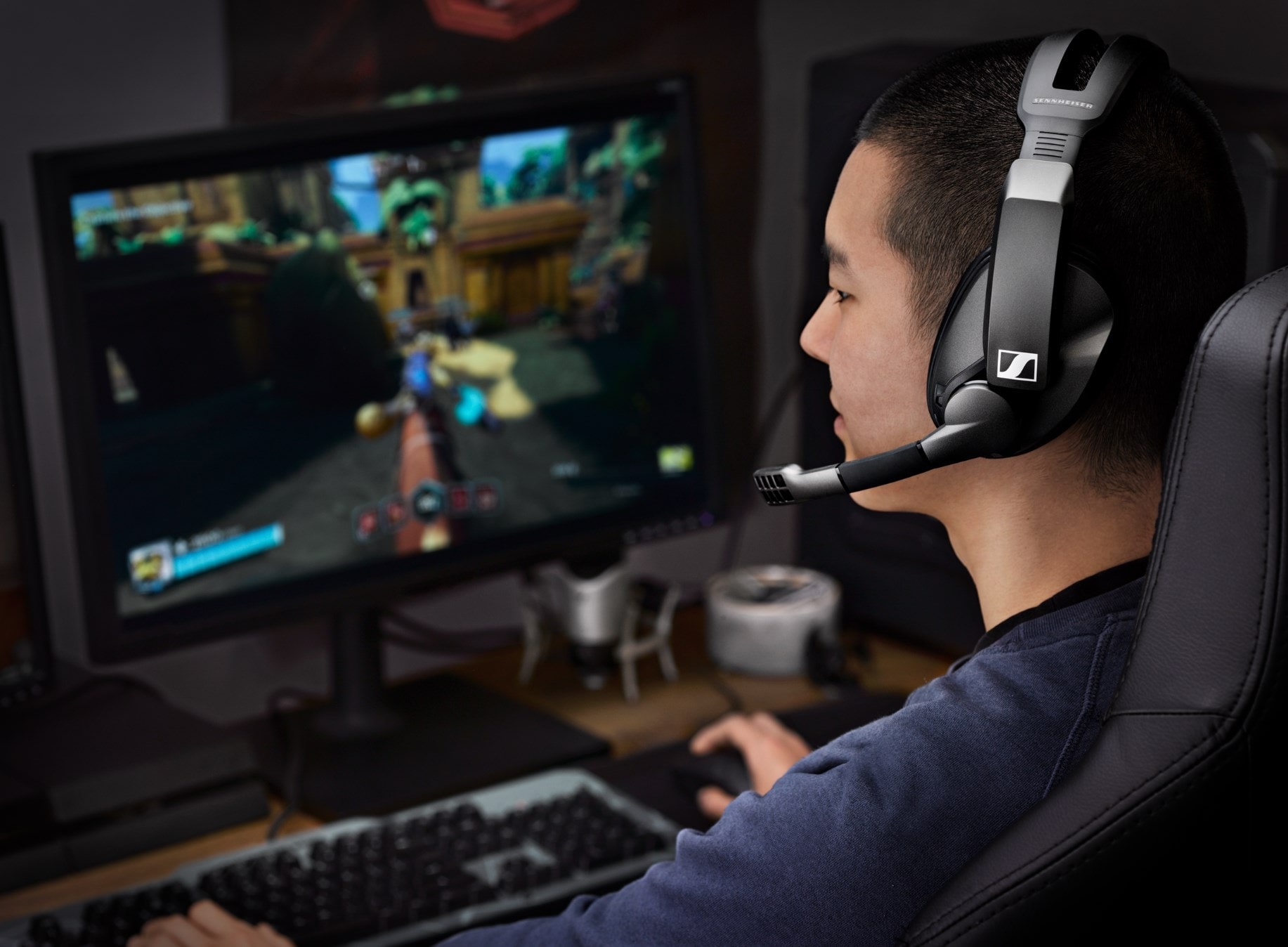 I've tested the GSP 370 mostly playing Overwatch and I could always identify where the enemies were every single time. At one stage, I heard the enemy's Soldier 76 triggered his ultimate ability and I knew exactly where he was without seeing him. I quickly ran into cover (without trying to find out where he was), saw 3 of my teammates got butchered, and hid. I flanked the enemy's position after, took out their supports, and the three of us left ended up turning the battle around.
I could also see an enemy Reaper teleporting but without knowing where he was going. After hearing his steps above us, I could pinpoint where he was hiding, waited for him to come down, stunned him with McCree's flashbang skill, and saved the team before he could do anything. He surely didn't anticipate that.
Sometimes the headset loses connection after a machine shutdown so at times, I'd have to replug the wireless USB. A friend with the same headset seems to be having the same problem too. It looks like it's something that will be fixable through a firmware update though.
Someone at Reddit mentioning you need to disable Fast startup" in Windows Power Options -> Choose what the power buttons do (on the left sidebar) -> Change settings that are currently unavailable -> Disable Turn on fast startup. I tried that but I still have to replug the receiver each time I turn my computer on.
Sennheiser GSP 370 Review Conclusion
Sennheiser GSP 370 is designed and built for long gaming sessions, thanks to the 100 hours battery life and comfort. My only gripe with wireless gaming headsets is when the fun ends and you have to charge them again. But with the GSP 370 at least, you'll have plenty of days before you have to plug the cable in.
I've used the headset daily for a couple of hours every night at least (for around 2 weeks), and the battery indicator is still showing green. Quite amazing.
While other brands offer longer battery life at the expense of sound quality and comfort (due to bulkier battery unit), Sennheiser somehow manage to maintain all that in a single, amazing package.
The headset is great to be used not just for gaming, but for music listening and movie watching as well. And hey, it also works on the PlayStation 4 so if you are also gaming on the console, you can unplug and replug the wireless transmitter quickly. A great value headset all around.
Sennheiser GSP 370 currently retails for AU$349.95 and available at Sennheiser Australia & major retailers around Australia. If you purchase the gaming headset from the Sennheiser website, you will also receive the GSA 50 headset hanger (value: AU $54.95) free of charge.
Disclosure: Sennheiser GSP 370 review sample was supplied for reviewing but all opinions are mine and not paid
Sennheiser GSP 370 Review
Summary
Sennheiser GSP 370 is a formidable wireless gaming headset with awesome sound quality + 100 hours of battery life.
Pros
Great sound quality and audio positioning in games
Comfortable headset
100 hours of battery life is crazy
Volume knob to adjust volume
Cons
Have to replug the USB sometimes to reconnect
No lighting/LED but you have more battery life