Waterpik Whitening Water Flosser (WF-06) Review – After I used my first Waterpik Waterflooser, the WaterPik Ultra 100, I couldn't stop water flossing.
Part of it is because I hate flossing (with dental floss) and my dentist has always been unhappy about it, but the other part is that the process is now more fun than ever. And, it works. Using a water flosser, I can always see some tiny food scrap out from my gum pockets and between the teeth, even after brushing my teeth thoroughly!
The latest water flosser from Waterpik, Waterpik Whitening, still gives you effective water flossing but now also comes with extra teeth whitening while you water floss.
Packaging & Unboxing
The package comes with the water flosser unit, 4 different attachment tips, short manuals, and also the Waterpik whitening tablets – which I'll explain a little bit later.
Design & Features
The design is more professional and better looking than the original Ultra 100 for sure. It looks great on our bathroom bench and matches the overall white Surfmist theme of our house.
As a water flosser, the Waterpik Whitening water flosser works really well. It has up to 10 pressure settings that you can adjust as you go (hint: start small if this is your first time using a water flosser).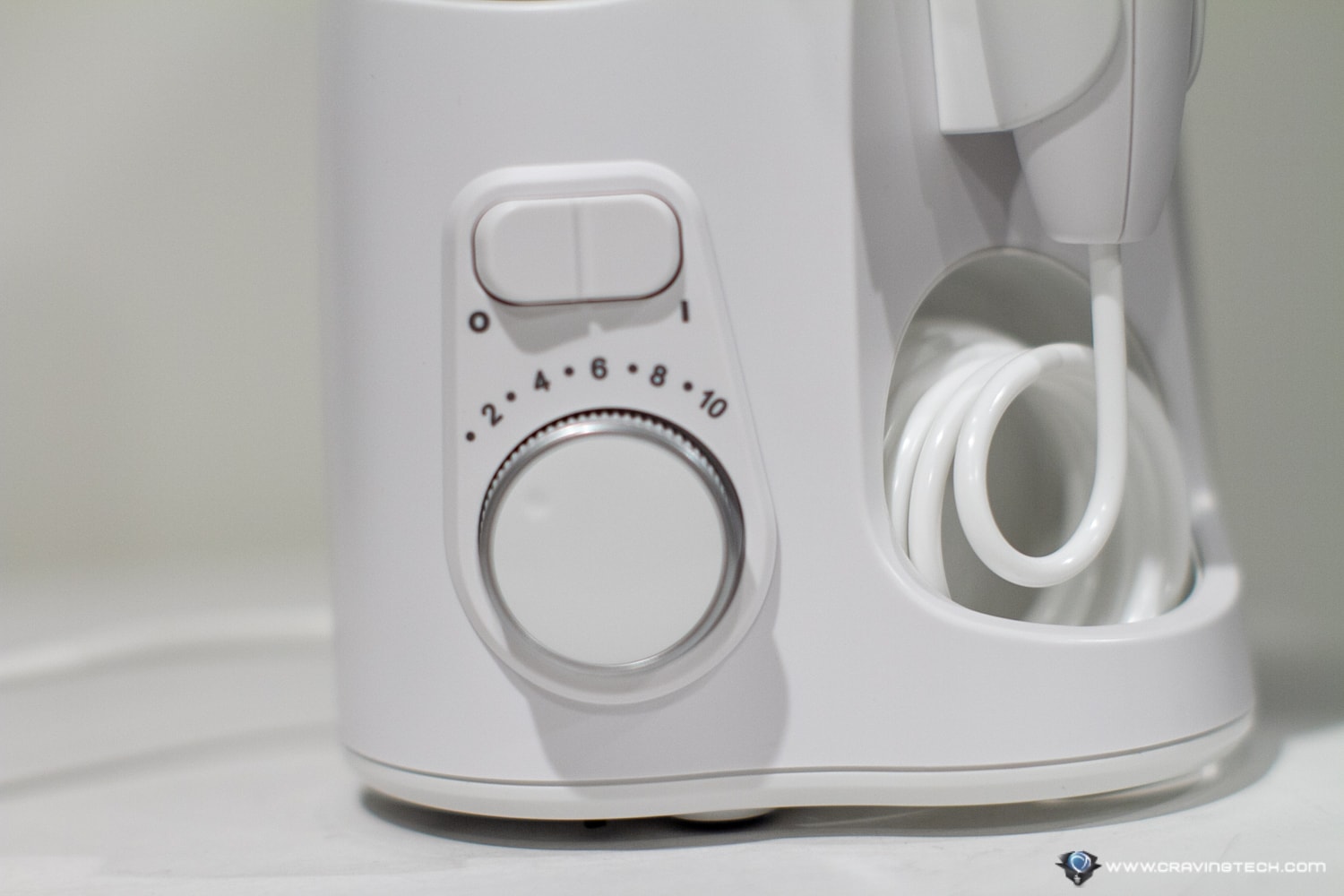 While the handle is not as ergonomic as the Waterpik Cordless Plus (WP-450), I don't have any trouble trying to clean the four quadrants of my mouth. Once you turn the machine on, you will also have to turn the handle on to let the water stream through. This way, you can just pause the water flow directly on the handle without having to touch the main unit.
I'm not planning to rewrite what water flossing is or how it works – feel free to read my impressions and all on the WP Ultra 100 review article.
So, how about the whitening "feature"?
When you purchase the unit, you'll get 30 whitening tablets to be used for 30 days (i.e one per day). These tablets will be placed inside the handle (a.k.a Whitening Infuser Handle) and dissolve as you water floss.
The Whitening Infuser Technology mixes water with the stain removal agent within the tablet to help with the stains removal. Combined with the strong jet water stream, this process helps removing stains more effectively.
It has a minty taste – which reminds me of a sugar mint candy I used to eat when I was little. The guide strongly advises you not to mix a mouthwash when you have the whitening tablet due to the foul taste. Well, being a good reviewer that I am, I did test this and the result was, yuck!
If your teeth have lots of yellow stains around the gum pockets that you can't seem to get rid off, Waterpik Whitening will do wonders. I'd say the whitening is definitely not as good as when your dentist does it professionally with chemicals & a rub of cotton (I did this once and surprised by how white my teeth became). If your teeth already have natural colour (i.e you don't drink tea and coffee that often), you might not feel or see any difference.
The whitening tablets (for 30 days of use) can be purchased for AU$19.95.
Waterpik Whitening Review Conclusion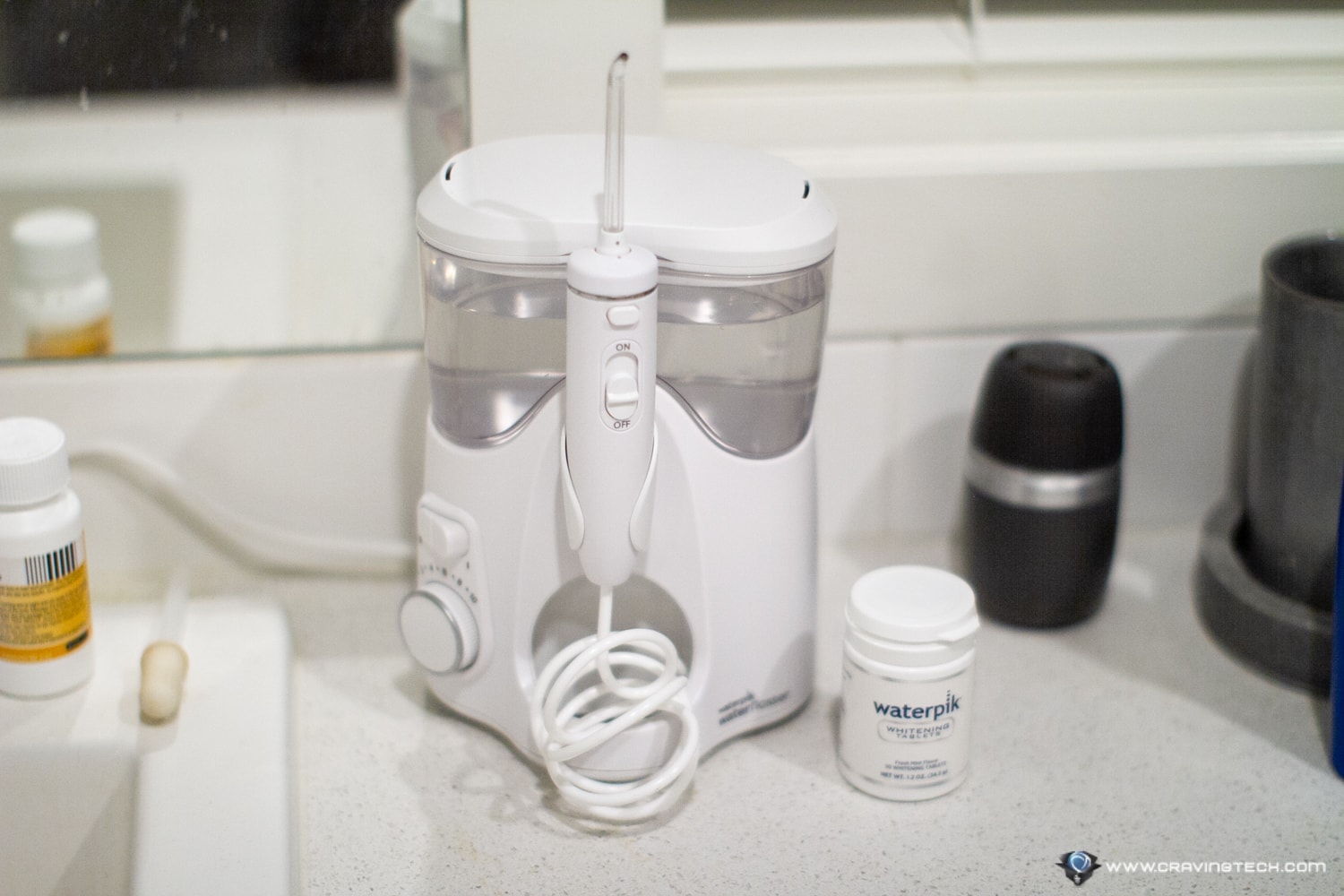 Waterpik Whitening (WF-06) is a really handy water flosser. You can use it not just for water flossing, but also to help restore some natural look to your teeth (especially if your front teeth have yellow stains that can't seem to be removed) with the help of its whitening tablets and whitening infuser technology.
The good thing is that once you get the natural look back, you can stop using the whitening tablets and just use the machine to water floss to save money. When you need it again, simply add the whitening tablet into your water flossing routine.
If you are looking for the best water flosser machine at the moment, this is definitely it. It has powerful water flow that you can adjust (heck you can even use it to clean your sink!), different tip attachments for a variety of dental conditions, and an optional natural whitening when needed.
Waterpik Whitening currently retails at AU$249.95 and available at retail stores around Australia like the Chemist Warehouse or Shaver Shop. Also available at Amazon.
Disclosure: Waterpik Whitening review sample was supplied for reviewing but all opinions are mine and not paid
Waterpik Whitening Review
Summary
My favourite waterflossing machine at the moment. Great performance and can also whiten your teeth as you floss
Pros
Good waterflossing machine in terms of performance
Easy controls
Good amount of water tank for one session
Can also whiten your teeth
Cons
Whitening is not as effective as I thought it'd be