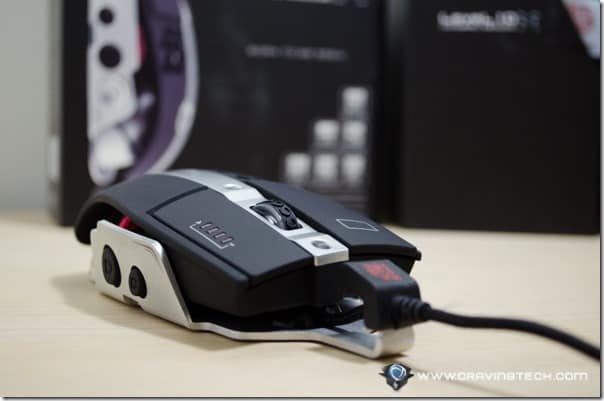 Tt eSPORTS Level 10 M Gaming Mouse Review – Real hardcore gamers want more than just a high-end gaming mouse and mouse pad. They also care about the aesthetic of their toys.
And what is better to satisfy their satisfaction than having the BMW Group subsidiary DesignworksUSA helped Thermaltake in designing an uber cool looking mouse?
Tt eSPORTS Level 10 M Gaming Mouse Review – Packaging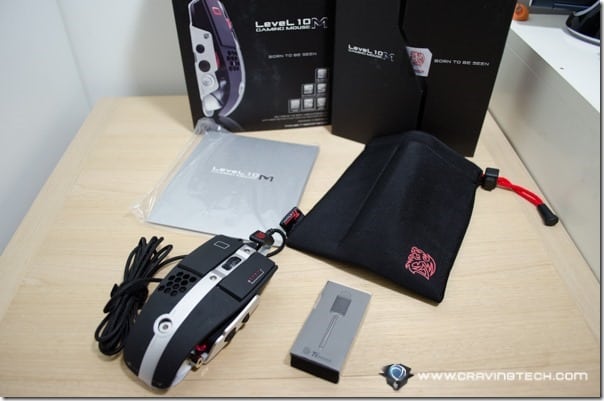 Tt eSPORTS Level 10 M Gaming Mouse Review – Design
The Tt eSPORTS Level 10 M gaming mouse design is absolutely top-notch (both the mouse and packaging). When the mouse was first introduced to me in a press release months ago, I was already astonished just by looking at the product photos.
The mouse comes with different colors (Diamond Black, Iron White, Military Green, and Blazing Red) but in my opinion, the review sample that I've got (the Diamond Black) has the best looks. It is mostly made of aluminum which gives a solid, luxurious feel. Compared to the usual plastic mouse we often see nowadays, the Level 10 M looks better, cool to the touch, and much more durable.
The mouse design is rather unique, allowing you to peek through between the top and the base (open structure design), to reveal a nicely lit Battle Dragon emblem of Tt eSPORTS.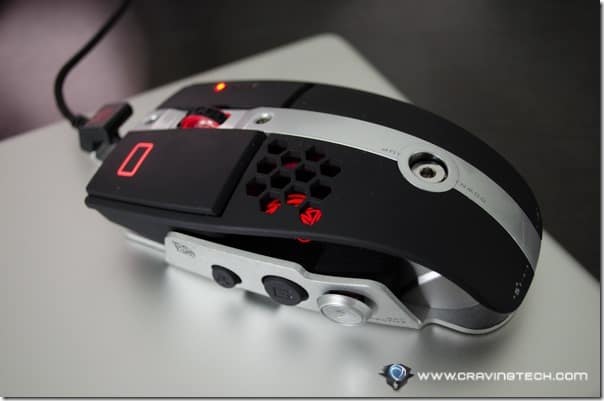 That is not the only reward you'll get, though (but it's good enough to be treated as the grand prize of using this mouse). This unique open structure design also allows you to tweak the mouse as you see fit. Using the included tweaking tool, which reminds me of tweaking Tamiya's cars back in the 80s, you can adjust the height of the palm support and also the horizontal angle by twisting a couple of attached screws clockwise/counter-clockwise.
As such, the Level 10 M Gaming Mouse can be tailored specifically to your hand's contour and personal preference. Twisting and tweaking may sound like a chore but it actually gives a sense of pleasure and personalisation to each owner.
The aluminum material and the air-through ventilation help in dissipating the heat so you can game for hours without making your mouse wet with sweat. Even though it's Summer here in Australia, it still is comfortable to play with the mouse for hours (though I have dry hands to begin with).
The Lightning button mechanism (the DPI switcher) makes it really easy (and quick) to switch between DPIs while in-game. It takes almost zero effort to register compared to having the DPI switcher buttons on the top of the mouse.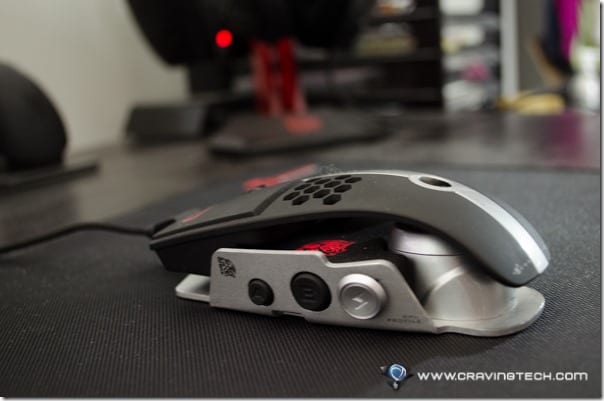 Tt eSPORTS Level 10 M Gaming Mouse Review – Impressions and Experience
When I first looked at the product photos, I had this doubt whether this mouse is going to be comfortable to use. Thankfully, my initial impression was wrong and I did find that the mouse is in fact, comfortable to hold. It does take a while to get used to the mouse design (especially when trying to find out where my thumb should go to, as Tt eSPORTS Level 10 M gaming mouse has no thumb rest area).
Though the mouse is comfortable to use, I find that it is a bit too heavy for my liking. Note that I do have small hands and always prefer a lighter mouse, such as the Tt eSPORTS Saphira (with the whole custom weights off). I'm a claw/finger-tip gamer so I like it when the mouse is lighter, but everyone has their own preference. According to the specification, the Level 10 M's weighs around 185 grams.
Gaming with the Level 10 M Gaming Mouse is a blast. Equipped with an 8200 DPI sensor, you can pretty much go 720 degrees in one tiny swipe motion (or more!). The sensor is smooth and accurate, which makes it perfect for online First Person Shooter games like Counter Strike.
While playing Path of Exile (a Diablo 3 clone game), I find it easy to accurately (and quickly) point-and-click a loot among the pile before another party member stole what is mine.
Overall, it is obvious that the Level 10 M gaming mouse does not just win the design award, but also in terms of performance for gaming (which is what it is made for).
The light indicators on top of the mouse (and the visual feedback on-screen) also help in alerting which DPI level you are on, which is useful if you like to switch to different DPIs frequently in-game.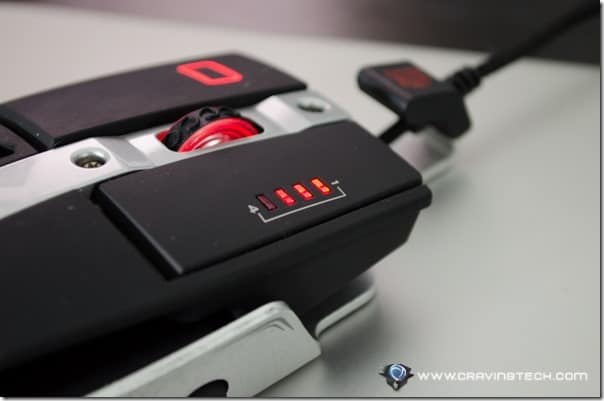 Tt eSPORTS Level 10 M Gaming Mouse Review – Conclusion
Thermaltake Tt eSPORTS Level 10 M Gaming Mouse design is top notch and if you look at the mouse real close, the attention of detail that the team has put into is staggering. From the layout of the mouse, the materials used, the buttons' size and positioning, the tweaking bit that transforms you into a little kid obsessed with his toys, the font styling, the customisable lit-areas, and the unique shapes, every inch of the mouse is sensational to behold.
Tt eSPORTS Level 10 M Gaming Mouse Review – Pros
+ Stylish look
+ Top notch design
+ Feels and looks luxurious
+ High quality material
+ High performance sensor, 8,200 DPI
+ Customisable (lighting colors, button macros, DPI levels, height of palm support, and horizontal angle)
Tt eSPORTS Level 10 M Gaming Mouse Review – Cons
– No thumb rest, a bit harder to grip
– Feels kind of heavy (185 grams of weight)
Disclosure: Thermaltake Tt eSPORTS Level 10 M Gaming Mouse review sample was provided for the review.