To celebrate the upcoming Formula 1 Grand Prix 2013 in Melbourne, 14-17th of March and their Global Sponsorship of Mercedes McLaren and Jenson Button, Vodafone Australia has developed a simple yet addictive racing game called Lap Racer. Play this free game on your mobile device (FREE on iOS and Android), be at the top of the scoreboard, and you can win a bunch of prizes. The grand prize includes winning VIP tickets to the Grand Prix, including flights and accommodation.
At the bottom of this post, you can also win yourself a Double Pass ticket to the Formula 1 Grand Prix exclusively at Craving Tech, thanks to Vodafone Australia!
Lap Racer by Vodafone
The Vodafone Lap Racer competition is open for public and what you need to do is to just download the game, play it, and be at the top of the scoreboard (the fastest to finish the 2-lap race in the game). The game is available on the Apple's App Store and Android's Google Play.
What you do, is to simply press Accelerate or Brake. No steering is required. As simple as it may sound, it is challenging if you want to compete for the best time. The game is designed with the Melbourne's real circuit in mind so it is quite interesting to play as if you are one of the drivers! Playing this game also makes me realise how difficult it is in real life and that a tiny wrong move means a huge difference in the match outcome!
Once you have finished your 2 laps, you can submit your time to the Leaderboard (you can do this multiple times so re-submit it once you've got a better one).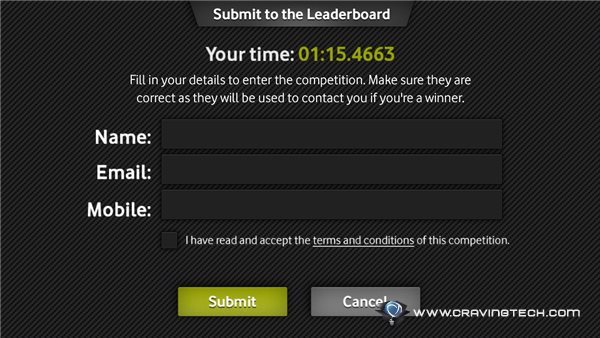 My best time is 1 minutes and 9 seconds (this was until, like, the 30th try or something). Can you beat me?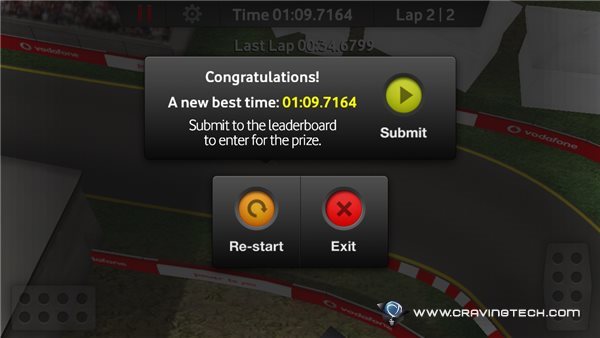 So you think you are good at beating me? Well try beating the top leader of the scoreboard (you can view so there is an incentive to beat him/her up)
If you can be number 1, then you are the candidate for the grand prize! The 1st, 2nd, and 3rd prizes are only for Vodafone and 3 Customers, but you can still win the daily prize if you are not their customers.
How to win a Double Pass Ticket to the Grand Prix at Craving Tech
Not feeling that competitive? Don't worry. Vodafone Australia is kind enough to give me a Double Pass ticket to experience the Grand Prix, but I've decided to give it away on Craving Tech instead. This is the double pass ticket for the Sunday 17th of March.
To participate and win, use the PunchTab widget giveaway below to earn points. By liking our fan page and sharing about this post, you will earn one point each. If your friends join in this giveaway using your link, you'll get 5 points! So share away as often as possible to your Facebook or anywhere, because the one with the highest point will win this double pass ticket!
Bonus 10 points: If you can play the game, take a screenshot of your best time, and upload it on the comment form below, I'll also give you 10 extra points :) It does not matter whether your time is good or not (it will not affect anything; well, except maybe your ego)
Terms and Conditions:
Must be 18 years or older to enter
Anyone can participate but will need to have an Australian address to send the ticket to (so you can participate in any parts of the world and send this to your friends/relatives in Australia if you win)
Giveaway period starts on Monday the 25th of Feb, 9 PM AEST until Monday the 4th of March, 9 PM AEST.
The winner will be contacted as soon as possible and need to provide an address to send the ticket to.
The prize is a double pass ticket entry to the Grand Prix (you have to arrange your own flight and accommodation)
The prize cannot be refunded or exchanged for cash
All the best, guys!