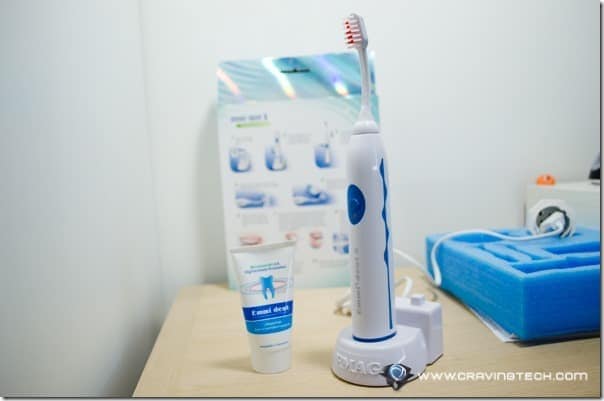 A toothbrush that cleans without having to brush your teeth? If that sounds unbelievable, then you are wrong. Apart from having to scratch your teeth and gum with a brush, there seems to be a… non-barbaric way to do it.
The Emmi®-dent revolutionise the usual tooth brushing chore by using an Ultrasound technology to kill bacteria and clean your teeth; simply by resting the brush on your teeth (yup, no actual brushing is required).
The Emmi-dent 6 Professional packaging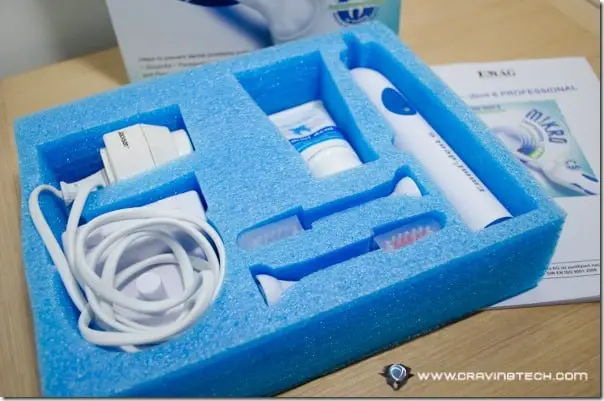 The packaging contains:
The Emmi®-dent toothbrush
2x Emmi-dent Ultrasound Brush Heads (Blue and Red color – so your partner or family member can use a separate brush head)
The stand to charge and place the 2 brush heads on
A 50ml Tube of Emmi-dent Ultrasound Toothpaste
Emmi-dent, a toothbrush with Ultrasound technology
But why all the trouble? Aren't we all happy enough using our regular toothbrush or electric toothbrush? According to Emmi-dent's product page, the Ultrasound can give so much more:
The Emmi-dent ultrasonic toothbrush also kills bacteria, promotes blood circulation in the gingiva and releases the body's own energy, promoting the healing process. Ultrasound is also very effective against bleeding gums, bad breath and prevents periodontitis, aphthous ulcers and other dental diseases.
It works by transforming the included ultrasonic toothpaste into millions of microscopic bubbles to clean your teeth all out. Just watch this video for an explanation about how the technology works:
You unfortunately have to use their special Ultrasound toothpaste because a regular tooth paste is not specifically made for this purpose. Priced at $8 a pop plus $9.90 shipping free, it can be a high-cost maintenance (at the moment, you can only buy the tooth-paste online from their site).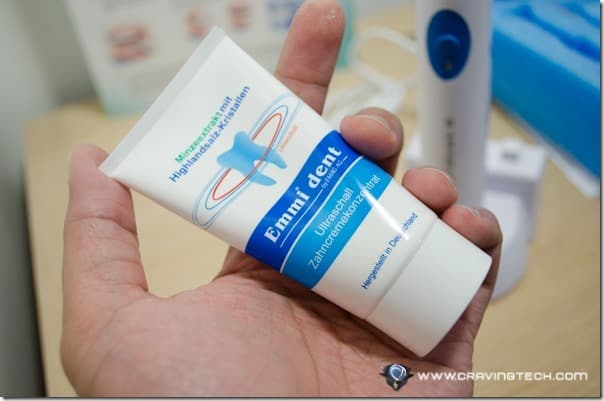 The toothpaste does feel different, because when I munch the toothpaste in my mouth, it feels like munching sugar (with tinier particles); which makes me believe that it really consists of these nano bubbles as advertised.
If you really want the best cleaning and oral hygiene (not to mention visiting a pricier dentist less often), then that price is a small price to pay.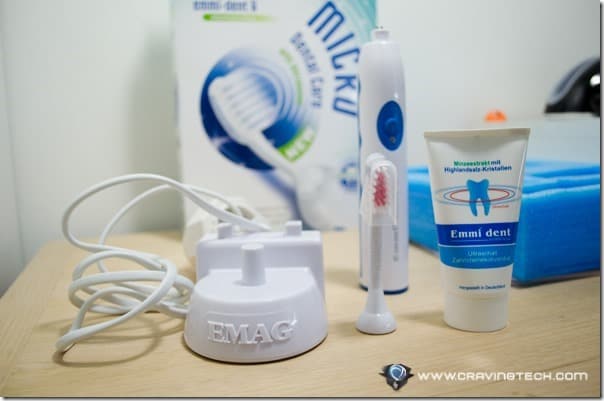 The Ultrasound technology on the Emmi-dent:
Cleans thoroughly on the areas between the teeth and other hard-to-reach areas with the traditional toothbrush
Works well with implants and braces (I've always wondered how you can clean your teeth effectively with the braces on them)
Gum-friendly. I often had bleeding gums when I brushed my teeth (either using the conventional toothbrush or electrical). Emmi-dent cleans without any frictions to the gum and I haven't experienced any bleeding so far with it obviously
Kills bacteria and prevents them from making their own way back to my teeth. The conventional way will brush the bacteria away but may stick inside the brush, ready to jump back into your teeth to continue their evil plots on your next session
Removes stains caused by nicotine, coffee, etc. In my case, my yellow-ish teeth were caused by coffee and tea. Last October, I went to the dentist and he helped me to clean them up using some sort of chemical. That chemical smelled and tasted quite awful, although I was really happy with my natural white teeth as a result. Using the Emmi-dent should prevent this from happening in the future.
The toothpaste does not contain abrasive like a regular tooth paste (which can damage enamel).
Does Emmi-dent really work?
I was skeptical at first and I'm sure some feel the same way.
First of all, this technology is not really new and so far, positive reviews and results have made their ways to the public (especially those with all sort of teeth problems). Professional dentists around the world have also given their thumbs up for this technology according to online papers and media. Though I haven't really read the actual research papers and all that, if Ultrasound is a scam, then dental professionals would have already caught it. Instead, Emmi-dent is all over the news – interviews, TV, newspaper, magazines, etc.
As in my own experience, I do feel that the teeth feels squeaky after brushing with the Emmi-dent and its toothpaste (using my tongue and also by grinding the teeth together).
I didn't really notice the teeth whitening, but this was probably because I already went to the dentist a few months ago to whiten my teeth up (and I only drink one coffee a day).
After looking at my Before-After photos, however, I do notice Emmi-dent has done a good job in cleaning hard-to-reach areas (yeah, I have bad, un-even teeth as you can see). I've marked the areas I can notice the most at how clean Emmi-dent cleaned the teeth, compared to my old electric toothbrush.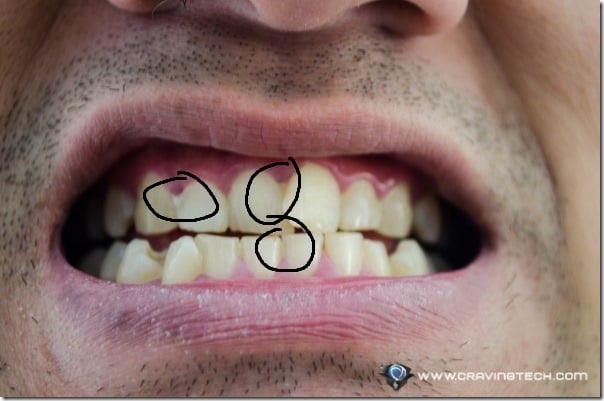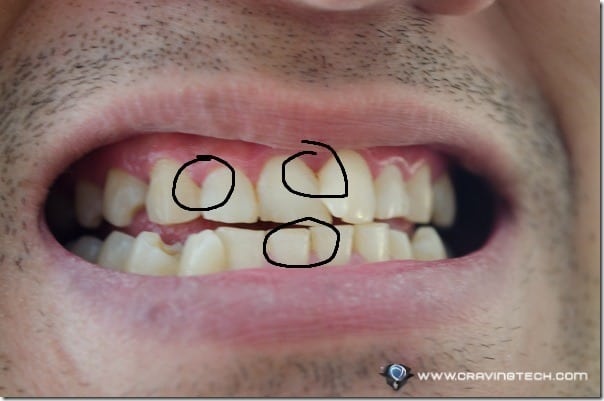 Though it has a somewhat pricier maintenance as I have to keep on buying the special toothpaste, it is worth the money (judging from my 2-week test, it seems that it will last for about a month; using it twice a day). I'm definitely going to use Emmi-dent from now on and put my old electric toothbrush on the shelf.
Unfortunately I'm not a dentist or anything, so I can't give any professional opinion and comment about the Ultrasound technology. From my own experience, Emmi-dent with Ultrasound definitely cleans better than the conventional and electric toothbrush and does not bleed my gum. Rather than brushing my teeth haphazardly, I definitely can't wait until my next trip to the dentist and hear what he says.
Note: Emmi-dent 6 Professional review sample was provided to share my opinion here