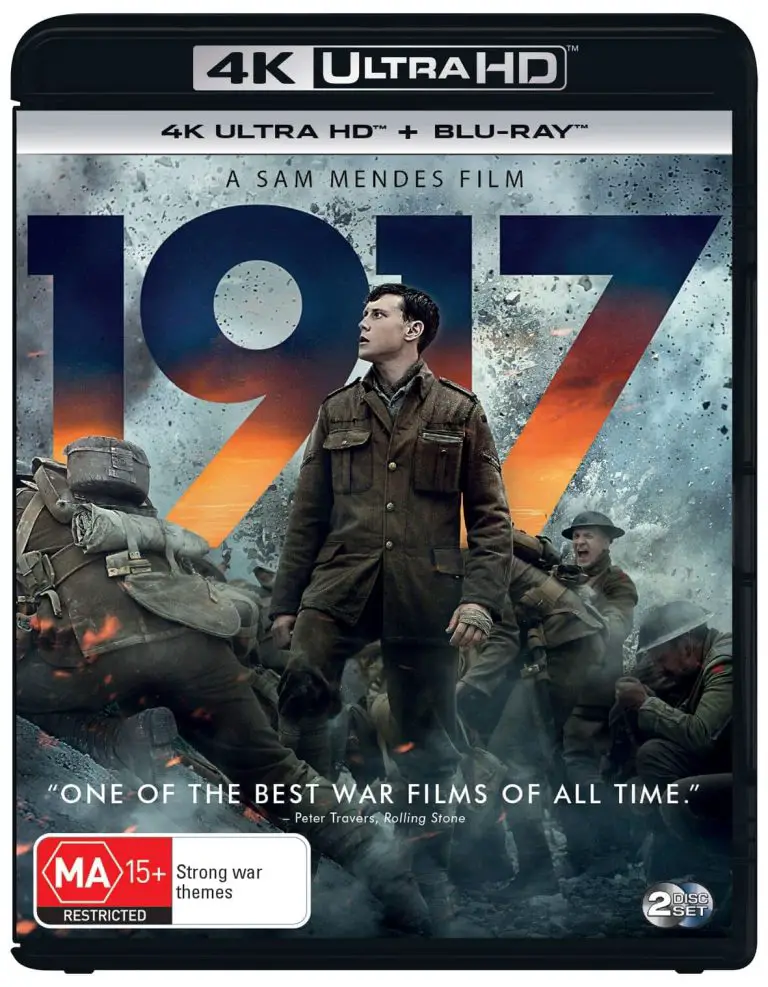 Thanks to Universal Sony, we are giving away 2 copies of 1917 on 4K Ultra HD here at Craving Tech. With 4K format, you can enjoy the movie on the big TV like our Samsung 65″ with Focal Chora 806 speakers and AudioEngine S8 Subwoofer in full glory. But the 4K format is not the only thing that will keep you smiling here, it also includes many bonus contents that you would not be able to see in the cinema.
1917 focuses on two young British soldiers, Schofield (George MacKay) and Blake (Dean-Charles Chapman), at the height of the First World War who are given a seemingly impossible mission. In a race against time, they must cross enemy territory and deliver a message that will stop a deadly attack on hundreds of soldiers-Blake's own brother among them.
Bonus content includes:
Commentary by Sam Mendes
Commentary by Roger Deakins
In the Trenches featurette on the cast
The Weight Of The World featurette on Sam Mendes' work on the film
The Score Of 1917 featurette on composing the film's music
Recreating History featurette on the production design
Allied Forces featurette on the collaborative effort required to make a film like 1917 work. 
Here is the 1917 movie trailer:
The film is directed by the Oscar-winning director of Skyfall, Spectre and American Beauty, Sam Mendes.
I watched the movie with my wife over the weekend and I was personally amazed at the cinematography. But what can I say? The movie did win a few oscars, in "Best Achievement in Cinematography", "Best Achievement in Visual Effects", and "Best Achievement in Sound Mixing"!
The movie was made as if it's a single, continuous shot throughout the whole movie – which of course, is almost impossible to achieve. However, there are definitely lots of tricks, advanced & careful planning, plus the craftiness of the whole crew which made all these possible. Most single takes are also long enough (like 5 minutes) that they need to take into account almost everything: lighting, weather, moving from one type of camera to the next, and so on. It is definitely super complex (feel free to watch How '1917' Was Filmed To Look Like One Shot | Movies Insider after you've finished watching the movie).
The result, is a movie that takes you as a non-stop journey of Schofield and Blake from the start to finish, "without cuts" (apart from him getting knocked unconscious until night fall). It is something different, and definitely can keep you immersed as you experience all the tensions and emotions like being there yourself. However, this definitely creates a slower pace and for those who just want to jump straight into actions, 1917 might not be the movie for you.
Note also that there aren't many war scenes like Saving Private Ryan, Hacksaw Ridge, and a few other war movies you might watch. 1917 is something different and needs to be enjoyed with a different point of view.
1917 is available in-store and online nationwide but you can also win one of two copies of 1917 Blu-Ray in 4K Ultra HD here at Craving Tech.
How to win 1917 on 4K Ultra HD Blu-ray
Follow Craving Tech on Instagram.
Post a photo or video of an item/person/pet/anything that keeps you sane during the COVID-19 isolation on your own feed and write how/why. Tag "@cravingtech" so we can note the entry (it can be a game you play, a TV show, a recipe book, your computer, your dog, a work from home setup, video meet-ups, etc).
Last entries accepted are on Wednesday, 6th of May 2020 at 11:59pm and winners will be selected & contacted via Instagram Direct Message on 7th of May.
Entries open worldwide, as long as you can give an Australian shipping address to send the Blu-ray to.