Focal Chora 806 Speakers Review – It's no joke. At around AU$1,299 retail price, these bookshelf speakers are not your usual bookshelf speakers that you can grab for just a couple of hundred bucks.
But in fact, these bookshelf speakers come from a very well-known brand to audiophile and sound enthusiasts, Focal.
Saying that, however, the Chora 806 is actually considered as one of their most affordable high-fidelity speakers. If you really want to go all out, their super high-end audio speakers can cost between AU$10,000 to $90,000 mark. For audiophiles, these super premium prices are not shocking though.
If you have not heard about Focal yet here in Australia, they are a French company that have been around since 1979 and focusing on high fidelity audio products like bookshelf speakers, car audio, headphones, and more. Their car audio gear is apparently very popular in the automotive industry and well-known. You might also have seen the iconic Focal logo in one of your favourite YouTubers or celebrities videos.
Today, we'll be looking at one of their bookshelf speakers, the Focal Chora 806.
The packaging itself – which pretty much containing just the speaker units alone, weighs around 18 kg and yes, the speakers are pretty heavy. They stand tall and mighty, as high as my air purifier from TruSense.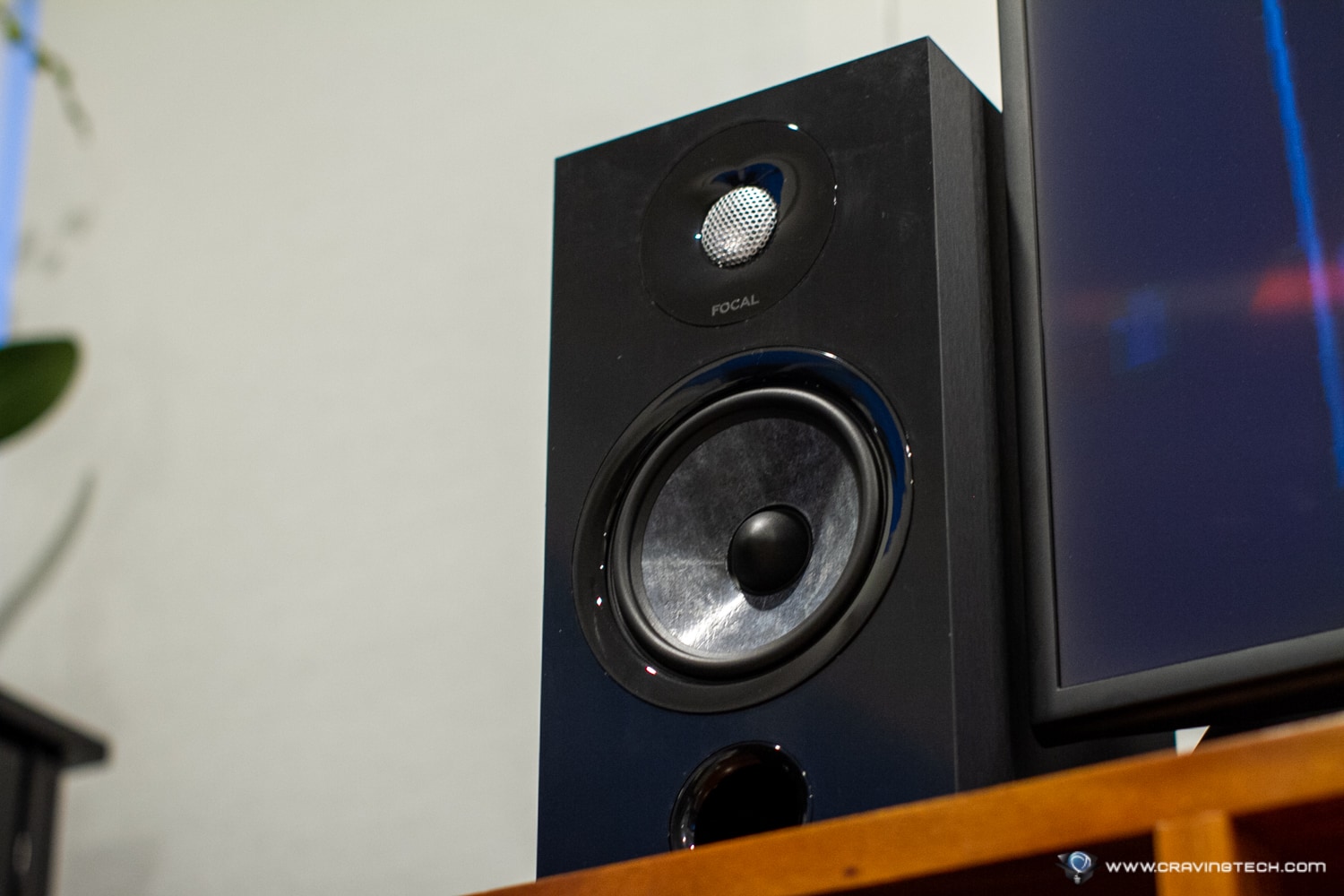 Focal Chora 806 is powered by 61/2" (16.5cm) bass/midrange speaker driver, equipped with an exclusive, custom-made Focal Slatefiber woofer. They are not there just for the show, but apparently improving the sound coming out of these speakers and every bit counts when you are making high-fidelity speakers.
It's apparent from the touch of the material and the looks on every corner that the Chora 806 was designed and manufactured meticulously. Well, these speakers are made in France and they just look and feel premium. And pretty.
The packaging includes magnetic grille covers for the woofers but I opt not to use them as I just like the aesthetics better without. Plus, they sound better too.
The one I have here comes with the Black finish. There is also an option to pick the Light Wood or Dark Wood finish. You can grab the speaker stand accessory on a separate purchase.
Sadly, they don't come with cables so if you are new to this high-fidelity audio world, you need to make a separate cable purchase. I went to grab these Figure 8 OFC banana plug cables to hook them up.
The Focal Chora 806 is a passive bookshelf speaker and requires an amp. The recommended amplifier power is 25/120W and they work with my Amazon Echo Amp Link (2 channel, 60W at 8 Ohms, Class D Digital Amplifier) without any issues.
So how do they sound like? Amazing is an understatement.
My ears had been pampered with the AudioEngine A5+ active speakers for many months, which I thought I already had the best sounding speakers for the living room (I also hooked them to my TV). But after trying to listen to the same songs between the AudioEngine A5+ and the Focal Chora 806 to compare, my jaws (and a friend who happened to be there) dropped.
The difference is so night and day as I could hear many of the musical instruments clearer and louder. It even felt like the older speakers were muffled and had the tweeter covered with a blanket compared to the Chora 806. There is no competition here at all. The Chora 806 just sounds clearer and brighter.
I know it doesn't do justice to record sound using just your smartphone, but here is Focal Chora 806 playing the La La Land soundtrack (note that the bass is coming from my AudioEngine S8 subwoofer – not the Chora 806). But hear this with a good headphone and you can still feel the clarity of the sound.
The sound coming from the Chora 806 speakers are clear, smooth, and powerful. The treble is soft and precise, as Focal puts it. Even when I ramp up the volume really loud, I can hear no distortions and these tweeters manage just fine to fill our 16m2 living room area. According to the specifications, the Chora 806 should be able to fill a 20m2 room just fine.
With the help of Amazon Alexa through the Echo Link Amplifier, we have access to a variety of different music streaming services. I've tested a variety of different genre, including instrumentals, broadway musical, and Hans Zimmer. They all felt much more enjoyable and interestingly, I find myself listening to music in my living room more than ever before.
Listening to amazing sound tracks while cooking is now a new hobby of mine (well, minus the cooking), thanks to these Chora 806 speakers.
However, the bass is not there and you definitely would want to grab yourself a subwoofer to complete the set. If you are aiming to make a purchase of a high-fidelity speaker system such as this, then I'm sure getting a subwoofer and amplifier is already on your mind anyway.
Focal Chora 806 Review Conclusion
It's true what they say. Once you go high, you can't stop. With these amazing AU$1,299 bookshelf speakers, my ears have now seen (heard?) the light and it's a scary world out there.
I can't imagine how my ears would respond to Focal's even more premium speakers range. I now also find that I have the urge to upgrade to a proper, audiophile amplifier/receiver. And what if I ever get new speakers to review that don't sound as good as the Chora 806, what should I say and write? Man, the audiophile world is indeed both scary and exciting.
Focal Chora 806 is meticulously and beautifully designed not just for the looks, but every decision in the design and materials used will affect how it sounds. And these speakers sound amazing, clear, powerful, and room-filling at the same time.
If this is your first time ever wanting to upgrade your speaker system to the next step, I'd highly recommend the Focal Chora 806 as they are not that crazy expensive and a good introduction to the audiophile world.
The Focal Chora 806 is available to high-end audio stores in Australia and also at Amazon.
Disclosure: Focal Chora 806 review sample was supplied for reviewing but all opinions are mine and not paid
Focal Chora 806
Summary
High fidelity, audiophile passive speakers from Chora. Perfect for music listening and even for movie watching
Pros
Premium design, material, and meticulous design
Awesome sound quality
Great highs and mids
Sturdy, solid build
Cons
No cables are included
Requires a dedicated subwoofer for the Bass