AudioEngine S8 Powered Subwoofer Review – Many spent hundreds and hundreds of dollars for a huge soundbar or for a stereo speaker system but they forgot about the subwoofer.
There is a misconception that if you do not like bassy music or loud explosions in a movie, there is no need for a subwoofer. The thing is, you do not know what you are missing until you actually get one and turn it off. You'll notice the difference, even while you are listening to easy-listening music or watching non-action movies on the TV.
What I have here today is the AudioEngine S8 premium powered subwoofer made by the same company that design the popular A5+ wireless speakers. If you Google around, you'll find many other happy customers who own the A5+ like myself.
AudioEngine S8 Review – Packaging
AudioEngine S8 Review – Design & Features
The AudioEngine S8 has a minimalist, compact, square design that will fit right in your home. It has a front-ported design with an 8″ down-firing woofer. All the controls are located at the back of the unit to keep the design clean and minimalist.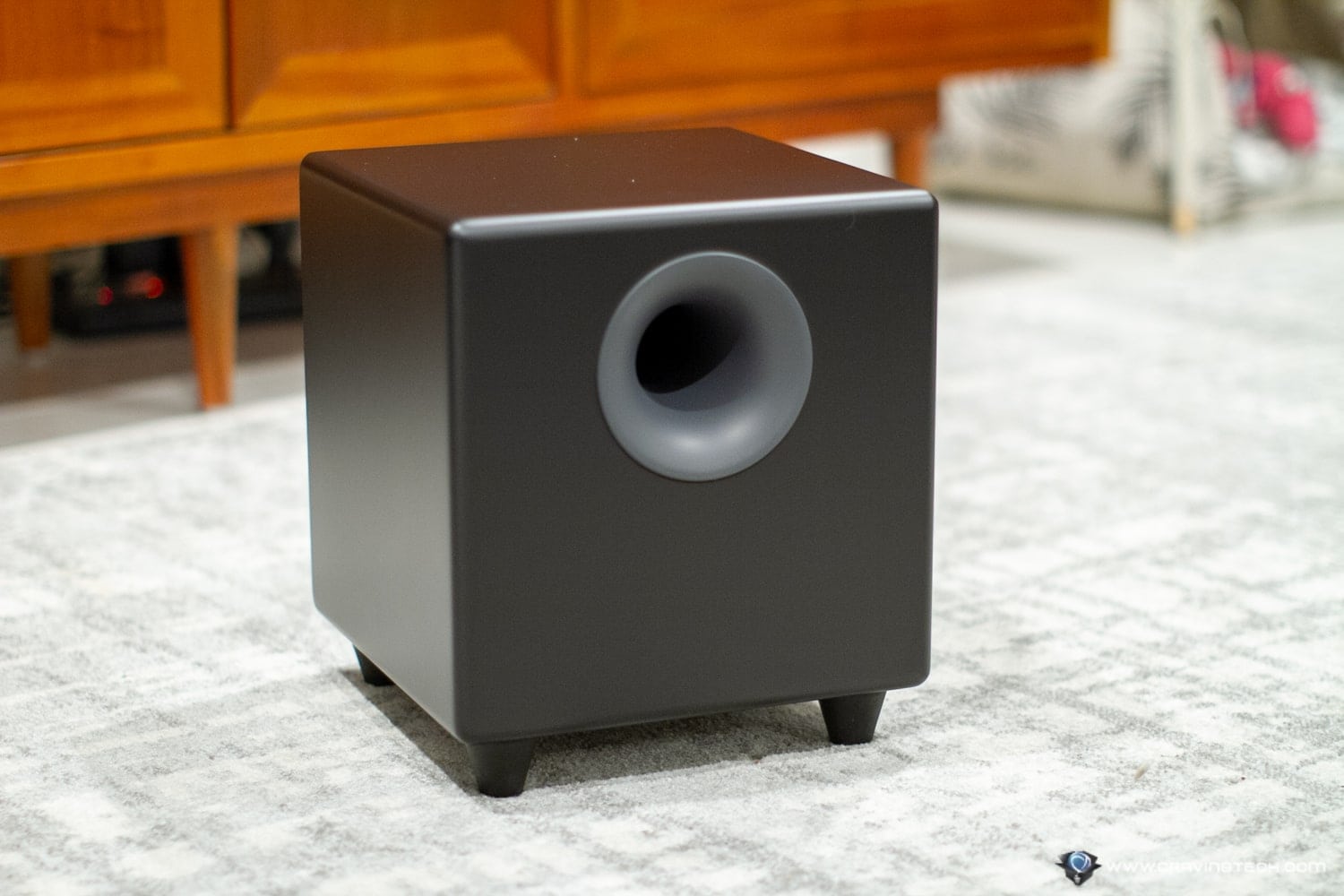 I like how the team at AudioEngine wants to keep the design clean, though at the expense of making it harder to access the controls (especially if you like to change them often). For example, when playing Mario Tennis Aces on Nintendo Switch, there are parts in the game where the bass would feel overwhelming and I would have to turn it down if each time we're playing the game. However, when watching movies & listening to music overall, I like to set the volume to almost half.
There are Volume, Crossover, and Phase controls available on the unit. I'm really happy with the level of customisation here as you can really try to hit that sweet spot for both gaming, music listening, and movie watching through the Volume & Crossover knobs.
The rubber feet at the bottom of the sub keep the unit in place, even when it's rattling and rumbling. The S8 is also wireless ready if you have the AudioEngine W3 Wireless Adapter.
I set the S8 up with the AudioEngine A5+ wireless speakers through Amazon Echo Link. I also have my Apple TV remote set up so that I can adjust the volume of both the S8 and A5+ at the same time with the remote. With Echo Link (and Amazon Echo Input – which I hooked up to the A2+ I'm still reviewing), I can use Alexa to play my favourite tunes.
There's also an autosleep mode where the S8 will go on standby if it's not detecting sound to save power which is pretty cool. I'll just have to assume it's working, because each time I play a song or a movie, I never have to wait for the S8 to be turned on. It just works right away, which is awesome.
Due to the size, S8 is also suitable to complete your PC Gaming Desktop setup and placed under the desk. In fact, if you've been using the A5+ speakers for desktop gaming, you'd definitely want to grab the S8 to take the experience further!
AudioEngine S8 Review – Sound Experience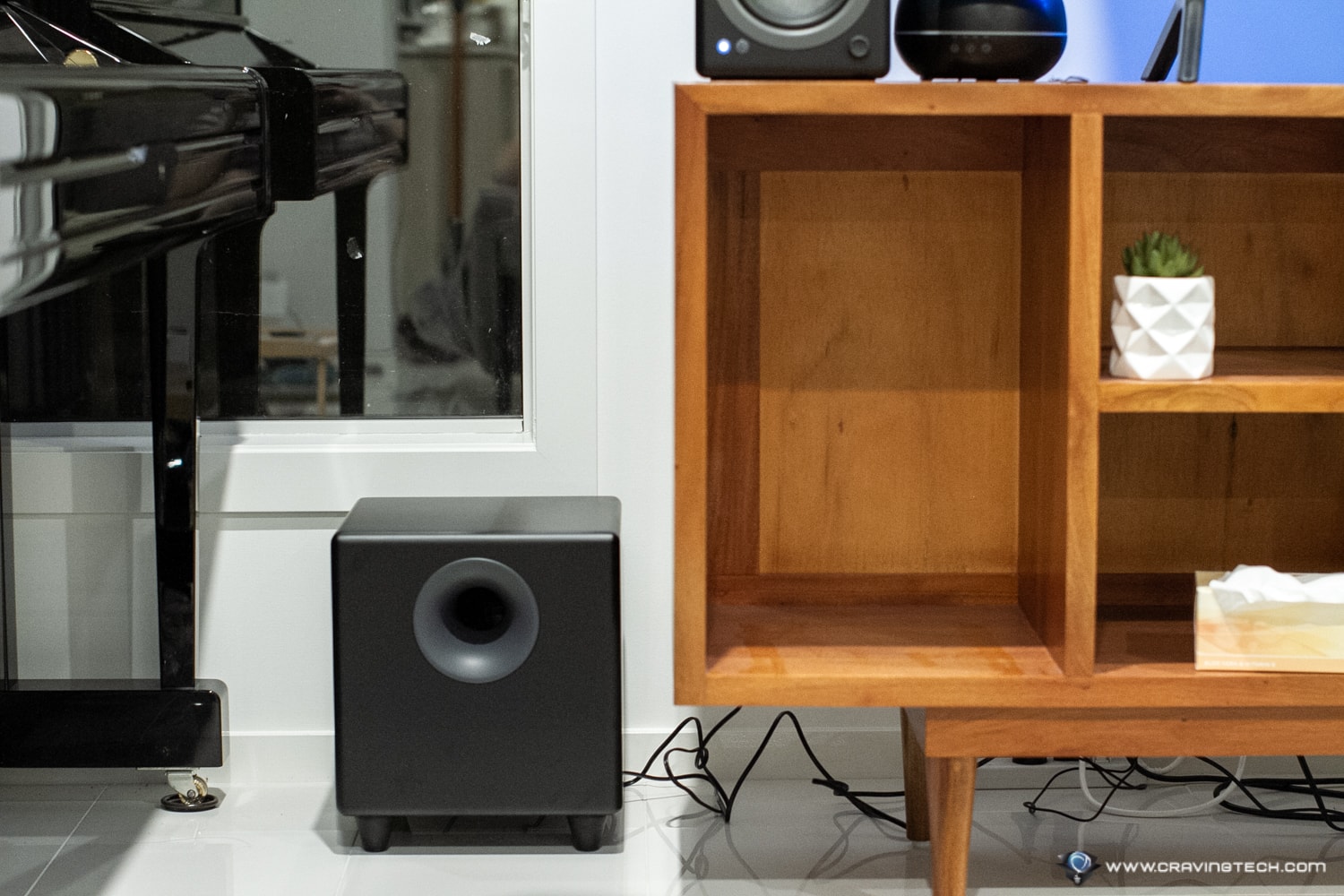 I was completely blown away the moment I turned the AudioEngine S8 on. I was using the Amazon Echo Sub for music listening before, which I thought was already superb. But the S8 is definitely on a different league.
Bass is very powerful and tight. It's an understatement to say that music has sounded better. If you go all out, you can definitely make windows rattling, thanks to this powered subwoofer. I'm a bass player myself, so I like my music to have a little bit of bass – which I can easily adjust with the included controls to my liking.
The S8 can keep up with bass-heavy songs, but easy listening songs also get a major lift up. The sub got a lot of praises from my guests who came to our house last weekend for a BBQ.
Movies also get a major upgrade as a sub doesn't just bring explosions to life, but many other smaller ambiance in a movie. In fact, movies sound flat if I turned the S8 off. We watched Lord of The Rings: The Two Towers and The Meg over the weekend with the S8, and again, it felt like we were at the cinema and the S8 just made a massive difference to the experience.
AudioEngine S8 Review Conclusion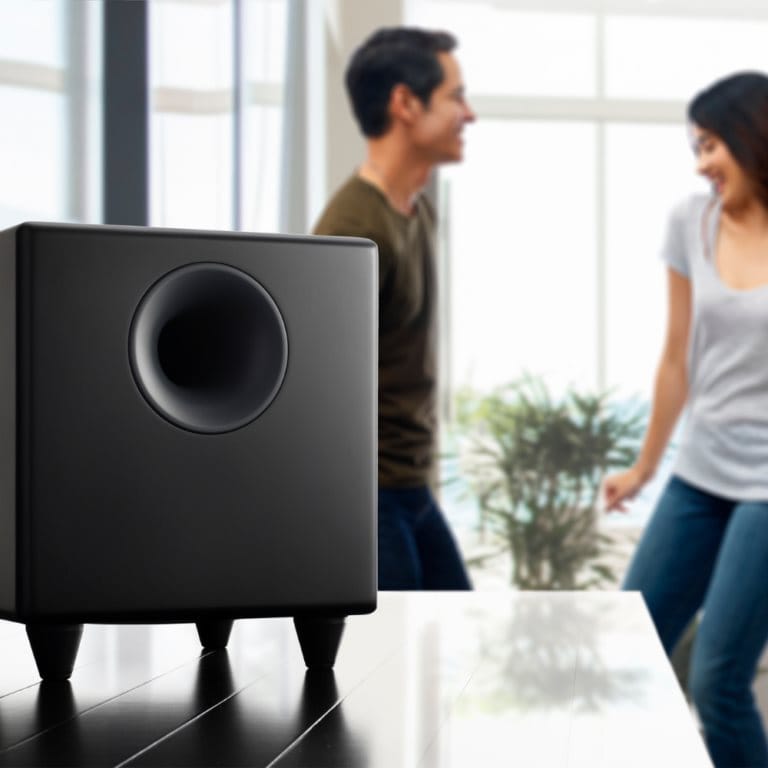 The AudioEngine S8 subwoofer is not just a stylishly looking and well-built, powered subwoofer but it literally packs a powerful punch. I assure you in an apartment set up, you probably won't make it past 25% without having a neighbour complaining. At my house's living area (around 4.5m x 4m), I'm happy to leave it at 30-40% which gives a punchy bass without overwhelming the songs' other channels. I turn it up when watching movies normally, but you can try to find the sweet spot and just never have to touch the S8 ever again.
If you have the AudioEngine A5+ setup and reading this review, then it's a no brainer. The A8 complements the A5+ perfectly. Setup is seamless – pretty much just plug and play the included RCA cables, and you can customise the sub's crossover level to suit your preference.
AudioEngine S8 definitely brings more presence & immersion to my music, gaming, and movies.
My wife and I were thinking to further upgrade our sound system at the lounge. We were happy with the AudioEngine A5+ hooked to our TV, but we noticed there's just something missing. Little that we know that a subwoofer is what we need and the S8 fills that vacuum. In fact, the AudioEngine A8 goes beyond our expectations.
AudioEngine S8 subwoofer can be purchased at retailers around Australia for AU$499 and also available at Amazon. To be honest, I'm not an audio or subwoofer expert, so I don't know what other options are there with that price range. But if you've been eyeing the S8 for a while, I'm sure you won't be disappointed.
Disclosure: AudioEngine S8 review sample was supplied for reviewing but all opinions are mine and not paid
AudioEngine S8 Subwoofer Review