AudioEngine A5+ Wireless Speakers Review – AudioEngine A5+ bookshelf speakers were a success and have got many praises among reviewers and sound enthusiasts.
Following the success, AudioEngine is releasing the A5+ Wireless model and as the name suggests, brings wireless (via Bluetooth) into the mix. You now have an option to be completely wire-free to enjoy your music.
Even if you are not an audiophile or audio enthusiasts, you will appreciate and truly enjoy the design & sound quality coming from these AudioEngine A5+ Wireless Speakers as much as I have!
AudioEngine A5+ Wireless Speakers Review – Packaging
Cables are of good lengths and I have plenty of options in terms of cable management and placements of these speakers.
AudioEngine A5+ Wireless Speakers Review – Design & Features
Design wise, these are not compact speakers for sure. They are powered, full-sized bookshelf speakers that will definitely take some space on your desk, bookshelf, or where ever you are placing them on. Each speaker also weighs between 4 to 7 kg. However, it's definitely worth having them around as they output very powerful, bright sound and room-filling.
AudioEngine A5+ Wireless Speakers have a power output of 150W peak power total (50W RMS / 75W peak per channel) with 5″ Kevlar woofers and 3/4″ silk dome tweeters. Its Bluetooth is also the most advanced Bluetooth 5.0 with support of aptX HD, aptX, AAC, SBC codecs.
All connections are located on the left speaker unit where the antenna can be plugged, along with options for a 3.5mm and also RCA inputs and outputs. There is no optical option however,  so I couldn't connect these to my new Samsung 75″ Smart TV. You can technically buy a converter but a direct option would be great. So for now, these speakers are plugged into my desktop, gaming PC through the 3.5mm.
The front of the speaker unit has a volume knob to quickly adjust the volume, which is a nice, additional touch for quick volume adjustment. There is an included remote but I didn't find the need to use it. If you like listening to music while you are on the couch, however, the remote will definitely come in handy.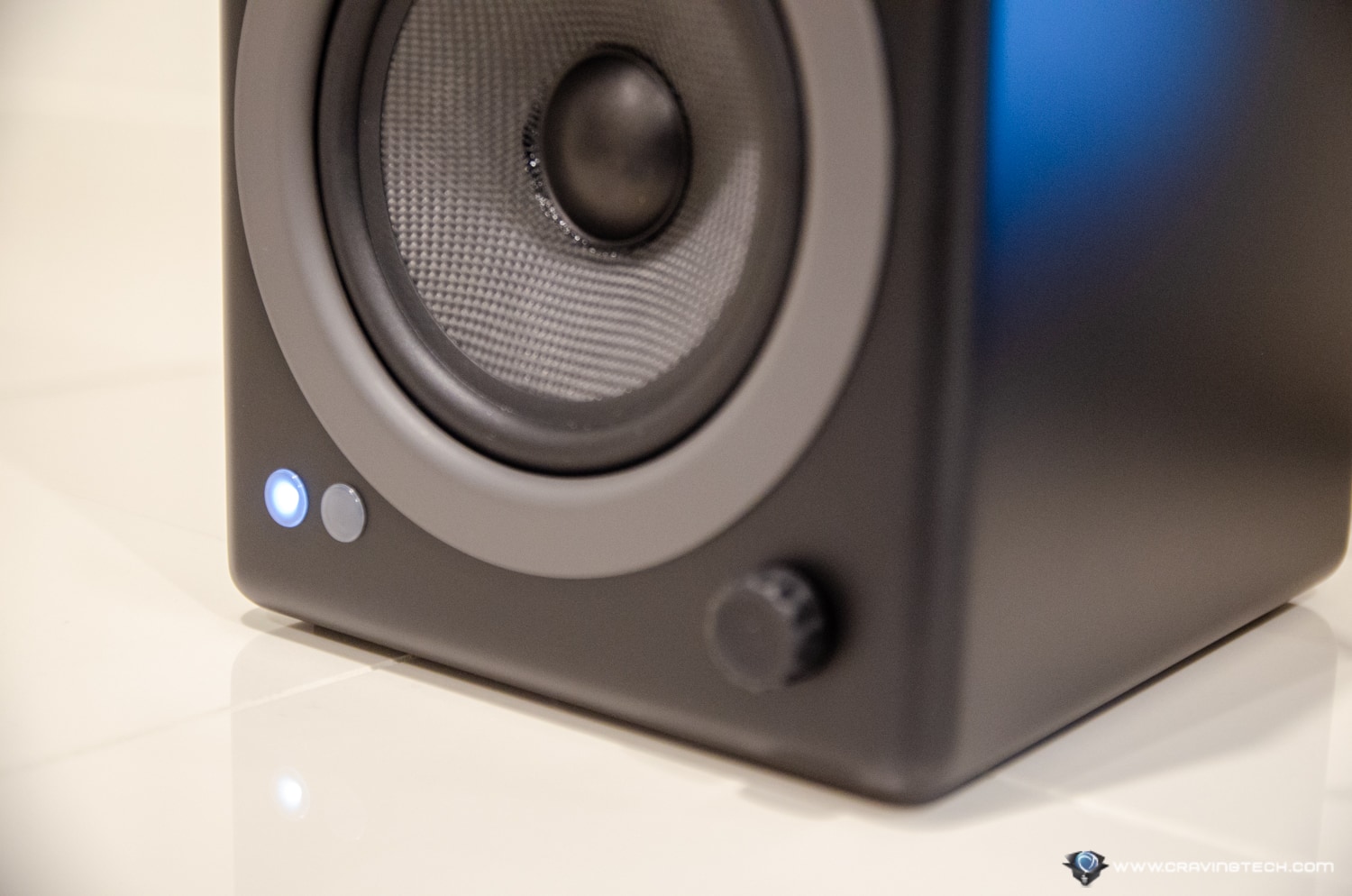 Note that these speaker units are all designed and manufactured by AudioEngine themselves (i.e they don't use any off-the-shelf components to make these speakers). As a result, everything is tailored and optimised perfectly to create one of the best sounding speakers to date! Each corner and space is well thought of, and each part complements one another for protection, efficiency, and sound quality.
So how good do they sound? Really, really good. AudioEngine A5+ Wireless Speakers definitely has the power to output clear and high quality sound even in high volume. Music has definitely come to life and the amp seems to manage to fill the whole room with sound very easily. The first time I turned it on, I instantly liked the sound signature, power, and audio quality.
While you can add a separate subwoofer, I find that the A5+ Wireless have punchy bass that is more than enough even for bass lovers like myself. Obviously it depends on what you are using the speakers for (hardcore movie watchers might want more power on the lower end). I've played a variety of games with the A5+ Wireless and was completely happy with the sound. Explosions rumble, and background music can't get any better than that.
With aptX HD support on the Bluetooth streaming, listening to music is made easy as I can use my iPhone to play my Apple Music playlists from anywhere around the house. Thanks to this versatility, listening to music is not just enjoyable on the A5+ Wireless, but convenient. Plus, music still sounds really good even while streaming over Bluetooth.
AudioEngine A5+ Wireless Speakers Review – Conclusion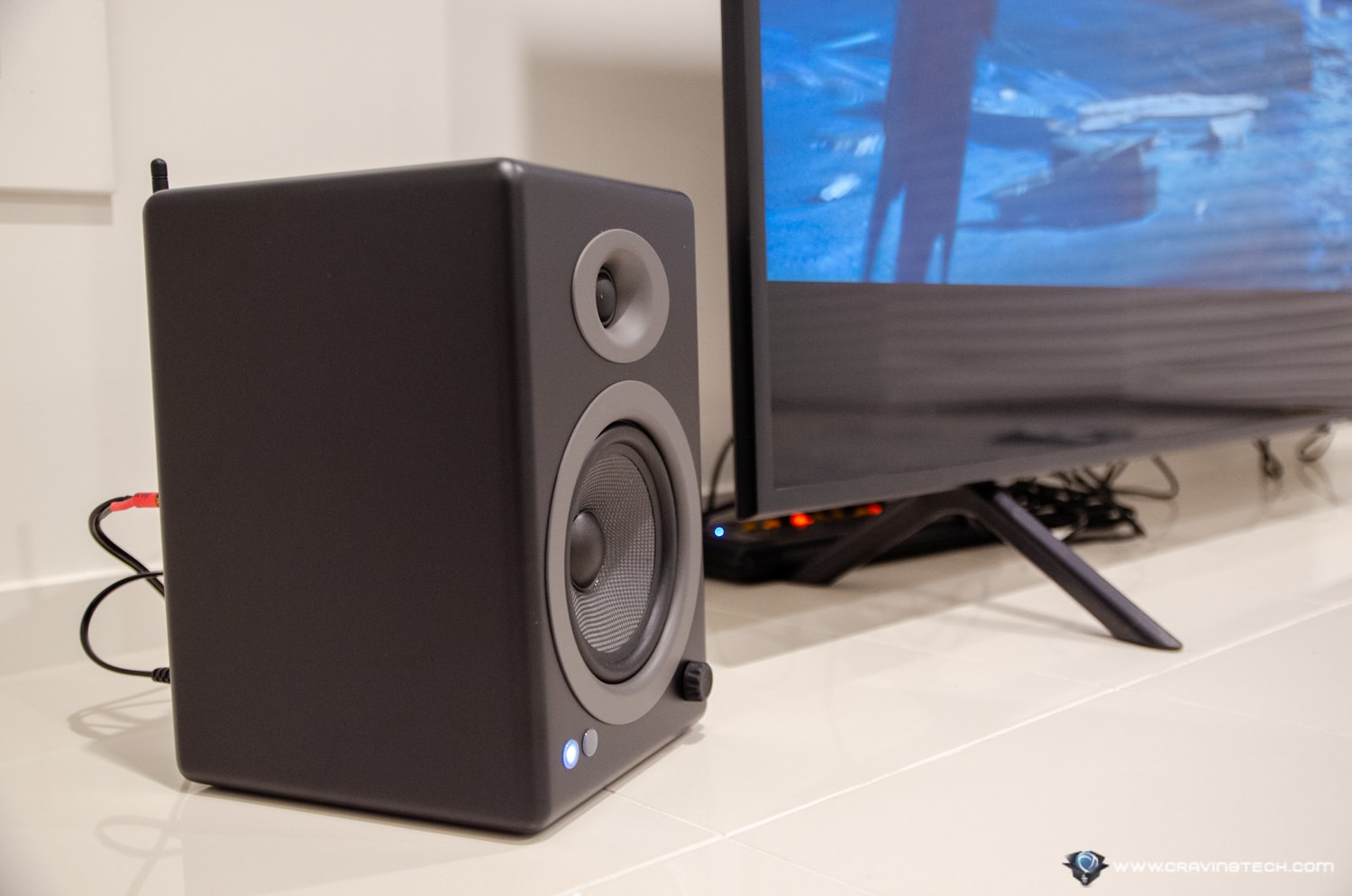 AudioEngine A5+ Wireless Speakers are pleasing for both eyes and ears. Every part of the speaker units is custom built to ensure the best performance possible. With aptX HD support, music can also be streamed wirelessly via Blueotooth with the highest sound quality possible.
These speakers have accompanied me for more than two weeks for listening to music, playing games, and watching Netflix + YouTube videos. While I love my Logitech desktop speakers because they are compact on the desk, the sound quality and versatility of the A5+ Wireless Speakers are just too good to pass. I'll have to make space on the desk for these bookshelf speakers but it's all worth it at the end.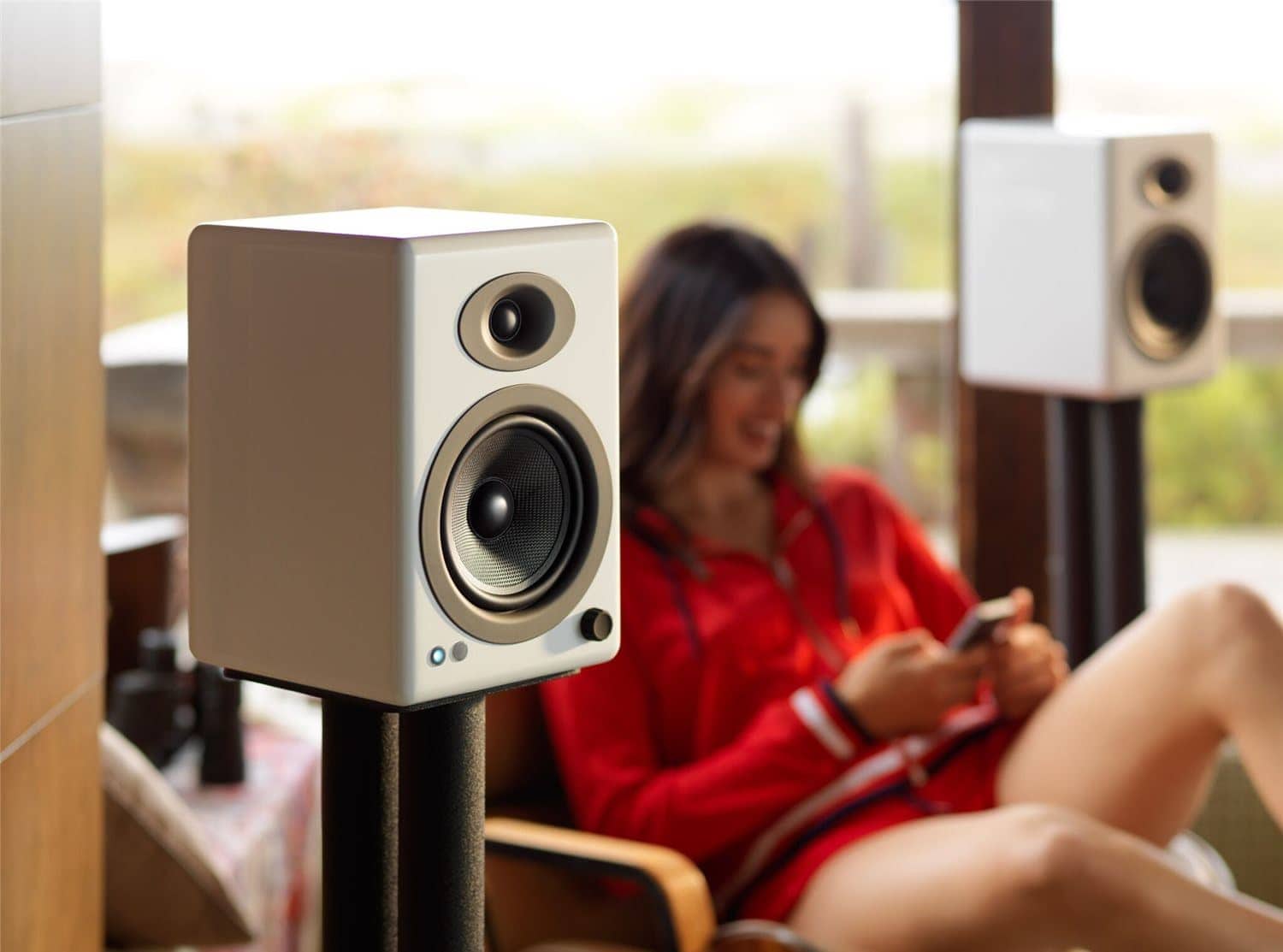 They are now sitting next to my monitor and I believe they will be for many months to come! Whether you have a Spotify, Apple Music, or Tidal, you can stream them straight to the A5+ Wireless speakers with high fidelity (aptX-HD Bluetooth, 24-bit upsampling DAC, and with an extended 30m wireless range). Your ears will thank you.
AudioEngine A5+ Wireless bookshelf speakers are available in different colours: Satin Black (the one I have here), High Gloss White and Natural Bamboo with an RRP of AU$599. They can be purchased at JB Hi-Fi and many other authorised resellers.

Combined with the AudioEngine S8 Subwoofer, they give the fuller, satisfying experience you always crave for!
Disclosure: AudioEngine A5+ Wireless review samples were supplied for reviewing but all opinions are mine and not paid.