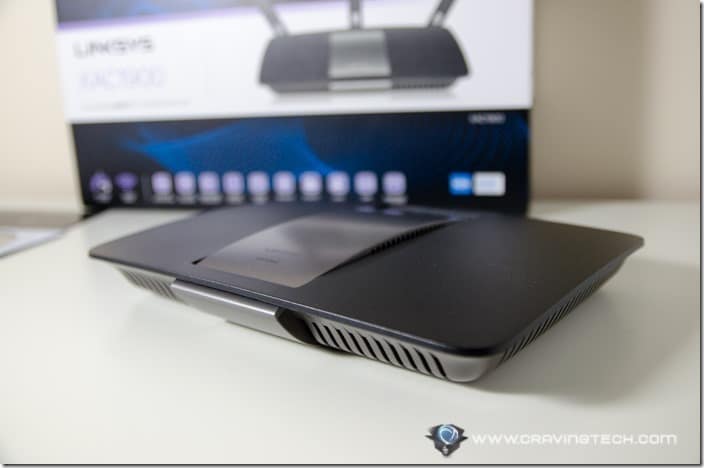 Linksys XAC1900 Review – With Australia NBN (National Broadband Network) coming and the number of devices we have these days, one needs a high performance router to make these work. About a month ago, a range of new wireless routers and extenders from Linksys were launched in Australia, including the XAC1900 that I have here.
The now common AC1900 standard (with transfer rates up to 600Mbps on the 2.4 GHz band and 1300 Mbps on the 5 GHz band) in new wireless routers means that you will get the latest and greatest from the Linksys XAC1900 (802.11ac, backward-compatible with a/b/g/n devices).
Packaging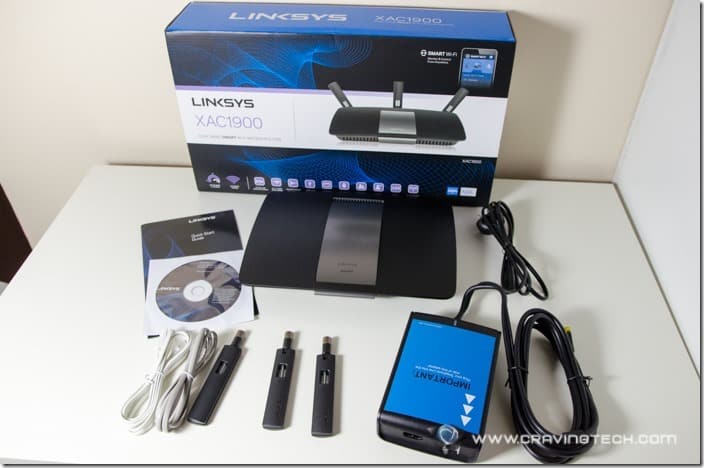 Design & Features
The XAC1900 is pretty much the EA6900 router with specific firmware installed plus a separate Linksys' self-powered modem (the APM105). It's somewhat different from the traditional "modem router in one" that most have gone to. This may or may not be widely accepted by consumers who prefer simplicity (not to mention the saved spacing area from just having one device).
However, by adapting to this model, consumers can simply buy newer routers in the future without having to spend the extra cash from getting a combo modem router (which is normally more expensive than a dedicated router). This way, Linksys can also focus on releasing upgraded routers chipset with newer technologies faster and in a more effective manner. Again, most consumers won't probably care. They'll only think of themselves and wonder why do they need an extra bulky box to hook in.
The XAC1900 looks similar to their older models (like the EA4500 I reviewed a couple of years ago) with 3 adjustable, external antennas to further strengthen the wireless signal. In my experience, the signal strength is quite decent though not the strongest even with the antennas attached (compared to my old modem router with no external antennas).
I do get a really good signal with the XAC1900 in my bedroom, which is separated by thick walls to where the router is. The XAC1900 gets a –57 dBm, whereas my older router gets a –47 dBm (a slightly better signal):

The XAC1900 is equipped with four fast Gigabit Ethernet and 2 USB ports as a network storage (1x USB 2.0 and 1x USB 3.0 ports). I'm actually amazed at how simple it is to setup NAS (Network Attached Storage) with XAC1900. You simply do…. nothing.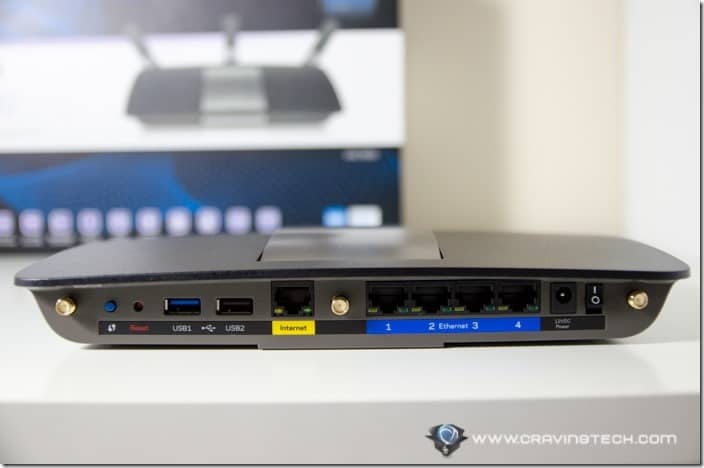 Just plug a USB flash drive or an external hard drive to one of the USB ports and you can instantly access the files through your Windows Explorer. There is no confusing setups with networking jargons and you don't need to install any additional software on your desktop. Sharing your media files on your home network can never get this easier. You do have options to turn an FTP server on and a few other settings to set if you want to.
Setting up the XAC1900 for the first time did not take long and pretty much automated. Assuming you have hooked everything up correctly, you only need connect to its default wireless network SSID, and then follow the step-by-step wizard. It will also provide you with an Australian's ISP to choose from and set everything up. It did take some time for the router to finalise (a few minutes) but you did not really have to muck around manually. It's perfect for non-technical consumers.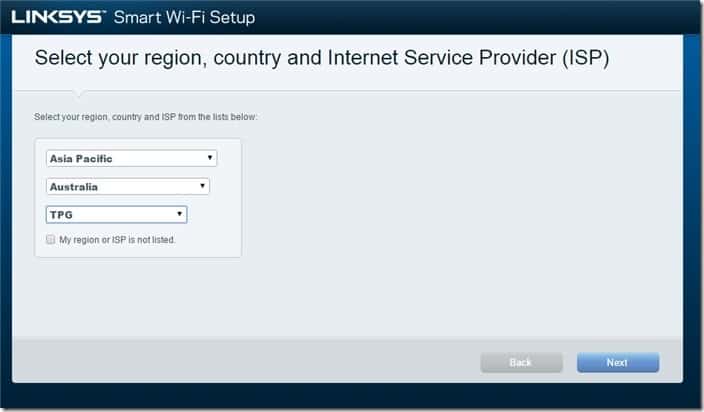 If you have a Linksys Smart Wi-Fi account, you can access your router from anywhere, including from a smartphone. It's quite handy when you need to change some settings or access while you are away from home. There are also some Linksys Smart Wi-Fi Apps available for you to play around with. The admin interface of the XAC1900 is fairly simple to understand and hides all the advanced stuffs with networking jargons like DMZ, IPv6 or IPv4 settings, and so on. A nice looking home screen with all the crucial info is displayed when you go into the router's interface. Here, you can manage a few things up like the Parental Controls or Guest Access to your network.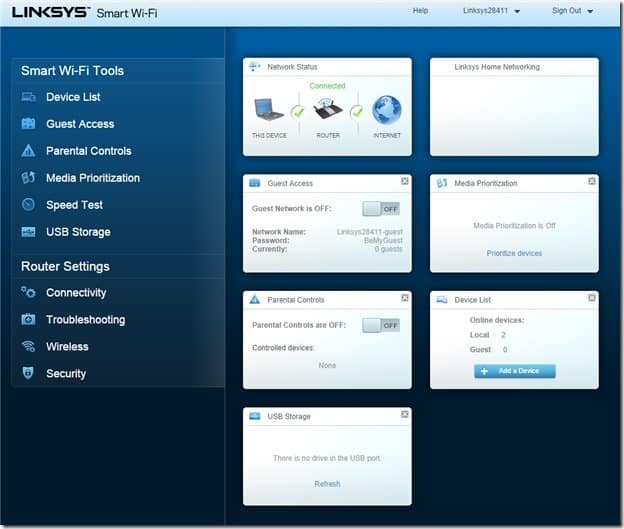 With parental controls, you can set certain devices (such as your son's phone, for example) to not have any internet access at certain days and hours. It's simple to set it up and worked when I tested (came up with "page could not be displayed" error on my browser when I wasn't supposed to have access. Linksys should add an option to display an "access is blocked" page or something though. Would be niftier).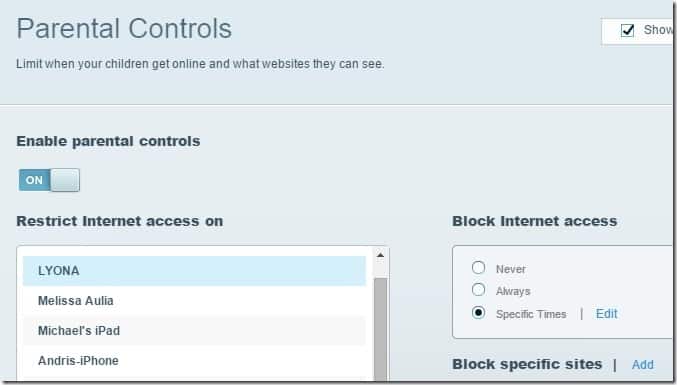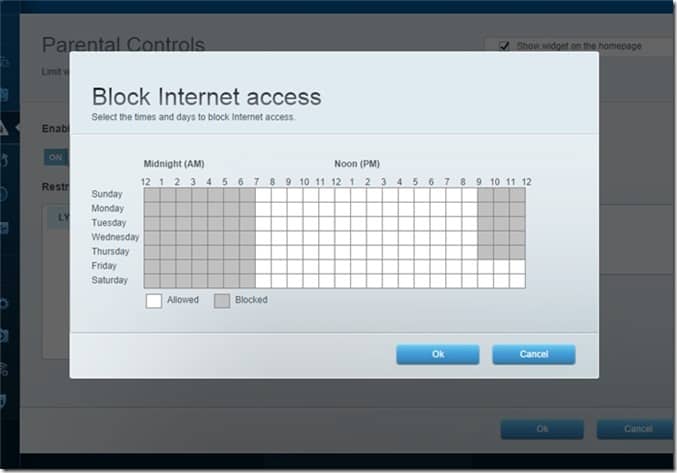 Setting up which devices get higher priority (QoS) is simple too with a drag-and-drop action. Apart from selecting which devices get the higher priority, you can also do the prioritisation by apps and ports. There are pre-set apps but they are quite outdated (like stuffs from the 90s or early 2000). I wish Linksys can at least update this list to more recent apps and games at some point. Or take them out altogether.
More technical people can also setup ports that are used by specific apps to take advantage of having a higher bandwidth. For example, you can set a port range to make sure your online gaming (ex: Steam) has the highest priority.
Linksys XAC1900 smart dual-band modem router is a powerful wireless router with 802.11ac support for the high speed. You can easily stream through HD videos through the network, thanks to the XAC1900 potentials. The Smart Wi-Fi feature also offers users complete access to manage their network from anywhere with internet connection and that will come in handy when you are the only "IT guy/girl" in the house.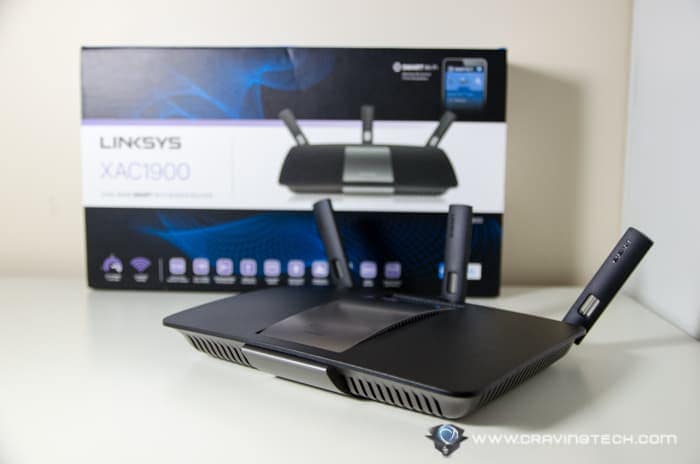 Disclosure: Review sample was sponsored for the review but all opinions are 100% mine