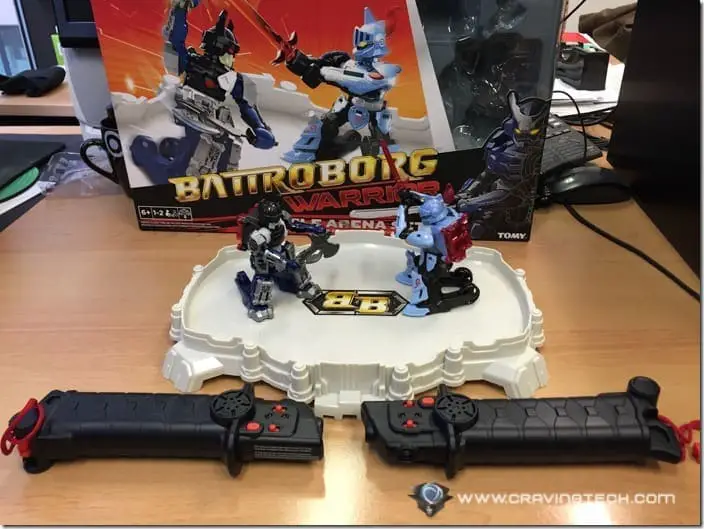 Battroborg Warrior Review (Samurai vs Ninja | Knight vs Viking) – We had tons of fun in the office playing the original Battroborg (motion controlled battling robots) so when TOMY made another Battroborg, I was thrilled to give it a try.
Promising a similar fun game style and experience with more tricks, Battroborg Warrior takes what works from the original Battroborg and throws in some new things to spice things up.
These are the notable differences between Battroborg Warrior and the original Battroborg that I notice:
The arena is smaller
Easier movements with one controller instead of two
More moves to do, including special moves
Opponent must be knocked out to score
If you are new to the Battroborg series, it's basically a game where you control a robot with a motion controller (all battery-powered) to take down the other robot in an arena. You can either get the Samurai vs Ninja or Knight vs Viking Battroborg Warrior version, whichever theme you like.
No matter what you pick, though, the motion controllers will always look like a Katana hilt – which is really cool. These controllers are powered by 4x AA batteries (not included in the packaging) which also act as charging stations for the robots (the robots themselves have built-in rechargeable lithium ION batteries). Having lithium ION batteries on the controllers with a docking station is still on my wish list but I believe this is to save cost and practicality.
You roughly need about 20 minutes to recharge a robot with the controller to have about 20 minutes of gameplay (can be shorter, depends on how aggressive you are when playing).
These 20 minutes actually feel longer than the original Battroborg, probably because of the smaller arena so we had more time beating each other up than running around trying to chase one another. They also seem to change the arena design a bit so that robots don't get stuck in a corner too often.
Swinging your Katana, ahem, controller to certain directions will make your robot change directions or swing its weapon. Each robot has interchangeable weapons and armor so you can do a mix and match for fun. I personally think that the robot with a longer sword/weapon has an advantage than the other, but you can definitely still win and have fun with a shorter weapon.
I like how the robots are responsive to the movements I make with the controller. I did have an issue of them being unresponsive when I first got the Battroborg Warrior, but this was because my batteries are running low in the controllers. A low battery status warning will come in handy here so you don't have to scratch your head thinking that your toys are done for.
It's easy to move the robots and also to change directions (which is more challenging with the original Battroborg). Battling it all out is fun and I had enjoyable games in the office with Battroborg Warrior.
To make things more interesting, you can execute 3 special moves by doing certain movements with the controller (one that I can never do successfully). It's fun to do but in my experience, executing them successfully does not guarantee a win or a knockout hit. In fact, 80% of the time, I'm the one who ended up falling after the special moves hit. Even without executing a special move, my robot often ends up getting knocked out by itself from the weapon bounce. Thankfully, this won't frustrate you as you try to find cleverer ways to knock your opponents out (mostly by trying to get your weapon under your opponent's arm and do an upswing motion).
I do have to remember that these toys are meant for kids (age 6+, though adults can play too) so I think they want to highlight the fun factors more than the practicality. Still, if they make the weapons heavier, this might work better.
Battroborg Warrior Review Conclusion
Battroborg Warrior is fun and creative. It took all the successful formula of the original Battroborg with improvements here and there. It's more fun to play, less circling around trying to chase your opponent or get stuck in a corner, and it has a few tricks up its sleeve with special moves.
Battling it all out face to face with physical fighting robots in an arena can never get old, especially while you swing a "katana" and shout your own battle cry. It keeps the body warm (some calories surely get burned here) and gives a different thrilling experience compared to playing a console or PC game. Definitely one of those toys you should get for your kids. Those 20 minutes gameplay will work for your advantage so they are forced to take a break and do something else more productive, like doing homework.
Disclosure: Sample was sponsored for the review but all opinions are 100% mine