TP-Link has just introduced its cutting-edge WiFi 6E mesh system, the Deco XE200. This flagship system represents a significant leap in WiFi mesh speeds for this generation. Powered by the latest WiFi 6E technology, the Deco XE200 offers substantial enhancements in speed, coverage, and capacity. If you're in search of a top-tier WiFi 6E mesh system to meet your demanding networking needs, the Deco XE200 stands out as an excellent choice.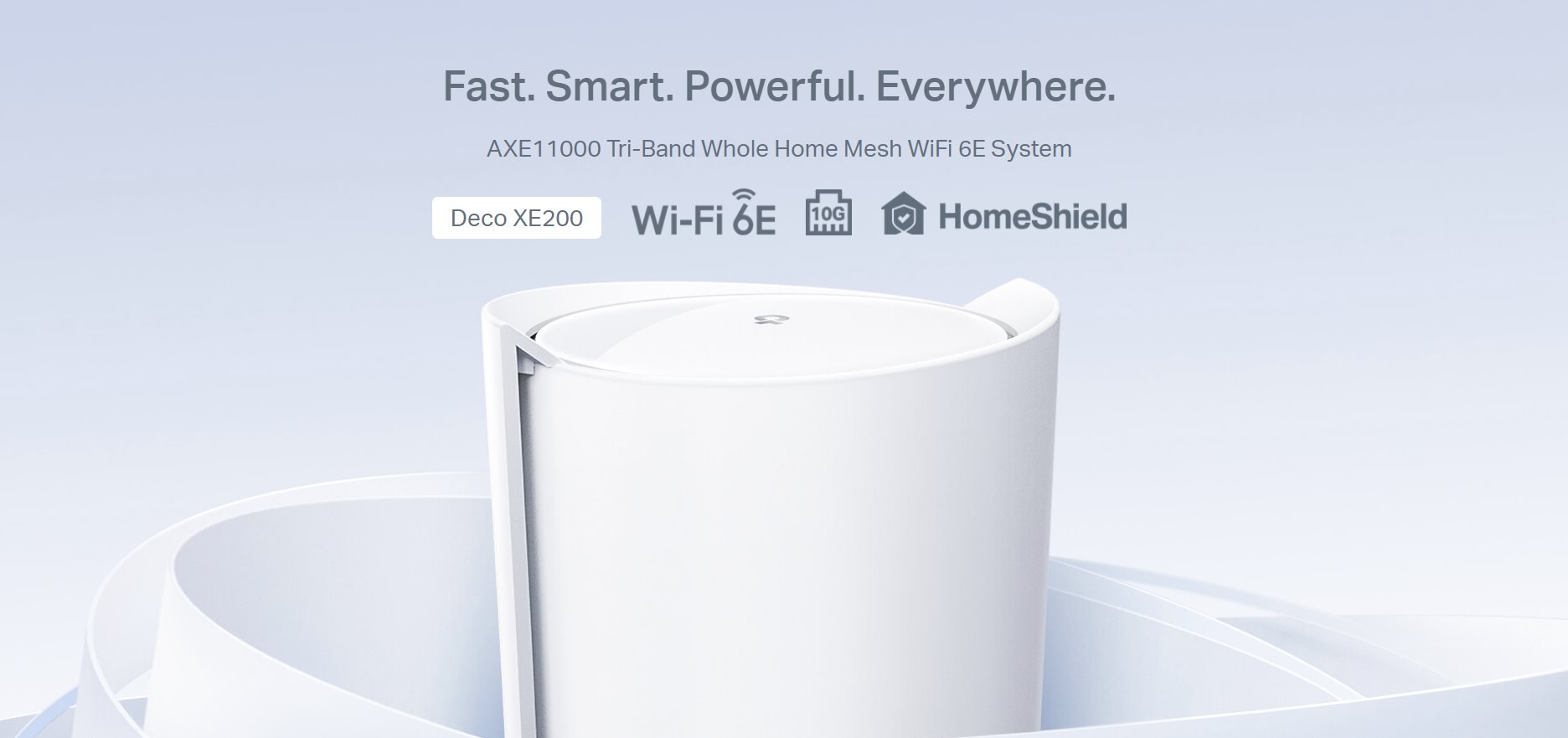 Highlighted by its utilisation of the latest 6 GHz band, the Deco XE200 achieves a combined speed of up to an impressive 10.8 Gbps across 16 streams. This system ensures robust connections within a sprawling area of 6,500 square feet (with a 2-pack of Deco XE200) for over 200 devices. To cater to settings like home studios and offices with high-bandwidth requirements, each unit features a 10 Gbps WAN/LAN port, facilitating 10G networking. Leveraging TP-Link's AI-Driven Mesh technology, the system employs advanced algorithms and self-learning mechanisms to tailor its mesh WiFi perfectly to every home.
A game-changer lies in the Deco XE200's use of the 6 GHz band. The Tri-Band WiFi setup incorporates the greenfield 6 GHz band, introducing three 160 MHz channels to mitigate competition for bandwidth and ensure consistent speed. This band leverages the capabilities of 6 GHz to deliver faster data throughput, making it ideal for high-definition video streaming, virtual reality, and low-latency online gaming.
Boasting 16× high-gain antennas, the Deco XE200 stands out with its 16 simultaneous data streams, with eight of these streams on the 5 GHz band. This configuration guarantees ample bandwidth for numerous connected devices and significantly elevates reliability and speed compared to routers with fewer streams, enhancing overall whole-home wireless performance.
To maximise wired performance, the Deco XE200 incorporates a built-in 10 Gbps port, delivering speeds ten times that of a typical Gigabit Ethernet port. This port also facilitates more feasible unified storage within a local area network (LAN), making quick work of tasks like storing and streaming large media files across authorized devices.
With its expansive coverage up to 600 square meters (with a 2-pack), courtesy of the newly accessible 6 GHz band, the Deco XE200 ensures robust backhaul performance between Deco units. This design guarantees a stable and reliable network, extending coverage to every corner of your home while also enhancing WiFi performance for non-6E devices.
The integrated AI-Driven Mesh technology within the Deco XE200 dynamically adapts the system to the unique characteristics of each home environment and network load. Through advanced algorithms and self-learning mechanisms, devices seamlessly switch to the optimal network source for the best connections.
Find out more about TP-Link Deco XE200.