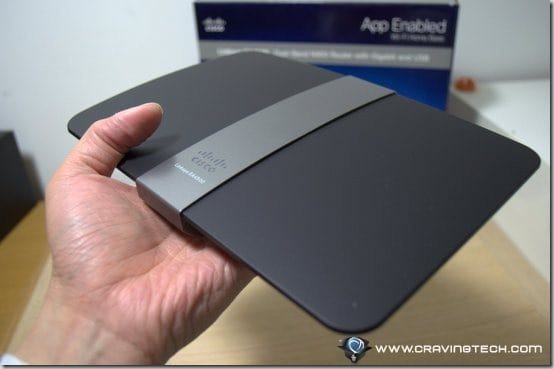 Cisco Linksys EA4500 Review – How about the ability to control your fridge through the internet sound? That is assuming your fridge is connected to your home network though (and of course, I don't mean your ordinary fridge that most of you have right now).
With the new Cisco Connect Cloud support, the future is safe, because it gives you total control of your network connected devices where ever you are, whenever you want it. Check my review on the Linksys EA4500 by Cisco.
Linksys EA4500 Review – Packaging
Linksys EA4500 Review – Installation
The EA4500 is not a modem router so you do need a modem or a modem/router if you want to connect to the internet. Since I have a Linksys X3000 modem router, I'm using the EA4500 as the primary router and X3000 as a modem.
Setting up Linksys EA4500 is pretty simple. Just pop the CD in and follow the instructions (which is pretty much as simple as plugging the cable from the Internet port to your modem (or modem-router, in this case, my Linksys X3000).
The Linksys EA4500 actually has a predefined wireless network name (in my case, it was Cisco 36335) and your computer will automatically connect to this network during the installation.
It is then a matter of changing the predefined wireless network name (SSID) into your own, along with the passwords. You will automatically be assigned an IP address, so if you don't understand all the network jargons (such as IP addresses, DHCP, or DNS settings), then you'll appreciate this simple step-by-step installation.
I'm also amazed that it did not conflict with my current network (since I have a wireless modem router connected to the EA4500); apparently it detected this and assigned me a different IP address range. And I don't even need to change any settings on my X3000.
After the router settings screen, you will be taken to register a Cisco Connect Cloud account (to be able to manage your router online). Not to worry, because when you are offline, typing ciscoconnectcloud.com will still bring you to your router's configuration through a local area network connection.
Linksys EA4500 Review – Design & Features
The design is really sleek which makes me sad, because I have to hide the sexy router away when I hook it in (due to my small apartment).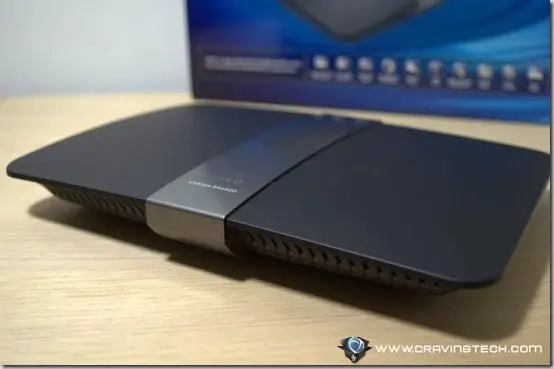 The EA4500 is a dual-band router so you can choose to connect your devices to the less-crowded 5 GHz frequency. You can also name these 2 bands differently. It appears that the 5 GHz signal is actually even stronger compared to the Linksys WRT610N that I reviewed back in 2010.
WRT610N signal strengths:
EA4500 signal strengths:
The, ahem, "PapaBear" is my 5 GHz band on the EA4500. Sometimes it shows 4 bars instead of 3 – which is far better than the WRT610N. This is tested on the same computer, in the same room as before.
The router has 4 Gigabit Ethernet Ports, 1 USB port for shared storage, and a built-In UPnP AV media server.
Cisco Connect Cloud
Cisco is trying to push their new Cisco Connect Cloud technology that allows you to access your home network anytime, anywhere.
By logging in to your account (or through an offline network connection if your internet is down), you will be presented with a simplified dashboard (compared to the usual router configurations):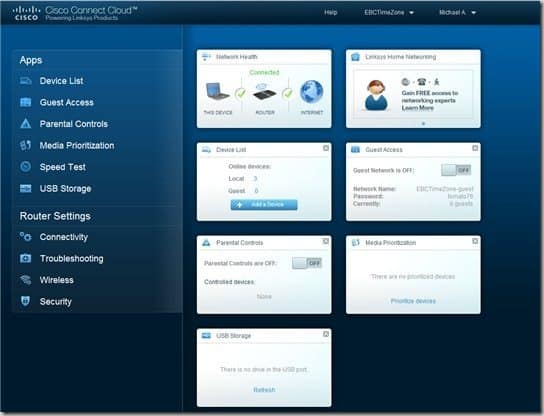 This may make networking experts screaming though, because there are lots of advanced settings being removed/hidden away here. I've heard that you can sort of downgrade the firmware to get the old browser's interface back, but most of us at home won't probably need those advanced settings, to be honest.
Even with the current included apps and widgets, the Cisco Connect Cloud is pretty powerful already. You can at a glance view the status of your network, control Guest Access and Parental Control settings, and a few others.
With Media Prioritization, I can make sure that my Steam games (or Skype, or anything you define) are given the highest priority (by prioritizing the UDP ports for Steam). This is awesome because the other day, I've got horrible spikes when playing my Battlefield game, most probably caused by someone in my house streaming videos from YouTube or downloading some files.
Or you can just be a pure evil and make sure that your computer gets the most bandwidth, mwahaha. It's a pity that you can only add 3 prioritizations in total (though it may be changed through a software update in the future).
All these settings are accessible from your smartphones by downloading the Cisco Connect Cloud free app. I  installed the iOS version on my iPhone 4S and the app works flawlessly.
This way, you can control your network even when you are not at home (such as giving an extra guest access or perhaps changing the parental controls when you are away on holiday, leaving your kids behind).
Now of course, we are just barely scratching the surface here. The possibilities are endless as new apps/widgets can be added on by Cisco as new technology emerges. You can control your air conditioner while you are on your way back, or perhaps checking the quantity of your beers in the fridge?
Linksys EA4500 Review – Conclusion

Cisco Linksys EA4500 Review Conclusion
The Cisco Linksys EA4500 is a powerful dual band wireless router with a sleek design, great signal strength, USB slot for quick & easy files sharing, and most importantly, supports the new Cisco Connect Cloud.With the Cisco Connect Cloud, you can view and control your home network where ever you are, making sure that it stays safe and it's available to your family members and their guests, even when you are not at home. Highly recommended, though unfortunately, it is not a modem router – so you have to buy a modem if you don't have one yet.
Note: Cisco Linksys EA4500 review sample was provided for the review