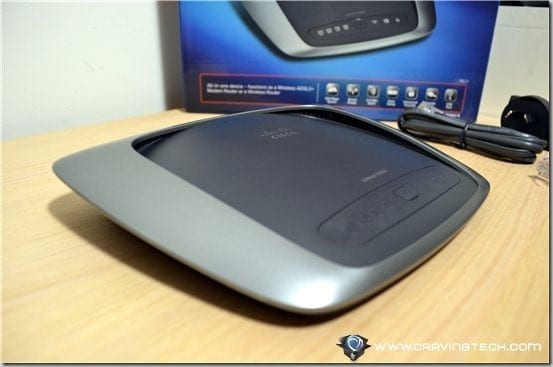 Linksys X3000 Review – This Cisco Linksys X3000 is the latest and greatest ADSL2+ modem router from Linksys. This Advanced Wireless-N ADSL2+ modem router features a great looking design (and colors), easy installation, MIMO antenna technology, Gigabit ports, and simplified user interface to manage your network.
Cisco Linksys X3000 Review – Packaging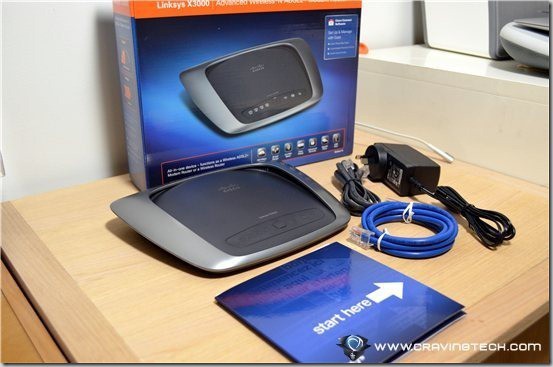 The packaging contains:
Linksys X3000 ADSL2+ Modem Router
Quick Start Guide + CD
Ethernet cable
Power Adapter
Phone line cable
Cisco Linksys X3000 Review – Design
Linksys X3000 is a beautiful looking modem router, even though you will not probably going to see it pretty often unless if something goes wrong with your network or internet connection. Nevertheless, the design and the color theme match a futuristic and advanced looking router.
At the front of the unit is the sync button that enables WPS (Wi-Fi Protected Setup), making it easier to sync a new network device with the router – just by simply pressing the button on each device.
There are also indicator lights on the router so you can quickly check whether the network to your computer is running and all that.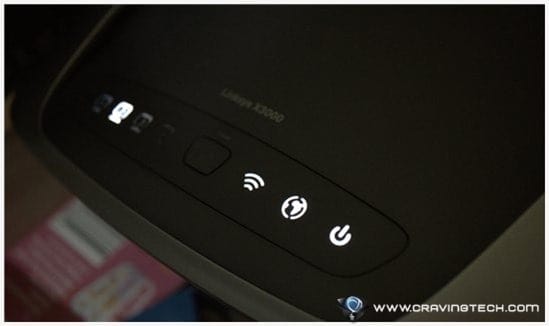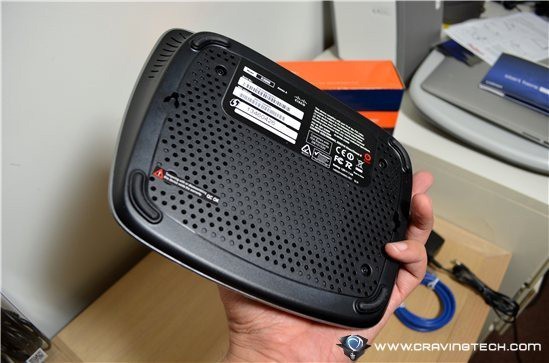 Four Gigabit ports, one DSL port, one WAN port, and one USB 2.0 port are located at the back of the router:

The USB port lets you add storage devices (such as a USB external hard drive) so you can share wirelessly at home, though you still need to setup the network permissions and stuffs on your Windows machine. This also allows you to stream media to your Xbox 360, PS3, or other UPnP compatible devices.
Cisco Linksys X3000 Review – Installation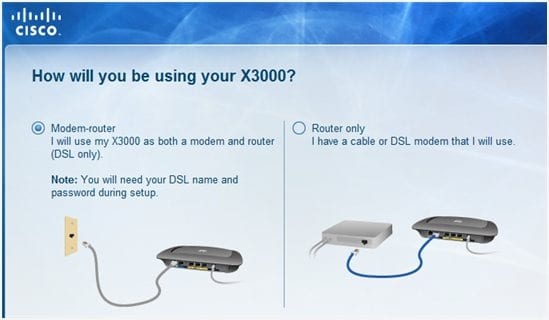 Installation is pretty simple. Most people get scared of the idea to set-up your own wireless home network and it can be quite daunting. However, with the Linksys X3000, there is an easy step-by-step wizard after you insert the CD to setup your first wireless home network.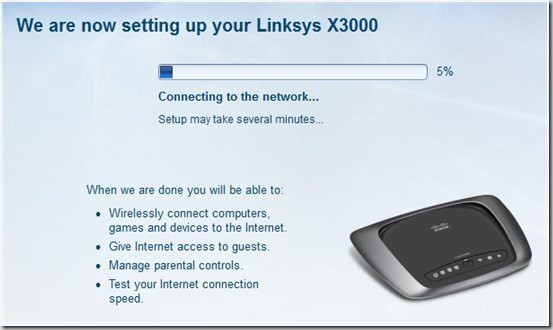 You can also set a preconfigured setting for your ISP: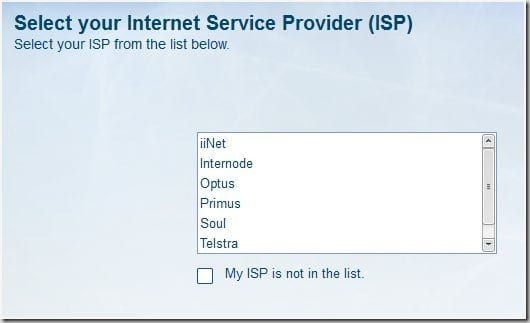 Only took me a minute or two to set-up the whole thing and it's ready to go!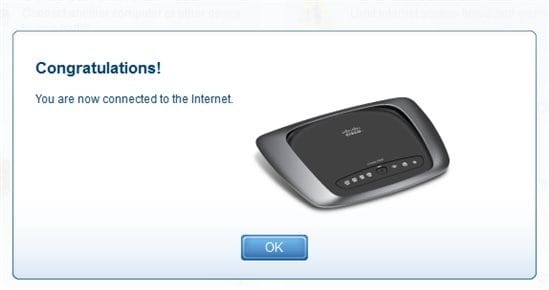 Cisco Linksys X3000 Review – Features and Impressions
As I mentioned, the installation was easy and so does the network settings configuration post-installation. With the help of Cisco Connect application, you can change your password or add more devices easily.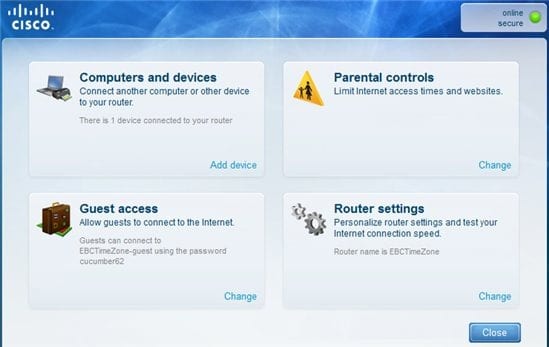 If you are familiar with the good old browser interface, you can still do so by going into the router's IP address through your browser. This allows you to tweak tons of other hidden goodies.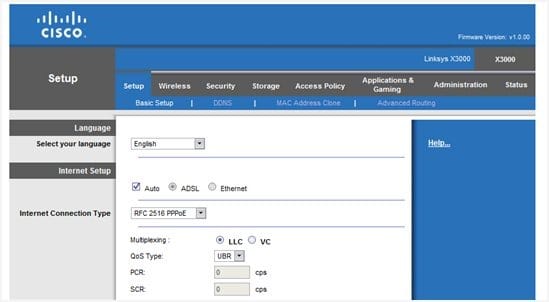 There is also a unique Guest access being built into the Cisco Connect. The idea is that when you have a visitor, you may want to just give him/her a temporary access without actually letting him/her know of your real network password. This way, it's more secured and easier to manage.
You can set-up the maximum number of guests allowed and then set a password for the Guest Account. The wireless network will be the name of your network with a "-guest" suffix.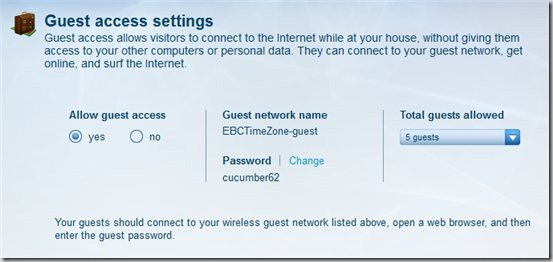 When your guests connect to the guest network, they will be presented with a web page to enter the password in – similar to those hotels, airports, or public protected wireless network (which makes the X3000 a great router if you are going to use it to manage your business). For example, here is what happened when I tried to connect to the Guest Access with my iPhone: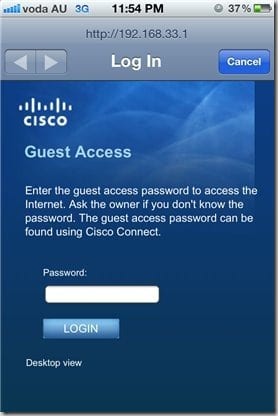 The signal strength is not bad either, compared to the previous routers I've reviewed (some of them only gave me half-strength signals)
Linksys X3000 Review Conclusion
Cisco Linksys X3000 makes home and office networking easy ti set-up and use, thanks to Cisco Connect and the step-by-step wizard that doesn't confuse you with networking jargons.
The connection is solid and there are plenty of nifty features for your wireless home network such as parental controls and guest access. Techie users can still go into the old standard interface to access more network configuration, making this router accessible for both novice and expert users.
Linksys X3000 is an ADSL2+ Modem and also a Router which means you don't need to buy them separately. It is not a dual-band router (no 5 GHz channel) but if you don't find the need of such luxury, the provided 2,4GHz channel runs fine. With the extra USB Port, you can also add a storage device so you can share media or do a backup scheduling through the router.
No complaints so far after using it for around 2 weeks (no disconnection, stalled connection, or hiccups). Definitely recommended.
Note: Linksys X3000 Review unit was provided for the review