Razer BlackWidow Ultimate Stealth Edition Review – Ah.. gaming peripherals. They never end. Just when you think that you've got the perfect gaming peripherals such as a gaming keyboard, a better one comes out not long after. If you own a Razer BlackWidow Ultimate before, the news of Razer releasing a newer version called the Razer BlackWidow Ultimate Stealth Edition might shock and made you start pulling your hair: "Did I buy the inferior one?".
What's the difference between the Razer BlackWidow Ultimate Stealth Edition and the original Razer BlackWidow Ultimate? How good is this newest mechanical gaming keyboard from Razer? Let's check it out in this Razer BlackWidow Ultimate Stealth review. I'll try not to repeat myself as I have reviewed the original Razer BlackWidow Ultimate Stealth so feel free to have a read (link on the top) to check on my other impressions.
Razer BlackWidow Ultimate Stealth Edition Review – Unboxing

Razer BlackWidow Ultimate Stealth Edition Review – Packaging

The packaging is very similar to the original Razer BlackWidow Ultimate. It also has an opening on the keypad so you can practically try the keys out in shops (if they allow you to touch it). This way, you can feel the tactile feedback and all that – which is a great packaging design by the team. The "try it before you buy it" thankfully still exists in this world.
The keyboard comes with the stickers, certificate of authenticity, and the other goodies that normally come with any Razer gaming peripherals.
Razer BlackWidow Ultimate Stealth Edition Review – Design
The Razer BlackWidow Ultimate Stealth Edition comes in black with a sleeker matte finish for the body compared to the glossy one in the original BlackWidow Ultimate. I like the new material as it's not a finger print magnet, non-sticky, and feels better overall.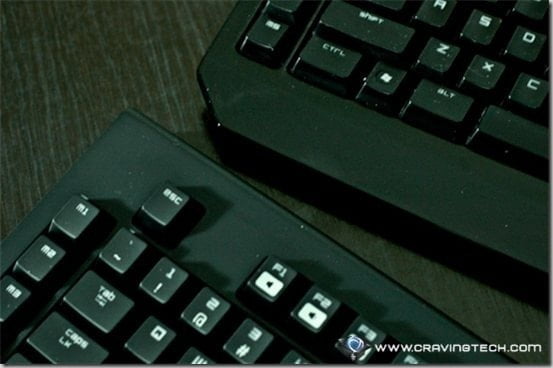 The keys are still mechanical, but this time the Razer BlackWidow Ultimate Stealth Edition uses the Cherry MX Brown switch instead of the Cherry MX Blue in the original BlackWidow Ultimate keyboard (see my post on Why mechanical keyboard and the difference in key switches). Cherry MX Brown switches, compared to Cherry MX Blue, are quieter and lighter to type. It's somewhat similar like a Cherry MX Black kind of feel when you type with it, though bouncier.
The keyboard comes with 5 independent macro keys (though you can assign macros to almost every key on the keyboard itself) located on the left side of the keyboard, marked as m1 to m5. Using the Function (Fn) key, you can set the lighting, macros, and multi-media controls though you need to stretch your fingers if just want to use one hand for this purpose.
There are 2 indicators on the top right of the keyboard that indicate when you are recording macros and also when you are on "Gaming" mode – which will deactivate the Windows key to provide any accidental presses.
The BlackWidow Ultimate Stealth comes with braided cables and gold plated USB connectors, as expected of a gaming peripheral of this level. It also has an extra USB slot on the right side of the keyboard, along with Audio Out/Mic in jacks. This is great if you put your gaming desktop underneath your desk (like I do) as you gain an extra USB and audio jacks if necessary, without having to go all the way down and get dirty.
Razer BlackWidow Ultimate Stealth Edition Review – Experience
Though the official marketing material of Razer BlackWidow Ultimate Stealth mentions you becoming a ninja that silently kills your enemies, it's not entirely true. The keyboard still produces sound and the keys still have some tactile feedback sound. It's not super quiet but it's definitely much quieter than the original Razer BlackWidow Ultimate. Those who don't play much RTS will definitely want to grab this version compared to the original as it gives a better experience overall in typing (assuming you don't just use your keyboard for gaming, of course) and removes any doubts about "double tapping" issue, though I didn't experience it myself when I had the original.
As for the gaming experience, it doesn't disappoint, just like the original version. The keys are responsive, supports multiple gaming profiles, and the mechanical keys give a quick boost when you need to type something quickly to your teammates while you play (such as in Left 4 Dead 2).
It comes with individually backlit keys (in Blue only, unfortunately) with 5 different levels of lighting: off, low, medium, high, and alternatively (like a faint glowing amber). This is not just for the show, but to allow you to game in the dark without having to guess where a key is and miss your moment (or when you type).
The keyboard has an anti ghosting capability, allowing you to press 6 keys simultaneously – which is more than enough for a standard gameplay (so you can press "W, D, Shift, and V" at the same time to strafe forward while running and stabbing your enemy with a knife, say. There may be some more extreme examples, but you get the idea).
BlackWidow Ultimate vs BlackWidow Ultimate Stealth Edition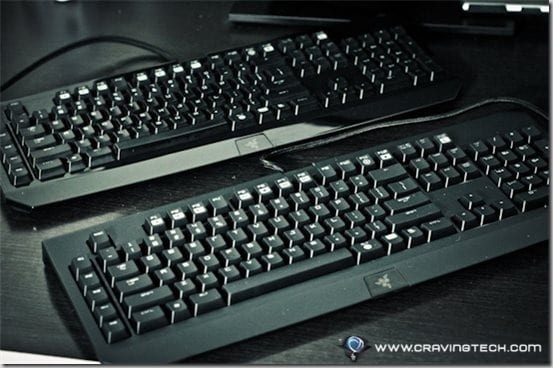 If you don't want to read my whole long ramblings above, the differences are basically on the mechanical keys used (Cherry MX Brown on BlackWidow Stealth rather than the Cherry MX Blue) and also the matte material finish, compared to the glossy original BlackWidow Ultimate.
Is it worth an upgrade from Razer BlackWidow Ultimate to Ultimate Stealth? Um, no. Unless if you really are getting annoyed with the clicky-clacky sound of the keys (or having a constant fight with your roommate), then you've already got one of the best gaming keyboards in the world and best to spend the money elsewhere.
Razer BlackWidow Ultimate Stealth Edition Review – Conclusion
Razer's new gaming keyboard is more like an alternative version rather than an upgrade. It's for those who prefer a quieter version than the original BlackWidow Ultimate. I personally like the matte finish compared to the glossy ones as well but maybe some prefer a glossy, shiny surface?
If you haven't got the original BlackWidow Ultimate and don't need a louder tactile feedback from the keys, then the Stealth Edition is a gem and the one you should go for. It is quieter, though I somewhat miss the clicky-clacky sound when I typed with the original BlackWidow Ultimate. Again, it is all a matter of choice so if you can go to a shop to compare, that'd be awesome because the packaging allows you to try the keys out without having to open it. If you are confused about which edition to buy, grab the Stealth Edition. Either way, you can't go wrong :)
Razer BlackWidow Ultimate Stealth Edition at Razer Australia
Note: Razer BlackWidow Stealth Ultimate Edition review unit was provided for the review.
Razer BlackWidow Ultimate Stealth Edition Review – Pros
+ Great look, great design
+ Sturdy
+ Mechanical
+ Individually backlit keys with 5 settings
+ Dedicated macro keys + gaming mode to disable Windows key
+ Multimedia controls
+ Matte finish, better than the glossy (in my opinion)
+ Quieter with great tactile feedback, still
Razer BlackWidow Ultimate Stealth Edition Review – Cons
– No wrist rest
– Pretty heavy if you want to carry it to a LAN party or tournament