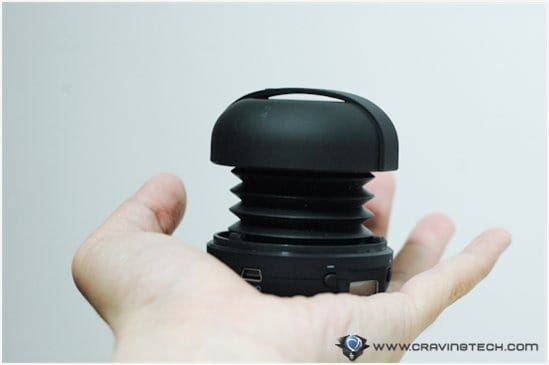 X-mini RAVE Speaker

Michael Aulia
X-mini RAVE Review – Not sure whether you are aware with the X-mini speakers yet but I have reviewed a couple of them in the past, such as the X-mini HAPPY and X-mini MAX II.
They are small, they are powerful, they are sleek, they just don't stop playing (long battery hours), and I should now add, they just don't want to stop coming.
The X-mini RAVE is the latest X-mini speakers which now comes with FM Radio capability!
X-mini RAVE Review – Packaging
X-mini RAVE packaging comes with:
The speaker unit
A carrying pouch
A short manual
Cable to charge and as an extension (3.5mm Audio jack, USB, and to the unit)
X-mini RAVE Review – Design
The design is really cool and elegant and I somehow like this better than the other speakers I have reviewed. The black coating with blue-y lights is just my cup of tea (and it goes well with my Razer BlackWidow Ultimate Stealth and SteelSeries Sensei blue themes):
The speaker itself is fairly small, especially before you expand it, which is perfect to be carried in the pocket:
There is a button to switch between "Audio" (where you plug the speaker into a media device such as your phone, tablet, or portable media player), "Off" (to turn the speaker off obviously, doh?), and the "Radio". The "Radio" feature is new in X-mini speakers range and at the moment, this is the only X-mini speakers with this feature.
When you switch to "Radio", you can see the FM frequency on the display (which will be turned on in a cool blue light):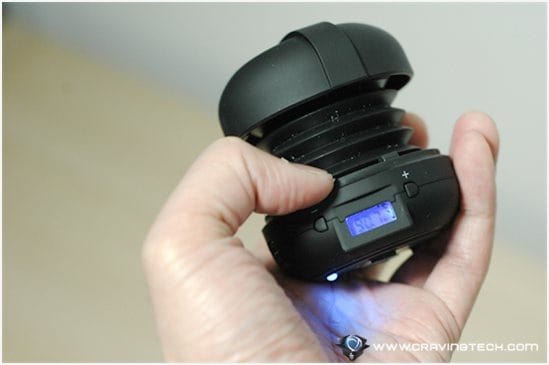 You can move between the FM frequencies by pressing the "-" and "+" buttons. Thankfully, if you press and hold the "+" button, say, it will automatically stop you when it finds a radio station (just like when you are doing an auto-tuning on your TV to find a channel). Love this design decision (though you have to press and hold the button until you find one). If you turn the X-mini RAVE off, your last radio station you set will also still be remembered.
Should you want to listen to your own music collection, you can always hook the X-mini RAVE easily with the included short cable at the bottom of the speaker unit.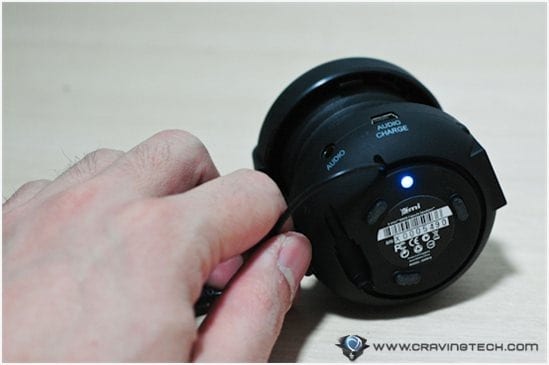 It gives a no-messy cable solution, assuming you are okay with the range. I find that the range is good enough for most of the time and perfect when you want to hook it up to your notebook while you work. You can also hook the cable to connect to several X-mini speakers through its Buddy Jack system.
Should you want to extend the range, though, you can use the included cable (which I thought was meant for recharging the RAVE only) to gain a considerable extra length.
X-mini RAVE Review – Impressions
I'm really amazed with the quality of all X-mini speakers. They are all loud
and have a really clear audio quality, especially considering how tiny these speakers are. The X-mini RAVE is no exception. Volume can be set to real loud using the volume slider but I'm always scared to set it to maximum (as it can get really loud and I'm a bit paranoid that it may damage this lovely baby). The bass is also quite good once you've expanded the BXS (Bass Expansion System) by twisting it
According to the official X-mini RAVE product spec, you can play your music or your favorite radio station for up to 6 hours. That may not be very long but remember that this is meant to be a portable speaker. When you are in front of the computer, of course it'd be better to use your sound system. However, when you are working outdoor, having a tiny party at someone's place, going to the gym, or having a singing/music/dancing practice, the X-mini RAVE is a gem to be hold! The recharging time is around 2 hours (by plugging it into your computer's USB slot) according to the X-mini team.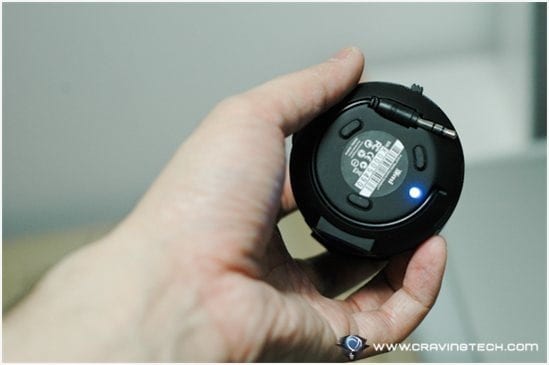 So far I haven't seen any drawbacks with this tiny powerful little speaker, except maybe for the super bright blue light at the bottom of the speaker. Though thankfully, you'll have better things to do than having to lift the RAVE and staring at it.
X-mini RAVE Review – Conclusion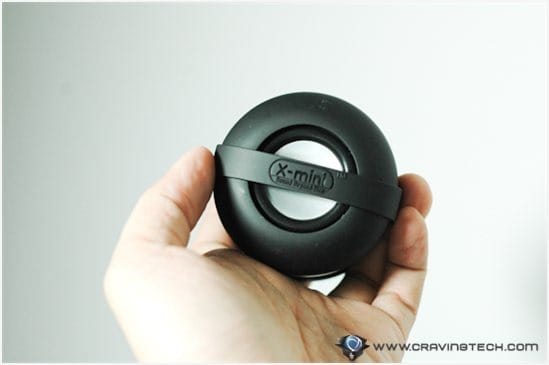 All in all, this X-mini RAVE speaker is probably my favorite compared to the other X-mini speakers that I've tried. Of course, they all have different sets of features (such as the HAPPY being able to accept an SD card, etc) but when you just need some music tunes to accompany you, the X-mini RAVE will serve you well, thanks to the radio FM capability.
The volume is loud (and can be set REALLY loud) but also of great clarity. The Bass is pretty good though don't expect heart-thumping bass with a speaker of this size. Still, the sound does not disappoint and will exceed your expectations. The size is also really small and highly portable as you can twist the Bass Expansion System and fit it in your shirt's pocket nicely.
The X-mini RAVE speaker is truly a great portable mini speaker that doesn't just look cool, but give endless music in whatever activities you do with style.
Note: X-mini RAVE review unit was provided for the review
X-mini RAVE Review – Pros
+ Looks cool, elegant, and stylish
+ Mess-free cable management solution
+ Pretty good bass and audio clarity
+ Highly Portable, easy to carry and store
+ FM Radio
+ Good technical design (remember the last radio station, etc)
+ Can be hooked up to your notebook, media player, smartphones, etc
+ Can be extended with the included cable
+ Battery rechargeable (2 hours to fully charge, 6 hours of playback time)
X-mini RAVE Review – Cons
– Can't save the radio stations
– The blinding blue light at the bottom of the speaker