SteelSeries Sensei Review – SteelSeries Sensei is like the sexier and badder version of the SteelSeries Xai (check out SteelSeries Xai Review at Craving Tech). It improves one of the most advanced gaming mouse in the world into the next level.
What's so good about SteelSeries Sensei and does it worth upgrading from SteelSeries Xai to SteelSeries Sensei? Let's check it out.
I'll mostly be talking about my opinion on the design and experience, though. If you want to know about the main features, dimensions, and all that, feel free to read it on SteelSeries website as I don't want to repeat them all over in this SteelSeries Sensei review post.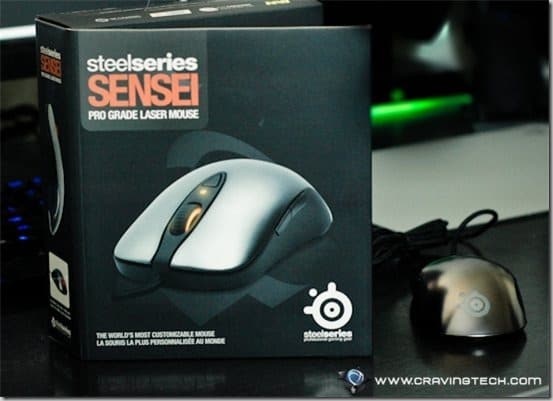 SteelSeries Sensei Review – Unboxing video
SteelSeries Sensei Review – Packaging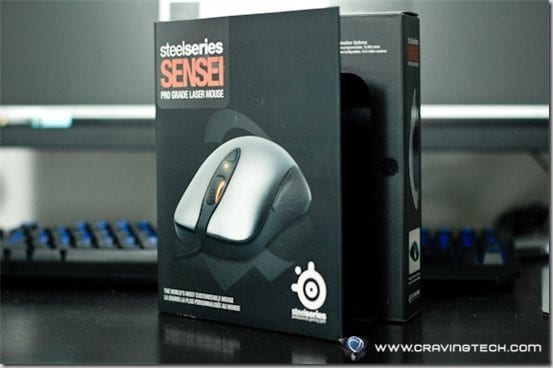 SteelSeries Sensei Review – Design
SteelSeries Sensei Review – Sexy Look
The design is one of the best I've ever seen – from the moment I saw the official product photos when it was released til the moment I actually saw it with my own eyes. It's just.. sexy.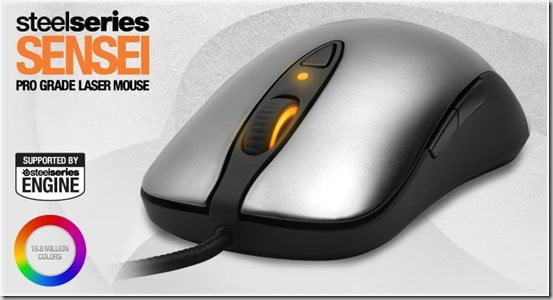 I was a bit skeptical at first about the new metal coating because I totally loved SteelSeries Xai and I never hold a mouse with a metal coating before. Would it feel soft? Would it be comfortable? Would it be cool to the touch? There were many questions before I had the mouse arrived at my doorstep. In the end, it somehow feels plastic-y, yet smoother. Overall, it feels great to the skin (and no cooling touch as predicted), easier to clean, and sexy.
SteelSeries Sensei Review – Custom illumination
The sexy look (yeah, yeah, I know I've said the word "sexy" many times already) is enhanced further with the new illumination in a few places, a surprising move made by SteelSeries. In the past, we would have never seen this in their peripherals. I guess they must have listened that some gamers love the extra bling-bling on their toys. Though if you still hold that "keep-it-minimalistic" attitude, you don't have to worry, because you can turn these extra bling-bling off the Sensei.
With SteelSeries Sensei, you can also fully customize the color of the wheel, the CPI indicator, and the back (where the SteelSeries logo is). Using the SteelSeries Engine software, you can practically set it to any color you like to match with your gaming desktop area or your gaming keyboard.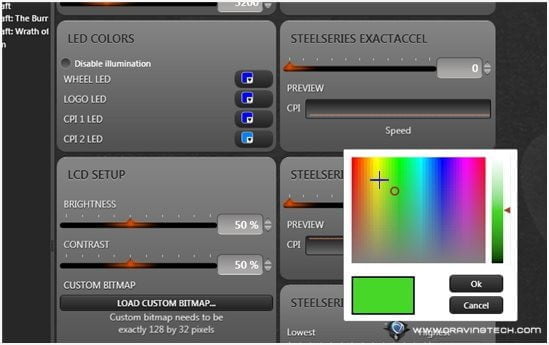 SteelSeries Sensei Review – Button design
The SteelSeries Sensei has 8 buttons overall (left, right, middle, 4 side buttons, and the CPI button – to switch between two sensitivity settings). I love the different tactile feedback on these buttons as they are all somehow different to one another. For example, clicking rapidly on the left mouse button is quite easy to allow those who need to take out their handguns to finish an enemy off. However, you can't do the rapid-clicking with the middle mouse button as it somewhat has a heavier tactile feedback. It is clear that the SteelSeries team has gone into the right research when they designed this mouse (they've actually asked some well-known hardcore gamers to test this mouse out during the design and refinement phase).
SteelSeries Sensei Review – Customisation
If you look at the features, SteelSeries Sensei can be customised the way you want it – from the colors as I've explained earlier into the technical aspects such as the lifting distance, acceleration, and other bits and pieces. These customisations (ExactSens, ExactAim, etc) are calculated directly by the mouse because SteelSeries Sensei is actually powered by a 32 bit ARM processor (like a Pentium 75 MHz)!
As overkill as this may sound, the built-in processor helps in calculating and processing these SteelSeries technologies, therefore avoiding any delays and free up the resources used in your computer.
You can also upload your clan's logo or any bitmap picture into the LCD (located underneath the mouse) for further customisation and to prevent theft at LAN parties (since you can prove that the mouse is yours).
Not to mention that using the SteelSeries Engine software, you can record advanced macros and also set-up profiles (even auto-profiles when a specific game is launched). You can store a few profiles into the mouse so you can carry it to a LAN party or competition with all your macros and customisations intact.
SteelSeries Sensei Review – Impressions and Gaming Experience
SteelSeries Sensei is comfortable and the size is just right (which is exactly similar like the Xai's). It's quite light and small compared to some of the gaming mouse out there in the market. If you don't have a huge hand, the SteelSeries Sensei will serve you well and beyond. There is also a thumb rest area, though it's not quite apparent.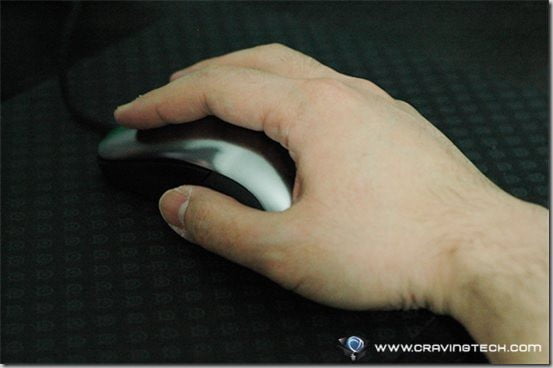 As far as gaming experience, SteelSeries Sensei rocks. It glides smoothly on my SteelSeries 4HD mouse pad and produces high accuracy. My aim goes to where I want it to go and getting headshots in Battlefield 3 Beta is as easy as a walk in the park. Killing the Special Infected in Left 4 Dead 2 was a no-brainer too as the mouse helped my aim to be smooth and accurate.
The CPI (or most know it as DPI) can be adjusted from 1 to 5,700 CPI (for the default) and can also be boosted to 11,400 CPI! Though I only game in around 4,300 CPI, there are certain occasions where you might need a 10,000 CPI. For example, in Call of Duty: Black Ops, if you get stunt by the stun grenade, your aim sensitivity will be reduced drastically. Using a button to quickly boost the CPI into 10,000, say, you can "cheat" your way out of this problem ;) Nevertheless, no matter what you do, SteelSeries Sensei gives you the ability – it is then up to you what you want to do with it (or whether you want to use it).
SteelSeries Sensei vs SteelSeries Xai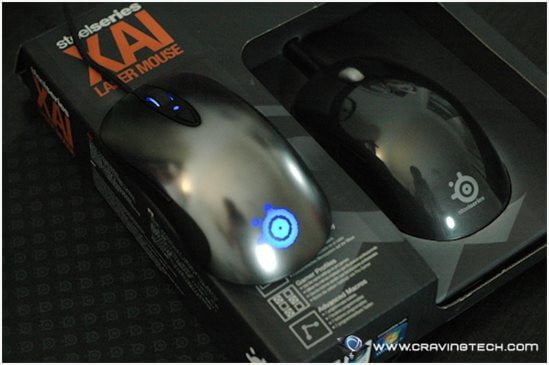 Now this is probably the question that everyone asks, especially those who own the SteelSeries Xai. Is it a worthy upgrade from SteelSeries Xai to SteelSeries Sensei? Well, if you have the money, I'd recommend to sell your Xai and get the Sensei. Though the ergonomic and mouse design are the same overall, the underlying power has been upgraded somewhat. Also, the increase in sexiness and the illumination will keep you happy for many months to come.
However, if you are tight on budget and you already rock your games with SteelSeries Xai, I honestly don't really see a point in upgrading. You might as well keep the money and perhaps upgrade your mouse pad or keyboard.
SteelSeries Sensei Review – Conclusion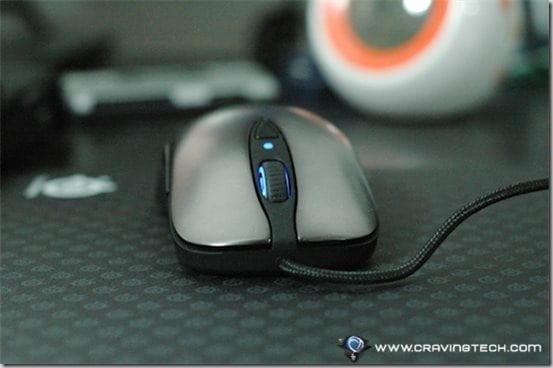 SteelSeries Sensei is a sexy gaming mouse which proves that you shouldn't just look at its appearance. There is an inner beauty in this mouse, as it is equipped with its own processor, fully customisable to suit your gaming style, and simply excel in tracking, accuracy, and control.
Having a SteelSeries Sensei doesn't mean that you will automatically become a great gamer but you can game better. A great tennis player can fully utilise a high quality racket and unlock his/her potential. It's the same case with a gaming mouse – as you can aim more accurately, steadily, and comfortably with the SteelSeries Sensei.
SteelSeries Sensei Review – Pros
+ Sexy, sexy, sexy
+ Well-built, high quality material
+ Comfortable
+ Has 8 buttons in total that can be re-programmed
+ Braided cable with gold-plated USB connector
+ Supports up to 11,400 CPI
+ Illumination in 3 areas
+ ExactTech settings are fully customisable
+ Advanced macros
+ Profiles can be stored in the mouse
+ Can include your clan's logo or any bitmap
SteelSeries Sensei Review – Cons
– ExactTech settings can be overwhelming, though you can always leave them at default
– Size might be too small to some people with large hands
– Weights cannot be adjusted
Note: SteelSeries Sensei review sample was sponsored by SteelSeries for the review. All opinions are 100% mine