I've been using the SteelSeries Ikari Laser as my gaming mouse so I was quite excited when I saw the press release of the Xai, months ago. The hype was on, because the product wasn't readily available on the shops until weeks later and some hardcore gamers have been asking and trying to pre-order the mouse. I actually got the Xai last month (22nd December 2009) and I've been using it for almost a month before I wrote this review.
I'll try to keep the SteelSeries Xai review explaining more about my personal experience with the mouse, rather than rewriting about the technology and specifications, which you can read for yourself anyway on the product page.
SteelSeries Xai Review – The Look-and-Feel
SteelSeries surprisingly decided to go back to the old days in terms of a mouse design. The Xai looks almost identical with my 5-year-old Microsoft WheelMouse Optical 1.1A. They are not the same (build quality, technology, feel, etc), so don't get me wrong here, but on the looks department, they are quite identical. It was kinda funny because I disliked some of the mouse shapes nowadays – you feel like holding irregular giant alien weaponry. While they look cool to stare and to show off, sometimes I missed going back to the old days where a mouse was shaped…like a mouse.
SteelSeries Xai brings back those memories and actually, the minimalist, yet stylish design works quite well. It feels like a mouse, yet the technology & research being put behind the scene to reshape an old mouse's blueprint is amazing.
It's made with high quality material (non-plasticy) which feels good in your hands and "sweat friendly". The mouse has an ambidextrous shape, so it fits well for both left and right handed players. Since SteelSeries Xai is tailored for both worlds, I still find my old SteelSeries Ikari more comfortable than the Xai (the Ikari has these nice contours to fit my pinky and other fingers). However, the Xai is still a comfortable gaming mouse even though it's not designed specifically for right-handers.
As for the aesthetic look, the only thing that you can see on the mouse is the SteelSeries logo attached at the bottom corner of the mouse. No fancy lights or other bling-blings, giving the mouse a minimalistic look.
SteelSeries Xai Review – the Buttons
8 programmable buttons
SteelSeries Xai has 8 buttons in total and they are all programmable through the SteelSeries software (available for download on their website). Each side has 2 buttons so you'll always have all of the side buttons in handy, even if you are a left hander. However, I found that I accidentally pressed one of the right buttons with my ring finger. I'm not used to having buttons on the right side of the mouse (I'm a right hander) so it might be the way I hold the mouse? Nevertheless, if this happens to you too, simply don't program the button to do anything.
Button clicks and feedback
As a heavy first person shooter gamer, the mouse button you set to shoot is probably your most important button on a mouse. Xai main button click registers very well. When I first using it though, I found that it took considerably more force than the Razer Imperator I reviewed not long before the Xai. On the first 5 minutes of using the Xai, I didn't press my left mouse button "harder" enough for the clicks to get registered. After getting used to the Xai button feedbacks though, this problem quickly went away. Then, I started to appreciate it. It gives me less accidental clicks yet the force is good enough to do comfortable yet rapid clicks. I remember a comment when I was playing Left 4 Dead 2 online, telling me to slow down because I was turning my 2 pistols into a sub-machine gun with my rapid clicking using the Xai :)
Unlike most Microsoft's mouse, clicking on the middle mouse button doesn't require a brute force. The click is as smooth as the other 2 main buttons on Xai. It certainly requires more pressure compared with the right and left buttons, but it's still reasonable unless if you use the middle mouse button to shoot!
High/Low CPI switching (CPI == DPI if you are already used to the term)

Right under the middle mouse button, there is a tiny CPI switcher button with an even tinier LED to indicate the mode you are on. The location is perfect as you'll never accidentally press it even if you are on "panic mode" during a game. Some gaming mouse give you "Up" and "Down" switches so you can cycle through different CPIs but SteelSeries Xai only provides going from 1 CPI setting to another using the CPI switch button. I myself only use 2 CPI settings normally, a low CPI (around 900) for my daily desktop activities (browsing, emailing, etc) and a higher CPI (around 4000) for gaming. This might disappoint players who like to cycle through the sensitivity on a single gaming session though.
SteelSeries Review – Other Features
Packed with Advanced Technologies from SteelSeries
SteelSeries has done extensive research with lots of professional gamers around the world to provide the best gaming experience as much as possible. These technologies include:
SteelSeries FreeMove Technology: Removing auto path correction completely if you want to.
SteelSeries ExactSens Technology: Hardware based sensitivity settings to increase your precision.
SteelSeries ExactRate Technology: Set custom polling rate on the mouse.
From SteelSeries FAQ: "Set this value to correspond to the lowest value in either your in-game frame rate or monitor refresh rate.
Example: If you utilize a screen with 60Hz, you should try setting this at 960Hz (or something else that is dividable by 60). With this setting your report rate will be synchronized to the refresh rate of your screen, improving consistency and smoothness of your movements."
SteelSeries ExactAim Technology: Gives you a total control over the amount of jitter correction and prediction calculations for non-gaming mouse pads.
12,000 FPS & 150+ IPS
Feel free to watch this video too to find out more about this:

Up to 5001 CPI

Once you set the Windows default mouse pointer speed to the middle and also set the sensitivity in the game to 1, crank up the CPI on Xai. According to SteelSeries, this will give you the maximum precision and accuracy.
I've been playing back and forth on a network cafe these couple of weeks (they are using a standard Logitech's mouse) and I can definitely tell you that I missed my Xai's accuracy so much.
Braided USB cable with gold-plated connector
SteelSeries Xai's cable is also of high quality. With a braided cable and a gold-plated connector, SteelSeries Xai durability is improved even further. The cable is also 2 meters long so you shouldn't have any trouble in setting the mouse up.
Huge Teflon feet
SteelSeries Xai has large pressure points beneath the mouse and they are optimized to give you a smoother glide experience with the mouse. I find that the Xai flies on a hard surface but it also works wonderfully on a soft cloth pad.
LCD Display
Just like the Ikari, the Xai has a built-in LCD display where you can see what the current profile & settings are. The LCD display is pretty sharp and you can also navigate the in-menu using just the mouse alone.
In-Mouse settings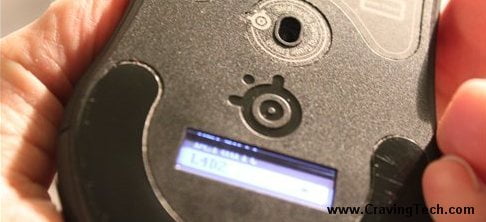 Using just the LCD and the mouse scroll wheel, you can actually change the settings of the mouse on the fly without using its application. This is a new addition to SteelSeries mouse products and I'm sure it will make lots of vendors jealous. As a hardcore gamer who goes to tournaments and LAN parties, you may not have access to install any software. Even though you might already save some pre-set settings into the mouse, there are times where you might need to make minor adjustments.
This is also useful when you are trying to find the perfect setting for your Xai. Rather than using the software for a trial-and-error set up, tweaking & trying it directly on the mouse are much quicker.
Driverless
Simply plug the Xai and use it straight away without the need of having to carry a driver's CD with you. You download/install the application only when you need to modify the Xai's mouse settings.
On-board memory
Save up to 5 different profiles on the mouse (yes you can name the profiles), each containing different settings, tailored to different games and usage. With a built-in memory, it also means that the Xai retains all of your settings even when you plug it in to a different computer.
SteelSeries Xai Review Conclusion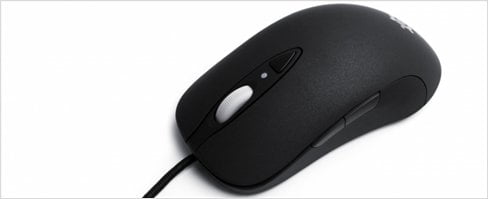 So we've come to the conclusion of the SteelSeries Xai Review. SteelSeries Xai is the latest gaming mouse from SteelSeries. It actually looks elegant and minimalist, even though some people might not be happy with the "traditional" look for such a high-end gaming mouse. Its ambidextrous design means that the mouse is tailored for both left and right handed gamers yet comfortable to be used with either hand. The design is simple, yet of high quality: it's not built with glossy plastics, durable, cables are braided, and the USB connector is gold plated. The mouse itself is not too heavy to move but yet not too light either. So whether you are a low or high sensitivity gamer, the mouse feels just nice to use.
The buttons register well, although it may take a few minutes to get used to if you are coming from a mouse with very light button pressures. It has 8 programmable buttons overall, including a CPI switcher by default. They are located well on the mouse except that my ring finger accidentally pressed one of the buttons on the right side of the mouse a couple of times.
As for performance, I can say that the mouse has been running great so far when I use it to play Left 4 Dead 2, Call of Duty Modern Warfare 2, and the recent Battlefield Bad Company 2 Beta. It's smooth, fast, comfortable, and also accurate (I'm running it on 4000 CPI sensitivity for gaming).
If you have the money and you are looking for a great gaming mouse, pick up the Xai. Even when I find the Ikari more comfortable with its unique contour design, Xai is technologically more advanced than the Ikari, a greater CPI, and the ability to change the mouse settings without any software.
Note: Review unit was provided by SteelSeries. Photos taken with Canon EOS 500D.