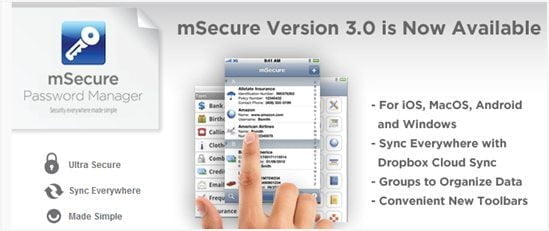 mSecure Password Manager Review – With so many password manager applications around, one may wonder which one should he/she get and whether paying a premium price is worth it. As you may have known, there are plenty of free password managers that you can install in your desktop or even on your mobile phones. However, how flexible is it? What if you store all your passwords and credentials in a Windows desktop application and you want to access it on-the-go?
Well, mSecure Password Manager ensures that you have access to your important piece of information wherever you are, in whatever devices you use.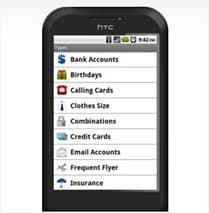 mSecure, developed by mSevenSoftware, has gone to version 3.0 some time ago, adding groups for categorising records, marking records as favorite, new Security Everywhere architecture for improved data security when syncing with Dropbox or other cloud services, syncing reports of the changes, and interface redesign to make it easier to use mSecure and sync your passwords.
Creating a new entry is pretty easy and mSecure already has a range of pre-defined types such as Bank Accounts, Credit Cards, and lots others. You can also define your own template if what you want is not on the default templates.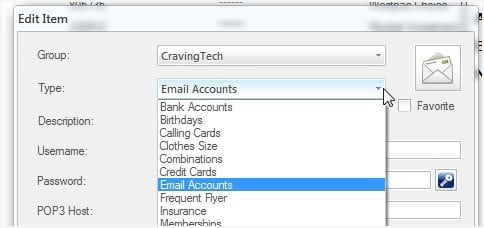 It also has pre-defined icons which make it easier to differentiate each entry from the rest so you can quickly identify your Bank account details from the other types.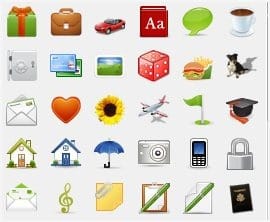 You can do a search if you are having tons of confidential information that you keep in mSecure or even favorite your most used ones to have a quicker access when you need it.
You can set a few security settings on the mobile devices such as auto-locking the screen after a few minutes and even a self-destruct feature to wipe the entire data out after a few incorrect password entries (5th, 10th, or 20th failed attempt).

One of the best features of mSecure is the ability to sync your credentials and secure info via Dropbox. It means that you can use and backup your database anywhere and anytime. You need to obviously put in your Dropbox login/password into mSecure at first but there is also another secure layer on top of it as you need to provide a sync password.  This sync password will be shared by all mSecure products in all platforms. (whether it's on iOS, Android, Windows, or Mac OS). Access to each platform will be protected with its own password so you can assign different passwords on different platforms if you want to – for example you might just want to put numbers on mobile devices as it's easier to type in and more complex passwords for the desktop PC, say.

I like the Dropbox Sync because it means that it is easy to sync my data with all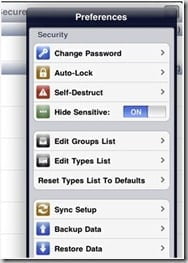 the platforms (so it's accessible anywhere) and at the same time, the file itself is backed up in my computer AND in the cloud using the service that I'm already comfortable with.
By pressing the Sync button in mSecure, you can sync all your data in a flash, it's simple. I just wish that syncing happens automatically though. From my testing so far, I've found that I need to press that Sync button to get the latest updates if I added some new items on a different platform.
The interface on different platforms are similar, yet not the same to one another. The reason might be because each platform has different sets of interface or libraries to use – though it is not difficult to work your way around the different platform versions of mSecure.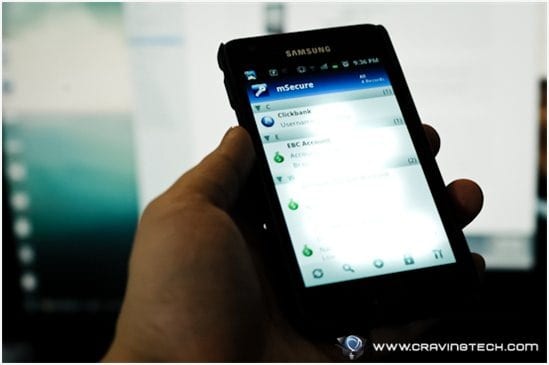 mSecure Password Manager which syncs to Dropbox is very easy to use and once you've got all your credentials and important piece of information set-up, you can access them with just a flick of a finger on your mobile devices or through a click on Windows or Mac OS. The fact that mSecure is available on the most popular platforms means that mSecure is the only solution you need to keep your passwords or secure information accessible by you at all times, no matter where you are. Yes, you will be paying for the apps but if you own and use multiple devices in multiple platforms like I do (Samsung Galaxy SII on Android, iPad 2 on iOS, MacBook Air on Mac OS, and Windows 7 Desktop PC), then it might be worth paying for mSecure.
mSecure for Windows | mSecure – mSeven Software, LLC for Mac | mSecure for Android | mSecure Password Manager – mSeven Software, LLC
Note: mSecure Password Manager review licenses were provided for the review