Do not judge a book by its cover. These mini speakers, even though they look tiny, pack quite a punch. At my first glance, I thought that these speakers would sound dull and boring. However, I've heard so many good things about these X-mini speakers before, so I hooked the MAX II up and immediately got blown away by the sound.
When you buy the X-mini MAX II, you'll get a 2-speakers set, supporting stereo mode. The packaging is quite funky and there's no way for you to tell that the rugby ball looking shape is actually comprised of 2 mini speakers.
That's right. The X-mini MAX II is very portable, thanks to the magnetized base that allows you to join the 2 speakers unit together:
The X-mini MAX II speakers can be popped open (by twisting to expand them) to reveal the Bass Xpansion System (BXS) and further boost its audio level and quality: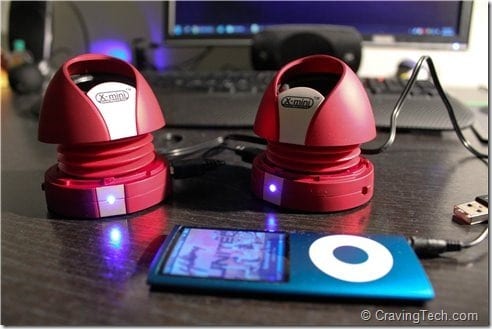 These are just not for aesthetic looks. I tried to listen to my songs before and after expanding the BXS and the difference could be heard clearly. The Bass is amazingly good for such small speakers and the volume is loud too, just as advertised. In a large hall, the volume can be heard clearly but if you are going to bring this outdoor, you might want to reconsider. Depends on the noise level of the surroundings, it's easy for the MAX II to lose the battle. The audio gets a bit distorted when the volume is pushed up but it still delivers a great experience for most people.
As you can see in the photo above, I hooked up the X-mini MAX II to my iPod Nano. The X-mini MAX II supports many devices with 3.5mm audio jack included, including the iPad:
and other devices that I have (Creative Zen X-Fi Style and the LG Chocolate Touch):
As such, the X-mini MAX II is handy to carry around with you while you travel. It easily fits your pocket (or your carry bag) and there is only a single cable to connect to the 2 speakers and your audio device (the volume control also resides on the cable). This way, it will not be easy to lose the cable. The cables are not particularly long but it's kind of in a way as it's dangling around without any cable management solution.
One thing I like about the X-mini MAX II is that it's using a rechargeable battery instead of an AA or AAA battery. With only 2.5 hours of recharging time but capable of delivering up to 12 hours of music goodness, the X-mini MAX II gets two thumbs up from me! Unfortunately you have to turn off/on the speakers by yourselves. So if you forgot to turn the speakers off after playing some music on it, you might end up finding the MAX II without any juice when you need it.
The X-mini MAX II also has a buddy system that enables you to connect more X-mini speakers together, creating a chain of noise goodness. Not too sure how many people will utilize this buddy system.

The packaging also comes with a travel pouch, ensuring that the MAX II and its cable can be easily carried away. The pouch is quite standard but no complains here for having it in the package:
X-mini MAX II Review Conclusion
The X-mini MAX II is portable, stylish, highly affordable, and output good volume level and bass for its size. Of course, you are not supposed to compare the audio quality with higher range speakers that you may have, but for its size, X-mini MAX II delivers more than anticipated. If you often go to a friend's place to practice dancing or singing, a media player and the X-mini MAX II are the only things you need. No more carrying a CD compo around.
The X-mini MAX II is a great speaker to have if you like to travel. It can be "resized" to a more compact mode, allowing you to even put the speakers in your pocket. The battery also lasts very long and rechargeable through a USB port. The pouch fits the speakers and the cable, giving a nice compartment to the MAX II when not in use.
Highly recommended if you are using a laptop and/or travel a lot.
NOTE: Review unit provided by xmi.